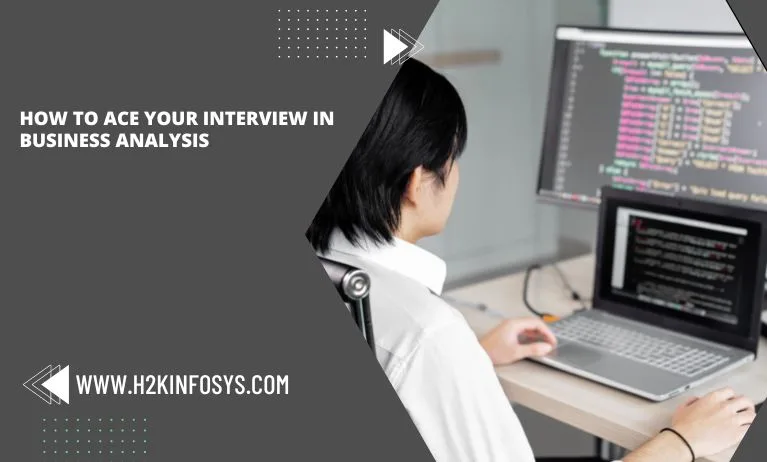 Did you know that someone, or even a panel, can judge you in a first meeting in as little as seven seconds? Here's how to maximise each second. To have the best chance of succeeding in a business Analysis  interview, you must be completely prepared. Check out the business analyst course because it contains important advice for you to succeed. But, these are a few of them:
1.Preparation
You must first perfect the skill of foreseeing their inquiries. You must think about the work that lies ahead, imagine how others will view you, and determine how you could respond to typical inquiries. It's crucial to pick the appropriate individuals to lead you and listen to their advice. That includes using more experienced consultants, friends, or coworkers. Those with extensive professional experience frequently make for the greatest consultants. They are always aware of what is happening, they have people management skills, and they know how to get more from others.
So what information should you have before your interview?
2.Know all about the company
Of course, do some research on the business, including its name and location. This is quite advantageous for the interviewer. Interviewing applicants who are unfamiliar with the company may cause them to miss some of its biggest assets or result in a poor first impression. Make the interviewer's day by dressing to impress and being ready for inquiries or criticism. Not to worry. As long as they think your responses make sense, they want you to succeed. exhibit interest Recognizing an employee in his or her life is a clear indication of a leader. It establishes a connection and demonstrates your enthusiasm for the business. Be sure to pay close attention and avoid sounding prepared in your responses.
3.Prepare answers to common interview questions
In order to kick off your interview preparation, here are some questions you should consider;
What makes you want to work here? What makes you desire to switch jobs? When will your current employment end? When would you like to begin working here? Along with practising responses to common interview questions, be sure you understand the talents the firm is looking for and which details you want to highlight to make an impression on the interviewer.
4.Body Language
In a first meeting, body language dictates the majority of your actions. You most likely have your feet firmly on the ground as you sit in an uncomfortable chair. Perhaps you fidget or look at your phone. You're not making the correct first impression. There is no eye contact between you and the interviewer. Pay attention to your nonverbal cues. You might not know it, but it says more. Either your palms are tightly gripped or they are loose. Others can tell that you are confident from the way you carry yourself. Your body language also conveys a lot.

5.Dress professionally for the job.
You want to present your strongest self when you attend an interview. You might believe that how you wear matters little, but you would be wrong. You won't be taken seriously if you appear as though you're headed to the beach.
With a traditional boot or wedge with a gorgeous heel, make a terrific first impression.
6.Maintain eye contact with the interviewer, but don't do it too much!
Observe your body language: sit up straight, don't slouch back, don't fidget, and don't cross your legs. Don't divulge too much information to the interviewer! Usually, what you can infer is the most fascinating and important. A narrative or personal anecdote can be used to enhance excitement and emphasis. Don't use it to declare your introversion to others. If they are interested, you can ask a question afterward.
7.Warming up your voice
Warming up your voice will make you appear more professional and in charge, whether you're going in cold or need to remember something from the interview process. Don't forget to practice saying hello out loud. The most crucial points you wish to make should be practiced and memorized, and you should then see and act them out while you talk. Draw attention to your strong points and frame your accomplishments as such. Say something like, "I'm a terrific organizer, and I get along with all kinds of people," or "I'm a person who keeps things organized, and I get along with a team." List your principles. Inform the interviewer of your core principles.
Conclusion
You may have an influence without being flawless. You can still close the deal or get the job if you are knowledgeable about the subject or just by simply having a great interaction. You can check out the business analyst course online to learn more.