QA Tutorials
How to Write a Killer QA Resume that gets you Interview Calls in 2022.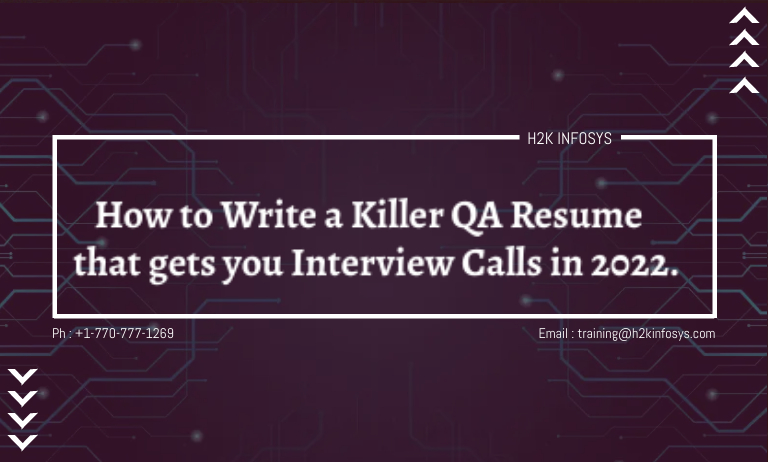 Are you looking to join a company as a QA tester? One of the things you must do is to have a killer resume. Your resume serves as your virtual representative in the eyes of your recruiter until they finally meet you on the interview day. But without having a resume that captures their attention, you will never get that interview call. Sadly, some good QA testers will never get better job roles or positions because they do not just understand how to write a killer QA resume.
In this article, we will solve that. We will discuss how to write a QA that would make your recruiters long to see you in person.
Let's dive into it.
How long do you have to Impress your Recruiters?
They say first impression matters and this cannot be truer when a recruiter is reviewing resumes. Because the software testing niche is becoming competitive, recruiters are greeted with hundreds of QA resumes for a single job posting.
So you've got a short time to impress them and stand out of the crowd. Now here's the thing. A recruiter does not have all the time to read all resumes from start to finish. If after spending a few seconds and nothing piques their interest, they may just drop it.

It is said that recruiters spend an average of 20 to 30 seconds on a resume. So whatever you do make sure your resume is attractive, punchy, and lacks grammatical errors.
You'd be shocked how some resumes have a lot of grammatical errors. That's a huge turn-off. Some will even go as far as copying and pasting others' resumes without editing or finetuning. They then end up copying personal details such as hobbies and interests. Such resumes are easy to identify and it is just an easy way to get dropped.
So, you have seen how critical it is to put your best foot forward. The question then is, how do you make that first impression count?
How to Get Your Recruiters Hooked Immediately.
Here are some steps before you even send your resume for a job opening.
Read the job description: It is important to digest what exactly the recruiter wants and identify if you are a good fit. One question every recruiter tries to answer when reviewing an application is if this candidate is the right fit for the job. So you want to make sure you understand what the recruiter wants and tailor your resume to hit those specifics.
Read the job responsibilities and prepare a list of skills matching those responsibilities: Make sure you possess the skills required for the listed responsibilities in the job requirement. If for instance, a job would require you to monitor all outgoing and incoming communications, you must have strong digital marketing skills, analytics, and content writing. Once you have identified these skills, make sure these skills are clearly highlighted in your resume.
Have a clearly stated job objective: You want to make sure you have a clear objective for your work ethic. This will help the recruiters understand the personality they are dealing with and whether or not you are a good fit. It is important to point out that these should not be generic things like problem solvers, critical thinking, etc. They should be unique to you. Punchy and sweet. And can be as short as 2 to 3 lines.
With these three things in place, you can be sure that you'd have a resume that gives you a great first impression in the eyes of your recruiter.
What to do if you do not Have a lot of Experience
If you are a new QA tester and you do not have a lot of experience, a hack is that you perform side projects online. There are a lot of projects you can take on online. Once you volition, take up one and make sure you complete the entire testing process.
Your workflow should include:
A comprehensive analysis of the requirement document
Writing and executing test cases for different events
Logging any noticed defects
Writing a comprehensive test report.
Another way of getting the required experience you need is by joining a reputable online QA course that places focus on hands-on learning. For instance, an online training that has an end-to-end capstone project with use cases.
Upon completing the training, you can confidently add this experience to your resume. You can also add the projects you did and have your instructor as a reference. This is another good way of getting professional references. However, make sure whatever training you attend, they allow their instructor to be used as a professional reference during job hunting.
What to do when there is a Gap in My Work experience.
When recruiters check resumes, they check whether there is a gap in your career. While it is not outrightly wrong to have a career gap, it is strongly advisable to discuss why you had that gap. There are many reasons why there could be a gap in your resume. From relocation reasons to having a break to upskill, holiday and leisure, maternity leave, and so on.
Just be honest with your reasons. The recruiter of course knows that we are humans and they love to know they are working with humans and not robots.
Things you Must Add to your Resume
There is a lot of contention around what to add and not add to your resume. However, these three things are critically important if you want to stand out.
Explicitly state your accomplishment in your previous job: Recruiters want to be sure they are hiring an asset and not a liability. They want to see what you have successfully done in the past. So make sure to state your accomplishment. Let them know the problems you have solved, how you solved them, and the results that followed.
For instance, if you helped the team become more efficient through proper time management, you should say it. You could say something like, "I took the initiative to improve the time management of workers. There was a lot of waiting time in the production process and this was highly inefficient. I restructured the organization flow and suggested a better process of production. In the end, I was able to improve production time by 34 seconds per unit".
Mention academic courses or training you have undergone: Freshers can seriously leverage this. If you do not have a lot of work experience under your belt, you can talk about an online QA training you have attended in the past and the skills you learned. Make sure whatever skill you add is in line with the job skill requirements. 
Some Software Testing certification: Certifications are the icing on the cake. They are the perfect way of demonstrating competency in a given field. If you have any certifications, such as CSTE or ISTQB, you definitely should add it there. By the way, you can learn how to ace these certification exams by joining an online QA certification training. 
Wrapping up
In this article, we have looked at the key ingredient for a QA resume that stands out. Put in the work in making your resume top-notch and watch those interview calls pouring in.