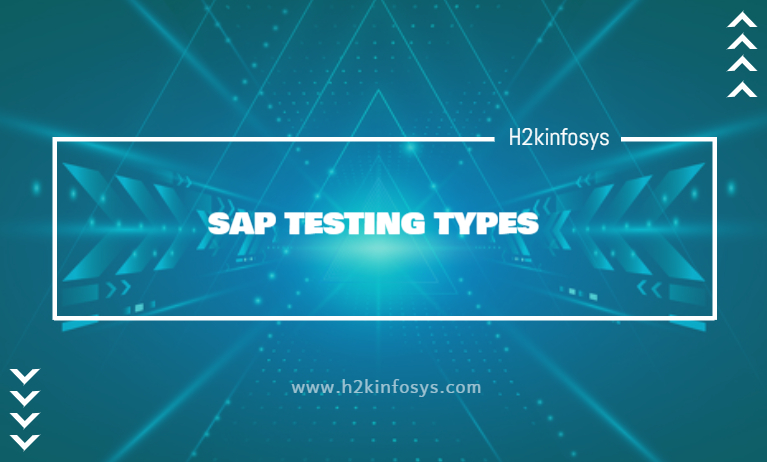 SAP Testing TYPES:
CLICK TO READ 'SAP TESTING'
Unit Testing: This testing is taking care by the developers as per the rules and regulations of the unit testing for any organisation. This testing is done in the development box. This is the testing done for interfaces, conversions, enhancement, reports, workflows developed primarily with ABAP code.
Integration Testing: This is the type of testing of combined components of application to determine if they function together properly.
Regression testing: It is the testing which is done to know that new changes implemented will not adversely affect the existing working code. SAP\R3 is a integrated system. A single stack update, OSS note, transport note, new development interfaces can have many cascading and severe effect.
Performance Testing: It is a testing type of SAP application software, whether they will perform well under expected workload. Performance testing encompass load, volume and stress testing to determine the mistakes. The SAP testing includes checking business processes that may cause stress. The main goal of this testing is to enhance the robustness of SAP application and helps systems that can sustain the high load forecast with zero post production performance issues.
Functional testing: It confirms that your implementation of SAP meets your business requirements. SAP is highly configurable system and could be easily integrated with other applications or third party tools.
User Acceptance testing: it assures that SAP testing is useful for end users of the systems. The end users can independently execute the user acceptance test cases which include testing business processes, documentation, functions.
Security testing: High security for SAP portal like SAP portal security, network security, operational security, product security and source code audit is tested.
Portal testing: The process involves testing the SAP portals on different web browser and checking in business processes.
Questions
What is SAP testing explain with an example?
What are the different phases of SAP?
What are the advantages of SAP?