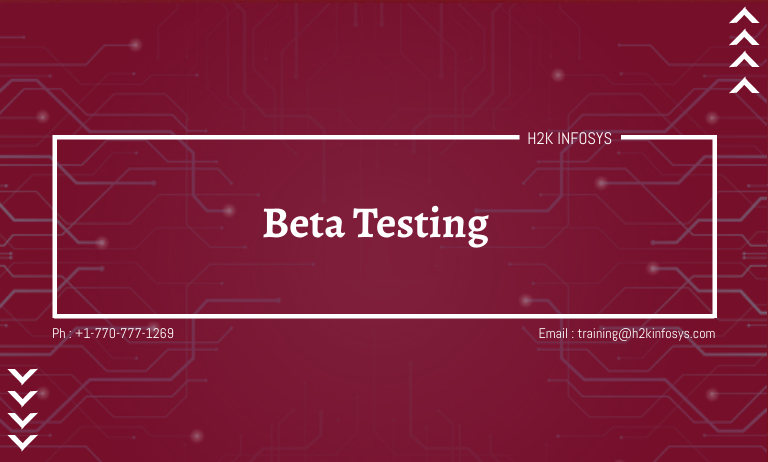 Beta testing is testing type which is done for customer validation methodologies to validate the level of customer satisfaction with the product by allowing it to be validated by the end users who actually use it for a period of time.
What is the purpose of beta testing?
The points are the objectives of beta testing are very much to produce far better results.
Beta test will provide a overall overview of the true experience gain by the end user while experiencing the product.
It is performed by a wide range of users and also the reason for which the product is used differs highly. Like marketing managers focus on target marketing opinions on each and every feature.
real world compatibility for a product can be ensured to a greater way by this testing. It is a great combination of real platforms, used here for testing a wide range of devices,OS,browsers etc.
The platforms which end users are using might not be available for the internal testing team while QA, this testing also uncovers the hidden bugs and gaps in the application.
Few platforms will cause the product to fail with the important bug which might not have covered during QA. This helps in improvising the product to be compatible one with possible platforms.
The known issues which are accepted by the product management team will take a great turn when the end user faces the same issues and will not be comfortable while using the product. This testing helps to analyse the impact of known issues on the complete product where the user experience will get disturbance and not be acceptable for any successful issues.
There are number of factors on which the beta testing depends
Test cases
Number of test participants
Shipping
Duration of Test
Demographic coverage
How to perform beta testing for any application?
Consider an example of any mobile application like Google play store, then you find options.
Select on early access. All the unreleased application will be shown we can download or use those applications automatically will be checked.

We can even become a beta tester for any new application. For that we have to go to the Google playstore, search for a new application. Then the application opens, scroll down we get an option as become a beta tester then join.
It asks for sign up, after that if the company has released any beta version we can update the application.
When beta testing is done?
Beta testing is done soon after the alpha testing is completed, but before the product is released in the market. Every technical items will undergo the beta testing phase as they are dependent on the platforms and process.
All the components are ready to start the testing. Documentation that has to reach the end users should be kept ready, setup for installation, usage and also uninstallation should be detailed out and reviewed if each and every key functionality is in good working condition. Procedure to gather the bugs, feedbacks etc should be identified and reviewed to publish.
Entry criteria:
Alpha testing will be signed off.
Product's beta version should be documented and must be kept ready to be launched.
User manuals, known issues list should be documented and must be published.
Tools to capture bugs, feedbacks should be ready and usage documentation should be published.
Exit criteria:
There shouldn't be any showstopper bugs in any of the platform.
All the important bugs discovered in beta testing should be fixed.
Beta summary report
Beta testing signs off.
A strong beta test plan and its effective execution will give the good result in the testing phase.