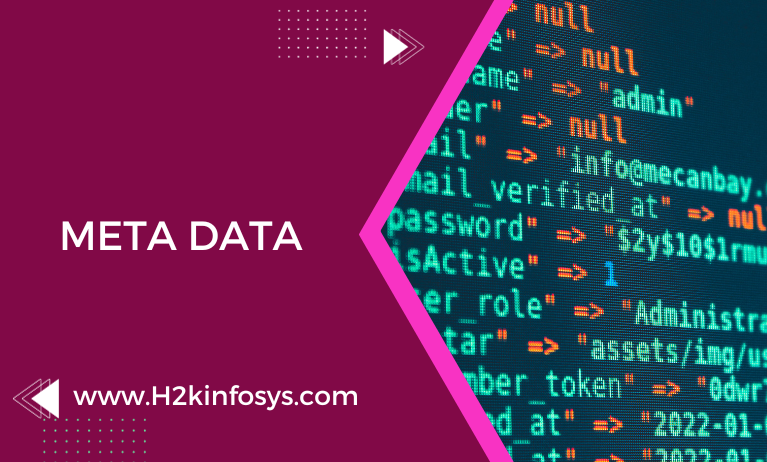 Meta is a prefix that in most of the information technology usages means an underlying definition or description. Meta data summarises basic information about data, which makes it very easy to find use and reuse particular instances of data. For example, author date created, date modified file size are examples of very basic document file metadata. Having the ability to search for particular element of that metadata makes it much easier for someone to locate a specific document.
The metadata that can be used are:
Computer files
images
relational databases
spreadsheets
videos
audio files
web pages
The use of meta data on web pages can be very important. The meta data contains descriptions of the page's contents as well as keywords linked to the content. The metadata is displayed in search engines meaning its accuracy and details that influence not a user decides to visit a site. This information will be usually expressed in the form of meta tags.
Search engines check meta tags to help decide a web page's relevance. Meta tags were used as a key factor in determining position in a search until the late 1990's. The increase in search engine optimisation towards the end of the 1990 led many websites to keyword stuffing their meta data to trick search engines making their websites that see more relevant than others.
Search engines have reduced their dependence on meta tags they are still factored in when indexing pages. There are many search engines that also try to thwart web pages ability to deceive their many system by regularly when they change the criteria for rankings with google being notorious for frequently changing the rankings like algorithms.
Meta data use cases:
The meta data use cases may be created anytime a document, a file or other information asset is modified including its deletion. Accurate metadata can be helpful in prolonging the life span of existing data by helping users find new ways to apply it.

Metadata arranges data object by using terms connected with that particular object. It also highlights objects that are dissimilar to know and paired with like object to help optimise the use of data assets. Search engine and browsers decide which web content to display by interpreting the metadata tags connected with the HTML document. The language of meta data is written to be understandable to computer system and humans a level of standardisation that contributes to better interoperability and integration between disparate applications and information systems. There are many companies in digital publishing, engineering, financial services, healthcare and manufacturing use metadata to gather insights on ways to improve products or upgrade processes. For example, streaming content automate the management of intellectual property. Metadata so it can be stored across an array of applications as protecting copyright holders while at the same time making music and videos accessible authenticated users.
The potential of AI technology is easing the traditional burden of managing metadata by automating previously manual processes to catalog and tag information assets.
The types of Metadata are:
Metadata categorised based on the function it serves in information management:
Administrative metadata- This allows administrators to impose rules and restrictions governing the access and user permissions. It also furnishes information on required maintenance and also management of data resources. It is used in context of ongoing research, administrative metadata includes such as details of data created, file size, and type and archiving requirements.
2. Descriptive metadata will identify specific characteristics of a piece of data like bibliographic data, keywords, song titles, volume numbers.
3. Legal metadata- will give information on creative licensing like as copyrights, licensing and royalties.
4. Preservative metadata- can also be known as data lineage, tracks the history of a piece of data it moves throughout an organisation. Original documents will be paired with metadata to ensure that data is valid to correct errors in data quality.
5. Reference variable- relates to information that describes the quality of statistical content.
6. Statistical metadata- will describe the data that focuses users properly interpret and use statistics found in reports, surveys and compendium.
Questions:
1. What is Meta Data?
2. What are the types of Meta Data?