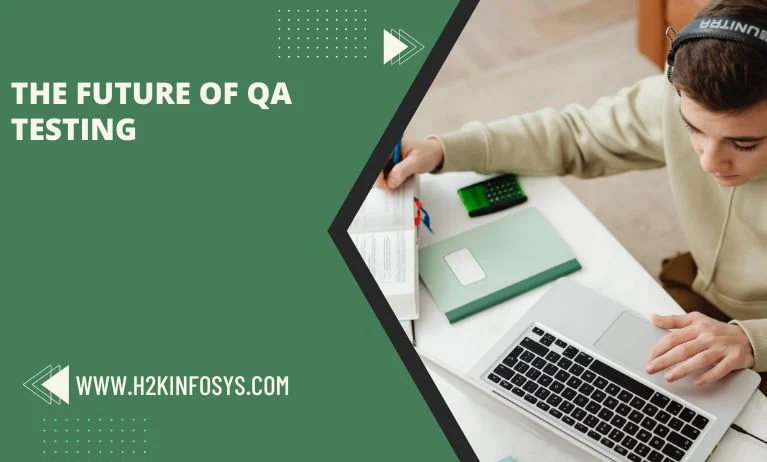 The value of software testing has significantly increased in recent years. Software testing is at the forefront of innovation as software developers look for novel techniques to prevent and avoid defects. QA has thus gained the same level of recognition as development teams. But what comes after? With the ever-changing software industry, What does the Future hold for QA testing?
Over the past ten years or more, the approach to QA has undergone a significant transformation. The fundamental cause of this is that we have had to adjust as a result of how quickly technology has developed. But the truth is that there will still be future changes in the QA testing industry as Companies' requirement for QA has increased along with their size and complexity. This indicates that far more internal QA testing is being done now than there was previously.
If you want to understand how these future trends will affect your business, there are various online QA certification courses available that will show how. Here are some of the future trends that we should expect in QA testing.

1.ML and AI will take the lead in QA testing.
The usage of machine learning and artificial intelligence in the software testing industry will increase over time. The latest trends in software testing include the use of artificial intelligence (AI) and machine learning for automated testing, which will dominate software testing. AI is already used to check for defects in software and make sure it works as intended. AI can be used, for instance, to foresee potential issues before a feature or functionality within an application is made available to users. Additionally, ML can be used to develop an automated test that determines whether an application is functioning as expected by human testers. Analysing data from earlier tests carried out on the same system or many systems with related data is part of this.
2.Selenium 4 will change how automation testing is done.
Another tool that might assist in automating certain testing situations is Selenium 4. It is a well-known open-source framework that enables programmers to create tests for desktop, mobile, and web applications using straightforward JavaScript code. Selenium 4 is becoming more and more well-liked among developers perhaps because of its popularity and ease of learning.
3.Automation testing will flourish more.
The significance of test automation has grown over time as more flaws and faults have been discovered in various systems. Any firm working in the software development industry cannot deny how essential automation has become to the process. Organisations benefit from automated testing by spending less money, time, and effort on manual testing, which boosts productivity and efficiency.
4.Blockchain Technology will impact QA testing more.
The use of blockchain technology has the potential to change how we work and live. It is now an established technology with several applications and is no longer just a fad. It can be used to store data safely, check its validity, and access it whenever needed. Additionally, it can be used to supply chain management, corporate operations, and other sectors of commerce. A growing number of industries, including finance, healthcare, and even entertainment, are adopting blockchain technology due to its ability to automate processes that are presently carried out manually.
5.New QA Techniques Will Be Defined by Business Intelligence (BI).
Discovering the data that can assist you in making more educated business decisions is the goal of business intelligence (BI). It involves more than just extracting data from databases; it also involves utilising that data to develop new goods and services by examining trends and making predictions about the future. This will be significant for QA testing in the future, as businesses will use BI to find faults and enhance their product development procedures.
6.Customer Experience And User-Centred QA Will Become Major Priorities.
The goal of user-centred design (UCD) is to enhance the user's overall experience with your product, not only make it simple for them to use. Users may become frustrated and decide never to use your product again if, for instance, it is difficult for them to understand how to use your mobile app or website. To avoid user frustration, you should make sure that your product functions flawlessly in all respects.
7.The DevOps Trend Will Continue to rise.
The notion of "DevOps" refers to the fusion of software development and operations. Although the idea of DevOps is not new, it has gained increasing traction in recent years due to its advantages for both teams. It enables developers to collaborate closely with members of the operations team, who can aid in streamlining their procedures and boosting efficiency. However, as more teams use this technique, it will remain a significant trend going forward.
8.There Will Be a Market for Security As A Service.
With good reason, security as a service is gaining popularity. It's one of the most crucial components of modern software development. Although adopting security internally has several advantages, outsourcing it can make it even more cost-effective. The biggest benefit is that while someone else takes care of your security systems' routine maintenance, you can connect to other areas of your organisation. This means you won't have to worry about ongoing expenses or issues with service providers who might not have the same level of expertise as you do in managing this kind of work.
9.The Demand for QA specialists will rise.
The number of QA specialists is expanding, and their significance is growing. For instance, it has been stated that the number of experts in test automation has increased by half in recent years. Due to the rising need for test automation, it is crucial for businesses to have a team of experts who can assist them in automating tests.
In conclusion, the future of QA testing is still bright because as long as there is software developed, QA testing will always be needed. Emerging technologies will also help to make the job easier in the future. You can begin your career in QA testing by enrolling on a good online QA training program.