QA Tutorials
What do you need to know to be a QA tester?
QA testers -Prerequisites, Role, and Career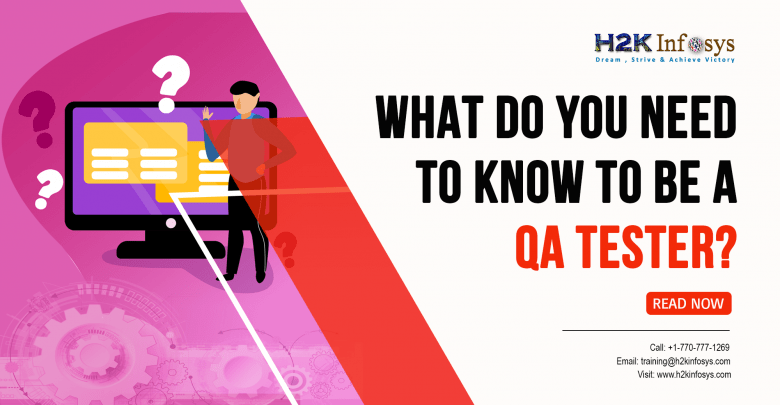 Quality Assurance (QA) Testing is no child's play. At the same time, there are no hard and fast rules that this is what the QA testers need to perform either. A formal QA testing course can offer some clarity on what a QA tester is expected to do in business. However, QA testing is such a broad term, the Software QA testers have different shoes to fill. However, the one point the QA testing drives is being proactive. The idea is to check for errors in the process before it is too late. Almost all the large companies today invest in QA testing as they comprehend the need. But, what are the QA testers expected to do? What should they know to qualify as a QA tester? How is the career curve for an SQA tester? In this blog, we will answer all these questions.
We recommend H2K Infosys for QA testing online training, our top 5-star rated course by our student fraternity.
What do QA testers do?
As already mentioned, just like a Business Analyst, the QAs also do not have a specific role to perform. At every level of the organization, and every process, there are different stages at which the QA is expected to step in. The goal of the QA tester is, however, to improve the process performance and find the root cause of the errors such that the end product is of superior quality.
But, first things first, choosing the type of testing is the initial step. Is it manual or automated?
Once, that is figured out, a lot of communication is required between the software and the other teams to understand the requirements of the process.
A highly-qualified tester should know the following forms of testing although there are some hundred-odd types of testing:
Functional testing
Load Testing
Security Testing
Regression Testing
Usability Testing
Performance Testing
Compatibility Testing
Reporting the bugs and re-testing bugs.
Demand for QA testers…
Although the career progression of each QA tester depends on his performance and choices they make, a typical growth as a QA tester looks like the following
QA Analyst – Fresher
QA Analyst – 2-3 years experience
QA Team co-ordinator – 5-6 years experience
Test Manager – 8 – 11 years experience
Sr Test Manager – 14 and above years experience
Alternate careers of a QA tester:
Business Analyst (BA)
Technical Writer
Automation Testing Engineer
If you are looking at establishing yourself as a QA tester, clearing the ISTQB (International Software Testing Qualifications Board) can help you jump start your career as a tester.
Who can become a QA tester?
To become a qualified QA tester, one needs to have a good blend of technical and non-technical skills.
Technical Skills
Knowledge of Database/SQL
Basic familiarity with Linux commands
Should know the various SQA activities
Knowledge of defect tracking tools like – QC, Jira, Bugzilla.
Good to know various scripting languages like – JavaScript, VBScript, Shell/Perl Scripting for testing automation.
Non- Technical Skills
Communication skills – A QA tester needs to communicate with developers and other team members a lot, which means, they should be good at soft skills such as decent written and spoken English skills.
Analytical skills – A QA tester should possess strong analytical skills as at the end of the day, their job is to spot and fix bugs.
Attitude – There is often an underlying current between the developing teams and the testing team in terms of whose role is more important. Suppressing these negative thoughts, the QA tester should work collaboratively towards achieving the best results.
For QA testing training online, check out our courses section at www.h2kinfosys.com.