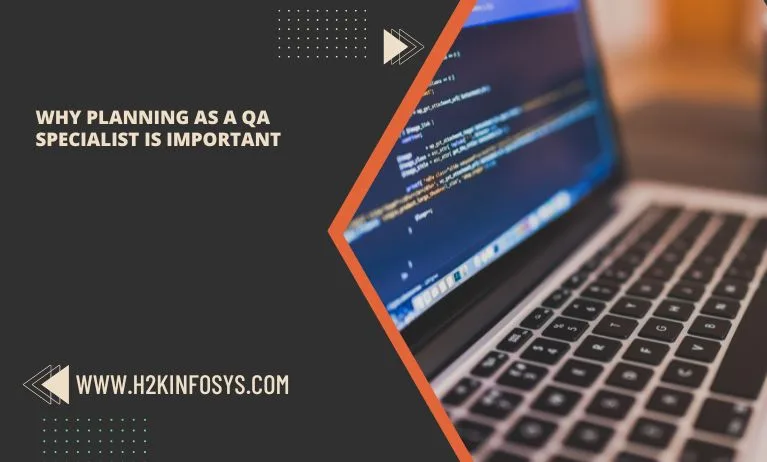 The large audience needed to be persuaded that qa specialist software testing is important, which took some time. It was widely accepted that good coding equates to a positive user experience. These two things might not even be related, as was discovered via practice. We are now dealing with a new problem: difficulties with planning.
Many experts who hire QA workers at the later stages of product development are unaware of the time commitment involved in setting up a QA procedure. Now that most people are aware of the importance of testing, we have another piece of advice to impart: careful preparation for software testing has enormous positive effects on the development process. To learn more, check out a reputable QA course.
QA Awareness: Why Software Testing Matters.
Let's begin by quickly recapping the reasons why the QA process occupies such a crucial position in the development pipeline. The following are only a few of the advantages of conducting software testing prior to release:
When the finished product hits the market, you have faith in its high quality.
More user satisfaction and more devoted users result from no critical defects in production.
A product's ability to compete better in the market is enhanced by high quality.
It will be simpler to scale a product in the future if all the quality criteria have been met and the main functionality has been tested from the beginning.
There are a few more advantages to working with an outside QA business. When performing a test run, experts nearly always discover flaws that aren't obvious to the common user but that have a significant negative impact on the customer experience. Also, a product can be evaluated objectively and with a new perspective by this kind of software testing services provider.
The Effects Of Insufficient Preparedness In QA.
It frequently occurs that a project management specialist only realises the importance of testing once the development is almost or fully complete. And up until you start looking for a software testing company that can take on a project right now, it all looks totally fair. There are two possible outcomes for this circumstance:
In the first scenario, quality is put in the back seat in favour of meeting deadlines. A business makes a hasty effort to test the goods. Nevertheless, when it comes to software QA, haste isn't the ideal course of action. Without investigating their credentials, assigning testing jobs to any software & QA business that is prepared to go to work right away could lead to a subpar finished product.
In the second scenario, your project is immediately placed on a waiting list, where it could spend anywhere between a few weeks and a few months. This second scenario is more likely. The thing is, the continuous workflow is a feature of QA businesses with years of experience and a solid reputation.

Planning is therefore essential for productive work on both ongoing and new initiatives. Why is it the case?
On one hand, we must organise the team's work effectively if we are to provide the desired high-quality results. On the other hand, we are unable to put on hold our current initiatives in order to start an urgent one. Since we must stop working, it is both inefficient and unethical because we value each and every client.
How Planning In Software QA Works.
The planning duties that are performed by a client and a QA business are distinct, but they have the same goal: to maximise the effectiveness of a team's work. The following items are on the to-do list for a business searching for an outsourced testing provider:
Establish the goals for testing a certain project.
Determine the amount of money you are willing to spend.
Look for a company that can promise to provide QA services at the expected level.
Find out more about business procedures and service costs.
Discuss the conditions of the collaboration.
You can see that it will take some time to finish these chores. To perform research and speak with a QA business, you'll need at least a few days. In a perfect scenario, you locate a business that meets your needs, and they are prepared to begin operations the following day. But let's face it, that's not how things generally go. For various factors, you will probably need to discuss the conditions with a number of QA businesses. Some might not be prepared to contribute pertinent knowledge.
The other parties might not be open to negotiating rates that are out of your pricing range. Customer testimonials can occasionally lead you to doubt the calibre of the services a business offers. What's even more likely, a QA company most likely has existing projects and lacks reserve resources to dispense for your tasks.
Simple Solution: Think About QA Beforehand.
Hence, preparation is what enables QA companies to provide the calibre of service customers demand. Prior to starting a new project, we decide who can complete the tasks and conduct testing. The client and I then talk about the candidates. Next, we schedule a selected QA specialist's task so that they can begin on time.
What transpires when everyone on the team is pressed for time? Running late in daily life is analogous to being late. In an effort to do everything more quickly, you keep looking at the time, but you can't seem to focus, so you keep stumbling and dropping things. Strangely, rushing doesn't make you more efficient at either daily tasks or the QA process.
When rushing, it's more likely that someone may spill coffee on their clothes than they will finish their breakfast on time. They had to change their clothing right away, but they were still running late (and probably left without having a usual morning drink). To put it simply, begin your search for a QA supplier early. This does not imply that you must modify your current development process and begin running tests concurrently with development. Just save the QA experts' time for later.
A QA services provider will be able to guarantee the timely beginning of testing, and you can feel secure knowing that when the time for testing arrives, someone will be there to cover it right away.
The early planning principle actually applies to all services, not only QA outsourcing. For instance, reservations must be made in advance if you want to eat supper at a renowned restaurant. Although we don't expect you to wait for years, offering advance warning will enable both parties to schedule their time effectively.
Conclusion
It's astonishing how many tech organizations have already realized the importance of using QA expertise. This fact demonstrates how much businesses value and care about their consumers' experiences. You can learn more about this idea with the help of some excellent QA training.