BA Tutorials
What is the Future Scope for a Business Analyst?
Business Analysis and its prospects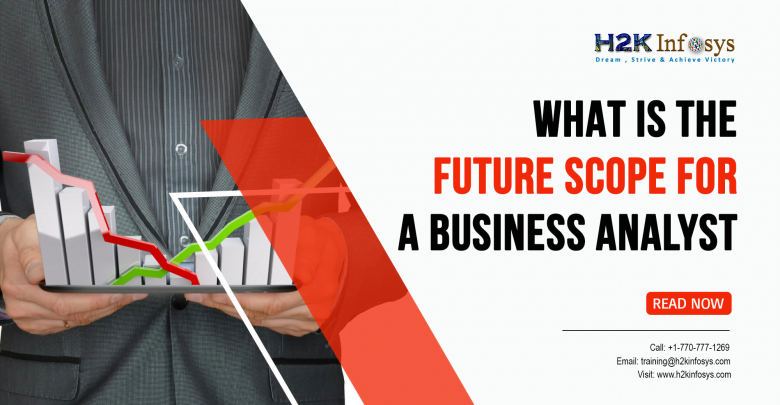 Every job might have a clearly defined set of responsibilities. But not for a Business Analyst (BA). The role of a Business Analyst is present at every level of an organization. Therefore, a BA has to indulge in performing various sets of activities. They might have to play the role of a facilitator, project communicator, change-maker, based on the requirement of the project. Businesses are increasingly dependent on Business Analysts and Project Managers. Why? These are the key players who can advise on best practices that can help organizations drive business growth and generate profits. According to a 2018 report, 85% of the companies will have resorted to business analytics to record revenue growth. This translates to increased demand for BAs. Enroll for Business Analyst Certification online from H2K Infosys for a holistic approach to a program in business analysis.
What is the role of a Business Analyst?
The role of a Business Analyst is challenging enough fraught with twists and turns. A competent business analyst is the one with a flair for food communication skills and an attitude to pose the right questions to the stakeholders. The following are the usual activities of a Business Analyst:
Their primary role is to gather, document, and analyze business requirements.
The BAs work closely with stakeholders and Subject Matter Experts to get to the bottom of the problems.
They play an instrumental role in providing technical solutions.
They Analyze the requirements through predictive technologies, such as Artificial Intelligence, Machine Learning, and the Internet of Things to understand hidden trends and suggest a change.
The Business Analysts extend their support to test their system and provide documentation and user manuals.
Communicate, argue and convince the stakeholders of how the recommended changes can positively affect the business growth if implemented.
They make sure the changes are implemented correctly by interacting with product managers, systems architects, and developers.
Job Security of Business Analysts
The role of a Business Analyst is increasingly becoming more focused than ever before. A Business Analyst is the one whose responsibilities revolve around people. It involves interacting with them, asking questions, analyzing information, communicating back to them. And hence the role of a BA is critical and secured than ever.
Communication with a human touch is crucial for this job and hence it can never be automated.
The BA can either see a rising career curve by becoming a senior business analyst, product manager, Business manager, VP, SVP, and so on.
Alternatively, one can opt for lateral growth by switching to Business Analytics if they enjoy playing with numbers.

Future scope for Business Analysts?
The career prospects for a Business Analyst seems to explode in the coming few years. The top companies like IBM are investing more in business analysis as it essentially helps them realize their business goals.

What's more, BA is one of the top-paying professions in the job market. Looks like there is no turning back once you set your mind to become a business analyst. A staggering 19% growth for business analysts is expected in the next 5-6 years.
Being a techno-functional role, a BA can easily climb up the success ladder.
The role of the BA is multi-faceted. It can help you gain financial stability, professional growth, and rewarding career all at the same time.
If you are a beginner, enrolling for a business analyst certification online from a reputed training provider can help you get a foothold in the job market.
Alternatively, if you are looking for a mid-career shift, your vast knowledge from previous jobs can come in handy while working as a business analyst. Industry knowledge is crucial to becoming a successful BA.
That said, we highly recommend our business analyst online training course, a comprehensive 45-hour integrated program. Don't forget to request for a free demo at www.h2kinfosys.com.