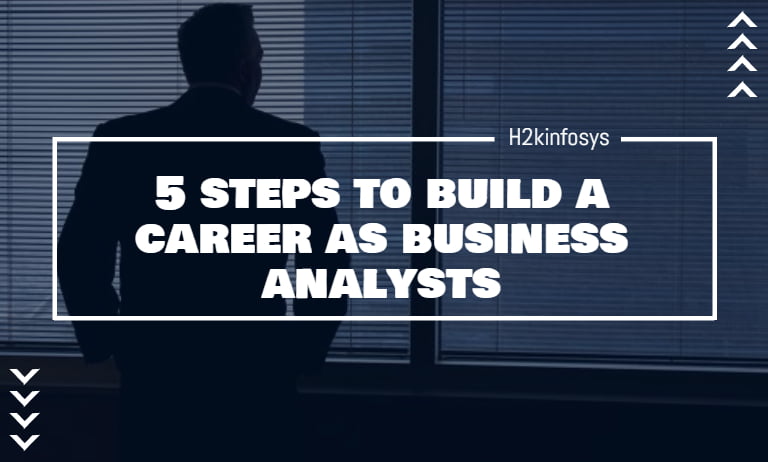 Starting a career as Business Analysts can be exciting and intimidating at the same time. That's mostly because there is no standard protocol for the role of a business analyst. Assuming you are a fresher to the business analyst role, what are the top 5 steps you should focus on? Is it confidence, or the knack to ask the right question? Which skills should you hone? Let's check the business analyst must-dos in this blog.
How to build a career as a Business Analyst?
Business analysis is no doubt a thrilling career as you are expected to drive business growth by suggesting changes in the process at different levels of business. The key is how well you communicate this change and convince the stakeholders of the benefits it can bring to the business.
Can any undergraduate in an appropriate field with computer knowledge become a business analyst? Well, the lucky ones do. But, for the others, to carve a career as a business analyst, follow the three steps:
Getting certified is your best bet. Supplement your knowledge gaps by going through the International Institute of Business Analyst website (iiba.org). If possible, get the beginner level certification.
Try to gain real-time experience. As they say, formal certification is secondary to hands-on experience for a BA, we recommend enrolling for a real-time project based BA course. This can help you gain real-time experience along with domain knowledge.
Continue your certification while gaining practical experience.
Now, let's imagine you are successfully placed as a business analyst.
What are the top takeaways to perform well on business analysts jobs?

1. Understand the role
As it is already established that the role of a business analyst is pretty vague. So, the first and foremost step of a beginner is to ask the employer about his expectations from you as a business analyst. What business problem they want you to first work on? The deadlines, they are looking at, and who would you be reporting to a project manager or a team leader?
However, let us give you a heads up here. As a newbie to the business analyst role, you might not be able to make the decisions right away and would be depending on the senior business analysts and their inputs in the beginning.
2. Invest in learning the process
Your career growth as a business analyst hugely depends on how well you understand the processes in your company. You might want to look into all the documents and templates that explains the business workflow in your organization.
Where do you fit in all this? Are you going to document the process with the help of use cases or follow a standard guideline creating a business requirement document? Or are you going to be more into developing agile user stories or a product backlog?
3. Know your stakeholders
In the role of a business analyst, everything depends on how well you communicate with the stakeholders. Hence, knowing your stakeholders, be it, on the business side, or the technical side is quintessential.
4. Make an impact
It is fair to assume that sometimes you need to take over from another business analyst who has already performed the requirement gathering. Or you might have just stepped in when you have to start testing against the business requirement for which you haven't written the requirement.
Making a positive impact, in the beginning, is essential. It is imperative to bear in mind that the positive impact defines the role of a business analyst.
5. Bring in the best practices
By involving continuously in the process improvement and with regular communication with the stakeholders, you can improve your recommendations relatively based on their feedback/inputs/suggestions.
Let us know what you think of our top 5 essential steps that can help you build your career as a business analyst in the comments section below.