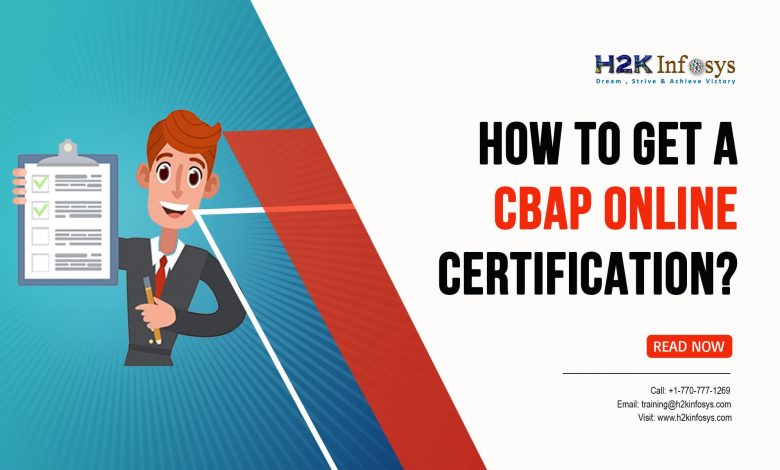 If you are a business analyst and looking to get accredited for the years of hard work you have put in, then CBAP® is the answer. Certified Business Analysis Professional (CBAP®) is a level 3 certification offered by the International Institute of Business Analysis (IIBA®). Alternatively, if you are an aspiring business analyst, choose BA online training for beginners to get a foothold in the job market.
What is the eligibility for CBAP?
First off, each business analyst has a journey to becoming a CBAP® Certified Business Analysis Professional. For some, it may take 1-2 weeks provided they meet the pre-requisites, however, a few might have to wait for 1-2 years before they get certified. Let's look at the pre-requisites for applying for the CBAP® certification.
Minimum academic qualifications should meet the 12th standard or equivalent high school degree.
Five years or 7500 hours of experience as a business analyst.
The aspiring CBAP® certified professional should demonstrate 900 hours of experience in at least 4 of the 6 knowledge areas. That said, the six knowledge areas include:

Business Analysis Planning & Monitoring
Elicitation & collaboration
Requirements of life Cycle Management
Strategy Analysis
Requirement Analysis & Design Definition
Solution Evaluation
Tip: Documenting your professional experience as a business analyst helps boost your confidence.
The experienced business analysts should have 35 hours of documented professional development training provided by accredited institutes or conferences.
CBAP® certified professionals are expected to be senior business analysts as defined by IIBA® in the book – A Guide to the Business Analysis Body of Knowledge (BABOK® Guide). Hence, it is imperative to educate oneself with the BABOK® Guide to pass the CBAP® certification exam. This is to render your knowledge as a senior business analyst. Focused, multiple revisions of this book are recommended due to its complex text and also to appreciate the abundance of information it contains.
For Business Analyst online training, consider H2K Infosys, a leading provider of IT training for 15 years.

How to apply for CBAP® certification?
The application for CBAP® certification should directly be submitted on the IIBA® website. The applicant should be able to enlist two viable references in the application form.
Once the application is approved it might take 2-3 months before the candidate can appear for the exam. In case, if you wish to reschedule the exam for any reason, which includes the failure in the first or multiple attempts, you can schedule it within one calendar year from the date of approval of your application.
Alternatively, if you fail to qualify for CBAP® certification, you can try Level 2 or Level 1 certifications from IIBA®.
Level 1 – Entry Level Certificate in Business Analysis (ECBA).
Level 2 – Certification of Competency in Business Analysis (CCBA).
Also, one might consider applying for a Professional in Business Analysis (PBA) certification offered by the Project Management Institute (PMI).
As a beginner, one can enroll for a Business Analyst certification online right from the comfort of your home, at www.h2kinfosys.com.