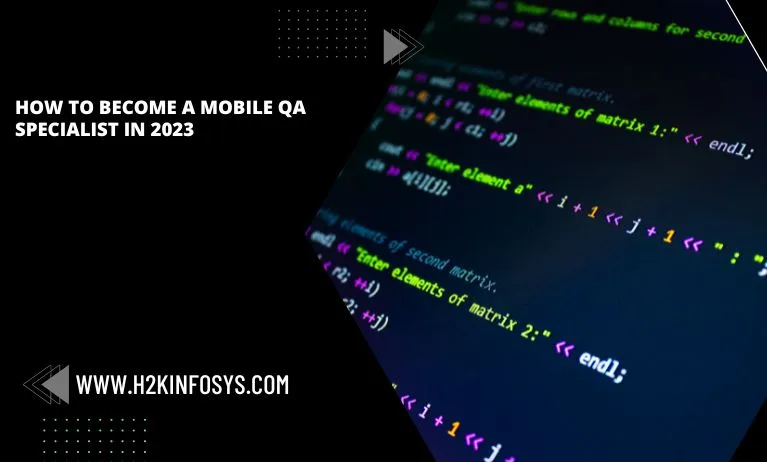 Every great app on your smartphone is the result of a dedicated team of engineers and software developers QA specialist. In order to find bugs and problems that could ruin your experience, this person is the first to completely examine software features, performance capabilities, and graphic interface aspects. Being detail-oriented, goal-oriented, and prepared for challenges will be very helpful if you want to start a career in QA services. The work you do won't only be bug reports and program flaws. But if you're eager to improve the quality of digital products, now is the moment to figure out how to become a mobile QA engineer. QA training is important for you to become a good QA specialist.
Essential Background and Skills
The tech sector is extremely dynamic. Obtaining employment in the IT industry necessitates ongoing skill development. Companies frequently have various expectations for the preferred education and experience of a mobile QA specialist. Several businesses that offer software testing services are happy to hire entry-level professionals and give on-the-job training and career development opportunities.
However, some will inquire as to whether you've studied computer science, UX design, or a comparable subject. Knowledge of fundamental testing kinds and methodologies, certifications attesting to your expertise, experience with gadgets and an enthusiasm for cutting-edge technology, and familiarity with mobile testing tools are all factors that can help you launch a career in mobile QA.
A good QA specialist is defined by a formula that includes technical talents as well as soft skills, so recruiters usually take these into consideration. What sort of benefit will there be for candidates who lack much real-world experience?
Focus on the user's perspective while applying your analytical thinking skills and previous experience using/testing similar apps.
Modelling unusual "what if" scenarios and testing out potential user flows are examples of creativity.
Pay close attention to the little things and thoroughly examine software to spot hidden problems.
Being adaptable means being able to use various testing procedures and approaches.
Understanding of business objectives and the capacity to describe the value of technology in terms of business.
Ability to create common ground with developers, stakeholders, and C-level executives through explicit reporting to listen well and ask the right questions.
Motivation: the desire to become a team player and an exemplary specialist.
Certifications To Consider
However, proper certification is a significant career booster. Experience and skills are more valuable than certificates. The majority of certifications are vendor-neutral, so you receive documentation proving that your knowledge and abilities are sufficient for handling a wide variety of testing duties in many specialised fields. The following is a list of some of the popular certifications:
Certified by the ISTQB. There are a number of entry-level programs available from the International Software Testing Qualification Board, and no prior technical knowledge or expertise is necessary.
The International Software Certification Board's CSTE (Certified Software Tester) (ISCB). Candidates must possess a technical degree and software testing expertise in order to enrol.
For specialists who desire to work in mobile QA, there is also the IMTQN (International Mobile Testing Qualifications Network) standardised testing certification.
The CMAP (Certified Mobile App Professional Tester) certification is a foundational qualification at the entry-level.
Before concentrating on understanding mobile testing, you need to be familiar with general testing procedures. Additionally, there are several programs that concentrate on vendor/platform-specific certifications as well as more specialised topics (such as security or cloud testing). After you have some experience and decide to hone your understanding of a few in-demand tools, they will be helpful. A certification is not necessary, but it is a benefit for a novice mobile QA specialist that will aid in catching the eye of recruiters at a reputable software testing firm.
Job Requirements
When conducting mobile testing, a quality assurance specialist keeps in mind standard testing procedures and techniques. But, they should be aware of the idiosyncrasies, from environments to UX and tools employed, that are specific to mobile applications only. That implies that hiring managers will have greater demands placed on your knowledge and talents. In addition to the fundamentals of testing, you should be familiar with:

Mobile operating systems (Android, iOS, etc.) and their iterations;
telecommunication fundamentals (to model network conditions with different capabilities, including switching between different data transfer types);
telephony features (to check the interruptions and background mode);
mobile-specific features and types of user interactions (for example, landscape and portrait modes, various input options, etc. to check cross-platform support and accessibility), etc.
Depending on the specifics and breadth of the duties a mobile QA specialist will be responsible for, the necessary technical skill set varies from project to project. The list of credentials for a senior specialist may sound impressive, but younger QAs that are motivated and energised are still in demand. Soft skills, together with the capacity to create clear test reports and succinct testing scenarios, will be sufficient if you are just beginning your profession.
Conclusion
The formula for a superb mobile QA specialist consists of three elements: familiarity with various mobile devices, analytical abilities, and knowledge of mobile testing & QA. The good news is that your tenacity and motivation matter more than your upbringing. You'll develop into a tech prof in the QA sector more quickly the earlier you begin learning. Check out the qa course to learn more.