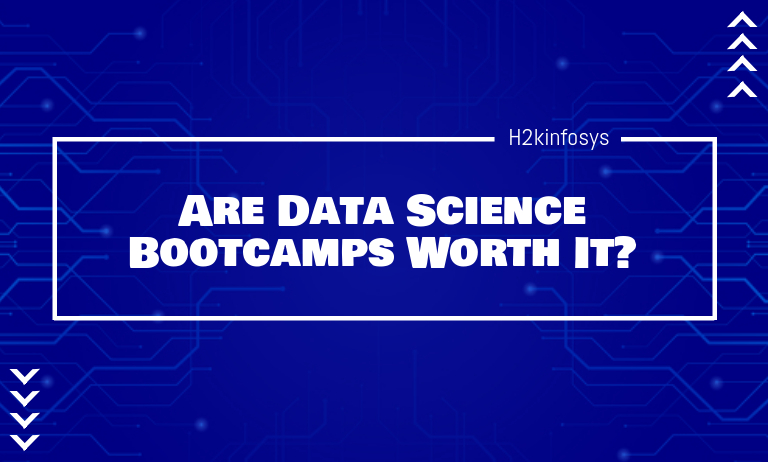 Data science is relevant to different domains today. There is a perpetual demand for qualified data scientists to fill in the gaps within the industry. Data has never been put to better use around the world in order to extract meaningful insights upon which businesses are creating their forecasts.
Data science teams are essential as well as critical for ensuring that this process works well. Hence, it is easy to say that a career in data science can be highly lucrative. And for this purpose, a data science Bootcamp might just be worth your time and money.
What is a Data Science Bootcamp?
As the name suggests, a data scientist Bootcamp is a super-fast way of learning all the necessary concepts that will help you land a fruitful career as a data scientist or a data analyst. Due to the express nature of this learning method, the course aims to remove all the superfluous elements. In other words, you only learn what you will apply in your career. Considering this, attending a data science Bootcamp can be helpful for your career advancement.
What Should You Look for in a Data Science Bootcamp?
A data science Bootcamp can be a good place to begin your journey in the field of data analysis. While most data science Bootcamps offer a similar course material, some tend to include a higher amount of practical experience. Therefore, it is very important to take your time and search for a data science Bootcamp that includes all of the following elements:
➔ Cost of the Bootcamp
Fortunately, most data science Bootcamps are affordable although, not all may be provided free of cost. The cost is typically decided by the course curriculum included. The skills, expertise, and qualifications of the instructors, as well as the institute reputation, can also affect the overall cost of the data science Bootcamp.

In order to provide a comprehensive understanding of the subject and concepts in question some institutions organizing the Bootcamp may also collaborate with companies or businesses. This can increase the cost of the course. Other than this, a boot camp may also be provided in collaboration with a popular institution for the purpose of providing reputable certifications to the attendees. Such collaborations can increase the overall cost of the course.
Having said that they are certainly more affordable in comparison to a master's degree course from a University of similar standing.
Additionally, the biggest advantage is that the course is delivered in a matter of weeks, making sure you are ready to pursue a career and start earning that much faster.
➔ Teaching Methodology
Bootcamps are highly focused in their teaching methodology. They offer an ample amount of experience to the student at a much faster rate than a standard course. You must prepare yourself for this pace of learning if you want to complete your boot camp successfully. There is hardly any space for flexible learning or creating your own schedule. This is true for a data analysis Bootcamp online as well.
Secondly, the course material is designed keeping in mind that you are here to acquire specific skills in an almost professional environment. Therefore, be prepared to be surrounded by experienced and qualified students.
➔ Post Completion
Your data science bootcamp will be over in a matter of weeks. Then what? You may still require support even after the school course is over. Therefore, it is recommended that you search for data science Bootcamps that include support once the course is over. It need not be elaborate. In fact, it can be provided in the form of simple updates regarding industry trends, any job vacancies, networking opportunities, occasional help from the course's instructors.
In Conclusion
Also known as data Analytics Bootcamp, a data science Bootcamp certainly has more benefits than drawbacks. However, keep in mind the above-mentioned points and brush up on the basic skills needed to become an analyst. Typically, these include expertise in statistics mathematics and coding. It can also be a good idea to learn basic programming skills, like Python or R programming, in order to derive the maximum out of your time and effort inside a data science Bootcamp.