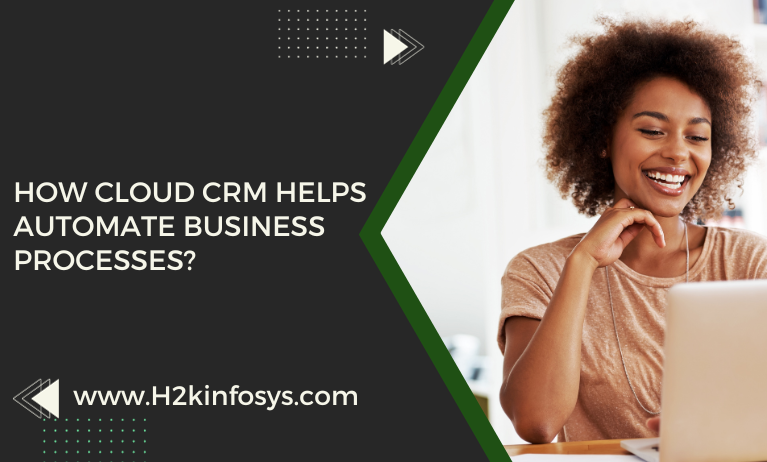 Today, the majority of organisations rely heavily on Cloud CRM software to run their customer experience operations. In fact, the global market for CRM systems is expected to reach an incredible 57 billion US dollars in 2025 and is increasing at a CAGR of 2.1 per cent. More than 75% of all CRM software spending worldwide is on cloud-based CRM systems. Therefore, it should come as no surprise that many companies are now thinking about switching from on-premise CRM software to cloud-based CRM solutions. 
But what brought about this significant movement in favour of the cloud? In addition to discussing the advantages of cloud-based CRM software for business process automation, this article will clarify how exactly a cloud-based CRM differs from conventional on-premise solutions. Check out our Salesforce training to learn more.
How is a cloud-based CRM solution different from on-premise CRM?
Each sort of CRM solution has advantages and disadvantages. The flexibility, accessibility, and scalability of cloud-based CRM are greater than those of on-premise CRM, which offers more control over data and infrastructure but necessitates a larger initial investment and continuing upkeep.
Benefits of cloud-based CRM over traditional CRM for more productive automation
Let's go through the distinctions before delving deeper into the benefits of cloud-based CRM vs. on-premise systems.
1.Rapid updates and implementation
Cloud-based CRMs can be quickly deployed. As a result, companies may start automating procedures right away without having to wait for hardware to be set up or software to be installed. Additionally, the provider of these systems updates them automatically, guaranteeing that organisations always have access to the newest advancements in automation.

On-premise CRMs, in comparison, could take a long time to implement and update manually, delaying the adoption of automation.
2.Scalability and Resource Management
Scalability is a strength of cloud CRMs, which allows them to easily meet rising automation demands. Cloud solutions can scale resources to manage increasing workloads as process volumes rise without requiring a lot of manual work.
To accommodate changing automation needs, on-premise solutions, however, need careful resource planning and allocation, which can be time- and resource-intensive.
3.Access and Mobility
Remote access to automated processes is made possible by cloud-based CRM from any device with an internet connection. Employees can manage tasks and interactions while on the road because of this mobility.
On the other hand, on-premise solutions restrict access to actual office locations, which might limit automation's flexibility and perhaps lead to delays in crucial activities.
4.Ecosystem and Integration
Cloud CRMs frequently advertise a wide range of tool and service integrations from outside sources. By enabling seamless data flow across several platforms and speeding operations that rely on data synchronisation, this interconnectedness improves automation.
The same level of integration agility may be difficult for on-premise solutions to attain, which may obstruct the automation of end-to-end workflows involving several systems.
5.Lower Maintenance Overhead
CRMs that are cloud-based greatly lighten the workload associated with updating software, servers, and hardware. Instead of managing infrastructure, IT staff may concentrate more on automation and cloud cost reduction. On-premise CRMs, on the other hand, necessitate constant IT work to maintain hardware, apply updates, and guarantee resource availability.
6.New Automation Technologies and Innovation
The innovation leaders are the cloud CRM service providers. They routinely introduce new automation technologies, such as machine learning improvements, AI-driven workflows, and predictive analytics. While on-premise CRM customers may encounter difficulties incorporating new automation technologies due to the complexity of their deployment methodology, cloud users have smooth access to these improvements.
Features of top cloud-based CRM solutions
The greatest cloud-based solutions come with effective features that make the aforementioned benefits possible. They offer a range of functionalities to assist companies in managing client connections, streamlining operations, and fostering expansion. The following characteristics are frequently seen in the best cloud-based CRM solutions:
Contact and Lead Management: Manage client contacts, interactions, and leads effectively by storing all of this information in a single database.
Sales Automation: Use tools like lead scoring, opportunity monitoring, sales forecasting, and automatic follow-ups to streamline sales processes.
Marketing Automation: To nurture leads and engage customers, automate marketing campaigns, segment customer lists, send customised emails, and monitor campaign performance.
Workflow Automation: Create unique processes to automate time-consuming chores, notifications, and approvals, thereby enhancing teamwork and consistency.
Customer Support and Service: Use automated ticket assignment, routing, and escalation to manage customer queries and support tickets.
To acquire insights into the success of sales, marketing, and customer service, create reports and visual dashboards.
Integration Skills: Integrate with other business software and tools, including accounting software, e-commerce platforms, email marketing programs, and others.
Mobile Access: Sales and support staff may access and manage CRM data on mobile devices via specialised apps, keeping in touch while on the go.
AI and Predictive Analytics: Some cloud-based customer relationship management (CRM) systems provide AI-driven capabilities like predictive lead scoring, chatbots for customer service, and data-driven insights to help with decision-making.
Data Security and Compliance: CRMs that are hosted in the cloud offer security features including data encryption, role-based access restrictions, and regulatory compliance.
Customization: Tailor the CRM to your company's needs by altering the fields, designs, and workflows to suit them.
Engage with consumers using a variety of channels, including chat, phone, social media, email, and more, all from within the CRM platform.
Document management: Maintain customer, business, and project-related documents so that teams can access vital information centrally.
Collaboration Tools: Enable teams to work together on customer-related projects and activities within the CRM to improve teamwork and communication.
Scalability: Cloud-based solutions may readily evolve to meet expanding company requirements and rising user counts without requiring significant infrastructure upgrades.
Should you build a custom cloud-based CRM solution or use an off-the-shelf solution?
Top cloud-based CRM programs like Salesforce, HubSpot, Microsoft Dynamics 365, Zoho CRM, and Pipedrive combine the aforementioned characteristics to aid businesses in streamlining operations, improving customer interactions, and increasing productivity. The decision to use an off-the-shelf solution or create your own solution will be based on the specific needs and goals of your company.
When should you select a ready-made solution?
Accelerated implementation: Because they are ready to use right out of the box, off-the-shelf CRMs drastically cut down on deployment time. An existing CRM can get you up and running more rapidly than developing a new system if you need to automate activities right away.
Cost-effectiveness: Because of the costs associated with creation, testing, and continuing maintenance, creating a custom CRM can be expensive and time-consuming. Off-the-shelf CRMs provide an affordable option, particularly for small to medium-sized businesses with budget constraints.
When to build custom CRM software?
Unique Business Requirements: A custom-built CRM may be the best option if your company has very specific and distinct operations that cannot be efficiently managed by current off-the-shelf CRM solutions. It enables you to carefully customise the system to fit your demands and workflows.
Competitive Differentiation: By offering features and functionalities that your rivals might not have, a custom CRM can provide you with a competitive edge. You can develop and find new ways to meet customer wants thanks to it.
Complete Control: You have full control over features, integrations, and updates with a custom CRM. This degree of control may be helpful if you need to react fast to shifting market dynamics or legal requirements.
However, your technology partner and the cloud development options they provide to you have a significant impact on the ROI of custom CRM software. With an unskilled team, the project may falter, incur large costs, or be abandoned.
Conclusion
When it comes to effective business process automation, cloud-based CRM solutions vastly outperform conventional on-premise CRM software. Leading cloud CRMs offer businesses the flexibility, scalability, integration capabilities, and cutting-edge features they need to optimise workflows, boost productivity, and provide better customer experiences. 
Off-the-shelf cloud solutions offer unequalled speed of deployment and cost-effectiveness for the majority of enterprises, even while custom CRM software can help meet specific business demands. The decision is based on particular needs, constraints, and goals.  You can check out the Salesforce certification training to learn more.