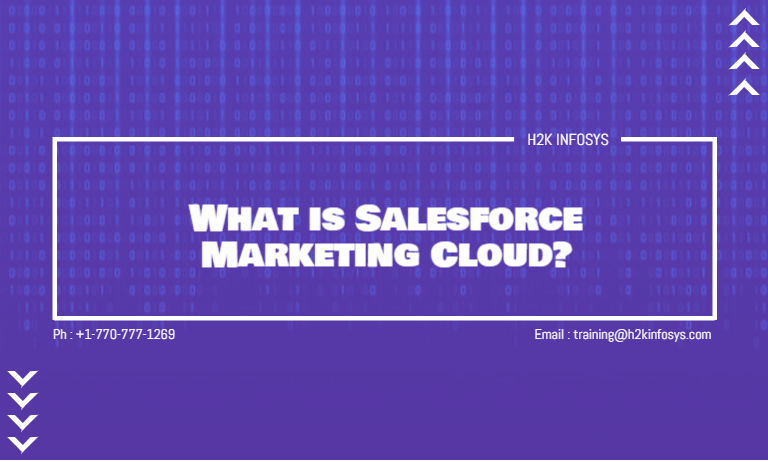 Are you a marketing professional and exploring the Salesforce platform? Then why not expertise in Salesforce Marketing Cloud with a certification to get better focuses on the job prospect? Salesforce Marketing Cloud (SFMC) is one of the most promising Salesforce platforms for marketing professionals who aim to get the highest ROI through exploring and understanding customers. The Marketing Cloud is one of the leading products of Salesforce. It caters to the area of marketing automation and customer engagement. This SaaS platform comprises four base versions, each of which has different levels of functionalities and multiple additional components that can be added with cost to obtain additional functionalities. If you look back at the history of Salesforce multi-cloud, then the core was not developed by Salesforce; instead, they gained it as part of their acquisition of 'ExactTarget' in 2013. Hence, you will still come across the usage of "ExactTarget" while referencing the Salesforce Marketing Cloud.
By using its "studios" and "builders" components, the Salesforce Marketing cloud you can perform many marketing activities like multi-channel campaign execution, pre-and post-campaign analytics that includes audience building, dynamic customer journeys, social media engagement, segmentation, advertising, and a data management platform.
What are the tools included in the Marketing cloud?
Salesforce Marketing Cloud is integrated inside the Salesforce ecosystem. Besides, it has mainly two types of tools – "studios" and "builders."
"Studios" manage and engage with communication channels. Some of the studios are Email Studio, Social Studio, and Mobile Studio.
"Builders" are used to manage content, data, and customer journeys in the Salesforce Marketing Cloud platform. Studios often use them—for example, Analytics Builder.
Marketing Cloud includes the following tools –
Journey Builder: This is a marketing automation solution provided by Salesforce that creates customer journeys customizable using multiple channels.
Social Studio: Using this tool, you can create customized campaigns that help to generate potential leads for social media followers.
Email Studio: This one performs customized campaigns of email marketing.
Audience Studio: Using this tool, you can perform data capturing from any source and unite all the data in one single place. It helps to create content that is more informative to the audience.
Mobile Studio: This is useful for mobile marketing and enables marketing interactions through SMS, group messaging, and push notifications.
Advertising Studio: Digital advertising is the step towards today's dynamic marketing scenario. This Salesforce solution manages the acquisition, alignment, and retargeting campaigns.
Interaction Studio: This tool visualizes customer experience in real-time.
Data Studio: This is the best tool to discover the audience, acquiring their data, and eventually controlling those data. Through data, you can increase the revenue.
Datorama: This is a dashboard through which you can access all the data and control ROI. Thus you can monitor the business growth.
Pardot: It empowers sales teams and makes marketing automation easier. It also creates meaningful connections.
Google Analytics 360: This tool gives you insights into customer data to provide a better understanding.
Benefits of using Marketing cloud
Salesforce emphasizes the below four bullet points to explain the benefits of the Marketing Cloud:
To gain enough knowledge on the customer: Marketing cloud can connect data from different devices and sources so that you can obtain a single unified vision on customer data. Besides, you can capture third-party data and activate them.
Integration of artificial intelligence: Salesforce's artificial intelligence technology is known as "Einstein." This tool features some interesting applications within the Marketing cloud, specifically for messaging. You can predict who will interact with messaging, what is the best time to send a message to an individual, and how many messages to send to an individual.
Integration Capabilities: This tool has extensive integration capabilities so that you can collect data from various sources. Also, it has various APIs for Salesforce Sales Cloud and Service cloud, including REST API and SOAP API. Using these APIs, you can augment existing contact information and import content.
Third-party applications: Salesforce Marketing cloud provides an extensive set of third-party applications. It is like Google play store or Apple App store. It is known as Salesforce AppExchange. It helps you to increase the capabilities of your specific business goals and their customization.
What can you do with Salesforce Marketing Cloud?
Salesforce Marketing Cloud is a feature-rich platform that enables you with 360-degree marketing capabilities. This includes the following:
Real-time customer engagement
Social media engagement and advertising
Email and marketing automation
Customer marketing analytics
Mobile (SMS) messaging and push notifications
Multi-Channel Messaging
Data-Driven Messaging
Dynamic Components
How can you learn Salesforce Marketing cloud?
Salesforce Marketing Cloud has various training and certifications, which is an added credential on your journey towards Salesforce certification training. They offer below categories of certifications for the marketing specialists:
Marketing Cloud administrator
Marketing cloud consultant
Marketing cloud developer
Marketing cloud Email specialist
Pardot consultant
Pardot specialist
To qualify for any of these certifications, you can gain knowledge through online Salesforce training on the Marketing cloud through videos and online tutorials. With these Salesforce training online materials, marketers can progress at their own pace. Sometimes online Salesforce training materials fall short of gaining complete knowledge on the Marketing cloud as this is highly customizable. In this scenario, third-party or be-spoke hands-on training is the appropriate solution. This helps to upskill certain marketers quicker. Such Salesforce certification training is tailored to keep the goal in mind. You get the scope of using a specific element in the Marketing cloud for your organizational needs.
Final Verdict Many industries and companies, irrespective of size, use the Marketing cloud. It is even considered an enterprise-level platform. Its add-on features enable users to tailor the Marketing cloud as per your specific needs as well it is easily adaptable to changing needs. Primarily developed for B2C companies, B2B companies also use this platform. Hence the scope of work as a Marketing cloud professional is high in the market. With proper Marketing cloud Salesforce certification training and credential, you can establish a strong base in the job market in the present and coming days.