QA Tutorials
10 tips to write a resume of a Software tester?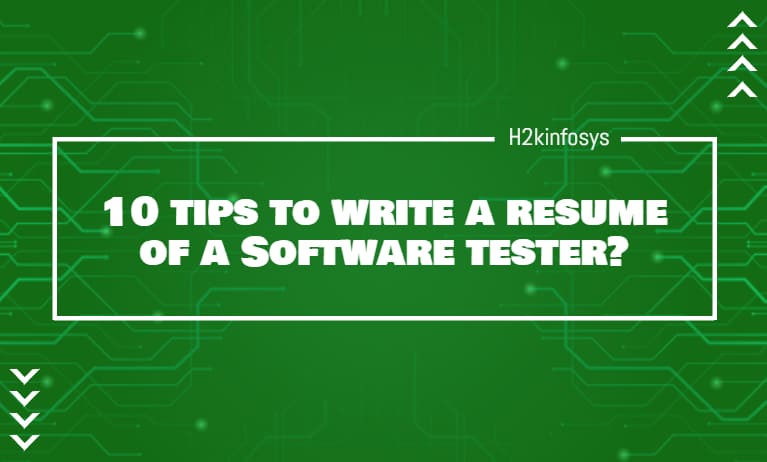 Many recruitment companies will use special software to scan the applications phrases which are called keywords. It is easy to think the resume as a summary of your experience. But the resume of a software tester is not just about listing the professional history. The resume should be written on the basis of recruiter's perspective. For example, you can start profile summary "I am a software Tester, creative, with an initiative and punctuality. I responsibly assume the challenges and goals which organization assigns me, adaptability to change, staff management, ability to work in teams, having ability to work under pressure as well as solve problems efficiently and achieve productivity goals which are set by the company and my work group" and mention relevant experience and details about your modules that you studied and mention any certifications properly.
You cannot write your resume in just few min or few hours. It might require several days to come. up with the final draft of your resume.
To start with go through your previous education and learning, skills that you acquired, tools, experience and list them down.
create a separate email id just for professional purpose, because your personal email id will have personal emails. The possibilities are you might miss out an important email from your employer. So have a separate professional email id. Do not use any funny words, your full name or any unrelated words in email id. It should have your first name along with your role e.g.: sapnaQA, priyatester etc. Once you start posting your resume, check your emails at least twice or thrice a day.
Organise the professional and eduction information under different titles.
There are some tips to write resume of a software tester:
The resume should start with Name(first name only), phone number and email id. It should also appear in the header of each page of resume.
The resume should not be more than two pages for a software tester role.
After name, objective and profile summary are mentioned.
Make a list of skills, education, work experience, platforms and technologies and projects.
Pick the technical section and sort them up in order of your proficiency.
Take a moment see your readiness with respect to skill and experience.
If you have any certifications mention those certifications.
List all organizations you have worked until now and keeping your recent experience first. It is always better to draw a table when you have more experience in working.
Projects is main section. This is very important aspect. Provide detailed information about all the projects which you have worked in previous organizations. For each project, mention title/name of the project, client name, brief description, duration of project – start and end date(month and year), your role in the project, project environment.
References can be provided on employers request.
A resume should be impressive and it should reflect the passion as a software tester. If possible while writing summary list down all your companies which you worked vertical.A good resume summary will also have important keywords which helps recruiter to identify the right candidate.