QA Tutorials
8 Top screen capture tools for QA software testers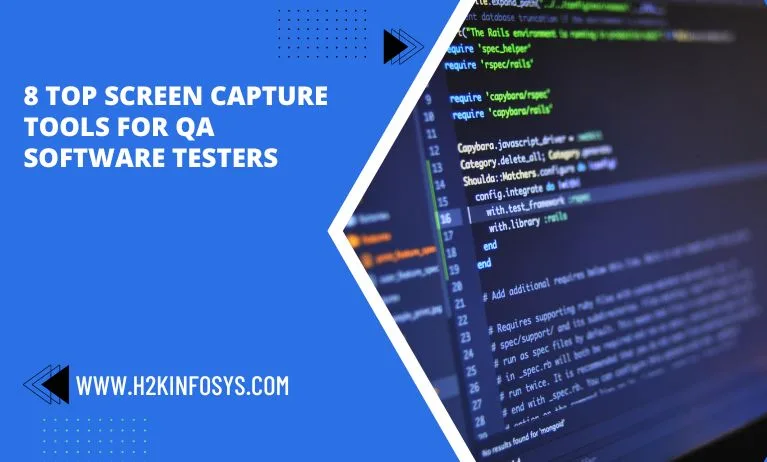 Without Ahrefs, Google Analytics, or plagiarism detection software, where would an SEO expert, copywriter, or web analyst be? One of the QA engineers' everyday tasks is to take screenshots of faults. Finding a few screen capture tools that are functionally robust yet simple to use is essential in order to improve the clarity of problem descriptions while minimising testing time. Here are some of the top screen recorder applications for various devices to make the process of selecting the most practical software easier (Windows, Mac, Android, iPhone, etc.). For additional details, check out the online QA certification course.
1.Jing.
The list begins with a free screen recording tool that TechSmith introduced 15 years ago. With the help of the built-in cloud service, you can store screenshots and videos online. It's known as one of the top free screen recorders for Windows 10 due to its simplicity of use and availability. A version that is paid for offers more features and storage.
Highlights:
allows for webcasting in addition to taking screenshots and making recordings, as well as identifying and annotating the images that are taken.
supports a wide variety of file types and formats.
can post pictures and links to social media sites like Flickr, YouTube, etc.
2.Greenshot
An open-source (and free) screenshot tool that operates in the background and boasts to be as feature-rich as comparable premium apps are now available. SnagIt opens the image in its fully functional editing tool as soon as you capture a screen. To save the image, open it in Outlook, Word, Excel, Paint, or Greenshot image editor, copy it to the clipboard, send it to your printer, upload it to Imgur, etc., are all options provided by Greenshot.
Features:
Instals easier than competing utilities (requires little to no setup).
has a memory function that keeps track of the last captured region.
It is simple to highlight and annotate the screenshot.
3.Snagit 
Snagit is used amongst QA engineers and it is unquestionably among the best Win 10 screen recorder tools. They adore using it to make web app screenshots for bug reports, instructions, and how-to papers. Additionally, its annotation features are superb.
Highlights:
features a simple toolbar to facilitate screen capture.
simultaneously records the screen and your webcam.
offers a preview window that displays a zoomed-in version of the area over which the pointer is currently hovering.
Images can be changed in size and special effects.
4.Lightshot 
This software should have been mentioned to you several times. Open-source software called LightShot may take screenshots in a variety of ways, including publishing them online. It can be used on Windows or as a Firefox or Chrome extension. You may easily create screencast recordings by using our online screen recorder. LightShot also earns merits for improving the clarity of issue logs, making it simple to post screenshots to the cloud, copy them to a buffer, or save them to your computer, and remember their location while you're capturing screenshots.

5.Camtasia 
Camtasia is a straightforward screen recorder, webcam, and video editor that you should most likely have on your laptop whether you want to work with screenshots on a MacBook Pro or MacBook Air. Important characteristics: supports a wide range of file types, including MP4, MP3, Avi, MPEG, JPG, and BMP. automatically recognizes the mouse or the cursor so that you may apply an effect to make it stand out more. Has pre-built themes and layouts. Its possibilities for call-outs, text, and extra shapes led us to include it in the list and declare it to be a "must-have" video screen recorder for Macs.
6.Screenpresso
It is regarded as one of the best screen recorders for PCs among software testers. Yes, it is conventional and unassuming but operationally complete and user-friendly. A built-in image editor and the ability to convert images into documents such as HTML, PDF, Microsoft Word, etc. are some of the important features that need to be included while describing the software.
7.Faststone Capture
You may capture numerous windows and objects with the help of this strong computer screen recorder program. Then what? Instantaneous screen capture using hotkeys. menus, full screen, rectilinear or freehand drawing, etc. enables the drawing of annotation objects (watermarks, arrowed lines, highlights, rectangles, etc.).
8.OBS 
Here is a Mac screen capture application that is free and open-source and offers encoding, scene building, recording, and broadcasting. A number of plugins are supported by open broadcaster software to increase their capability. Important characteristics: Contains capabilities that are frequently seen in Mac screenshot programs and enables you to easily combine several sources and audio files. utilising H264 and AAC for encoding. production of files in MP4 or MLV.
Conclusion
Don't tell, just show. A simple image or brief video of what is happening on the screen is typically more illustrative than a verbal explanation, which typically takes too much time and still falls short. Therefore, whether you are new to QA testing or have more than five years of expertise, we advise trying at least a few of these tools to identify the one that works best for you. You can check out the online QA training to know more.