QA Tutorials
Common Fears & Pitfalls in Outsourcing QA Tests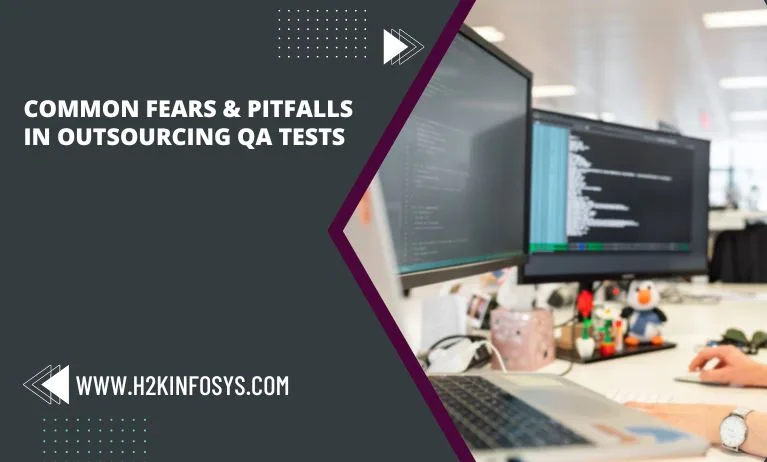 When a head of QA begins working with an outsourcing expert in QA testing, there are some frequent concerns and difficulties they may have. The good news is that these problems can be resolved quite simply. A solid online QA certification course will outline the process for outsourcing QA testing step-by-step.
So before we look at the common pitfalls of outsourcing in QA testing. Let's see the step-by-step guide for outsourcing teams when it comes to QA testing (as the QA head).
1.Choose an Outsource partner wisely.
If you are the one conducting the research on QA firms, find out as much as you can about each choice you are taking into consideration. Check the official websites of the organisations to see if they offer the software testing services you require. Check customer feedback on review sites like Clutch, Gartner, and G2. Make contact with the applicants on your shortlist to go over the specifics. To discover more about the company's capabilities and working methods, as well as the QA services they provide and the technology they employ, you can ask for a call. It is OK to ask a quality assurance and testing organisation for a project estimate and the CV of a professional.
A potential applicant can also be interviewed online. Keep in mind that not all businesses are prepared to sign all the contracts and begin operating right away. The majority of the time, you will need to talk about the resources that are available and wait till a software tester completes the work on their present project. In conclusion, it is preferable to start seeking software testers early.
2.Use your skills in Remote Management.
You have one less issue to be concerned about. It's not strange anymore to manage someone who isn't physically present in your office. Furthermore, you don't need to be taught how remote management functions. No matter the setting, effective strategies, and best practices are constant.

3.Make Onboarding smooth.
Companies that outsource QA are renowned for their adaptability. By giving a new team member a hearty welcome, you can speed up the process. We're not talking about exclusive treatment or internet parties. The rest of the project team should be introduced to a software tester. Access to systems like communication tools and test management software should be shared. Describe the procedure and give the project specifications. Consider this person to be an integral part of your team.
4.Continue to improve your Communication skills.
Language difficulties are the main concern for managers. Software testers in offshore QA firms, however, speak English well enough to interact with the rest of the team and produce meaningful reports. Make sure everyone is in agreement; that's more crucial. Verify that each team member has a shared understanding of the fundamental ideas. Establish and describe the operational procedures. Establish checkpoints to measure progress. Discuss the routes of communication, the frequency of reporting, and the times when a QA specialist will be online with regard to cooperation across time zones.
5.Supervise, but don't Micromanage.
Trust problems or FOMO may have a knock-on effect called micromanagement. In any case, it makes more sense to set up pertinent measurements and consistent reporting as opposed to excessive supervision. Progress is slowed down by micromanagement. Additionally, managing the details does not increase the significance of a manager's job. It simply means that you have less time to do your own tasks. You are familiar with how Agile operates if you are working with it. Helicopter management will be far less effective than daily or weekly calls. Try to maintain reasonable expectations in relation to the measures. The amount of serious issues in production is the best indicator of a software tester's workload, as you are aware as a QA Lead. Still, if more measures prove useful, feel free to add them.
So, trust difficulties aside, a new software tester is now an official team member. They are accountable for the calibre of your software and share your objectives. Encourage initiative and allow the individual to demonstrate their abilities.
Now to the common fears and pitfalls:
1.Untrustworthy of the service provider. 
You won't have to worry about anything similar if you pick a software testing business wisely. Treat a new team member the same way you would an internal expert. Additionally, they will ensure confidentiality and sign the necessary documents.
2.Problems with communication. 
This one can include a wide range of concerns, from the language and cultural barrier to employing slightly different terminology and program configurations. Discuss the specifics and let the other person know they can contact you if they have any questions to avoid any misunderstandings.
3.Inadequate command of the process. 
Make that the current procedures are effective and appropriate at this time by reviewing and revising them. Pick your team members carefully. You won't need to micromanage if the team has the necessary skill set and a strong feeling of responsibility.
4.Disappointed expectations.
Last but not least, be sensible. It is important to estimate the outcome objectively rather than holding low expectations. At the outset of the project, or perhaps even before you begin the collaboration, communicate your expectations. If the QA company is able to guarantee those findings and if they are even possible, they will let you know.
Conclusion
If you choose carefully when outsourcing QA tests, you can get over these worries. To find out more about outsourcing QA testing, visit the online QA training platform.