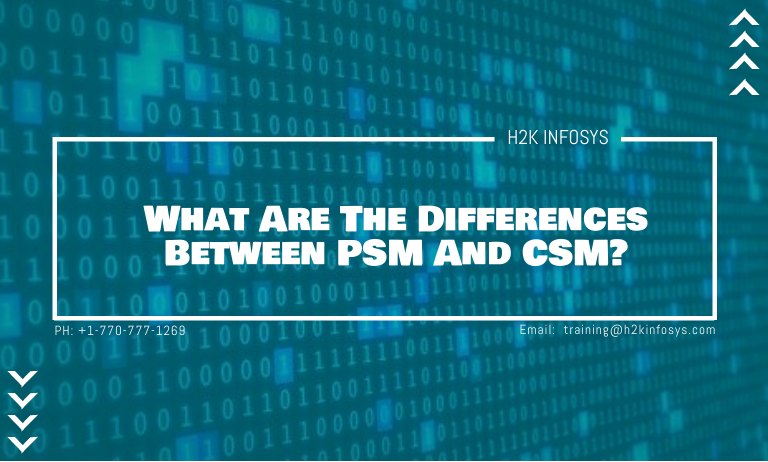 In this article, we would be looking at the key differences between PSM and CSM. Agile and scrum are the two most prominent product development approaches that tech-based companies widely use worldwide. Most human resource managers and employees alike are inclined to hiring job candidates who are well-versed with the scrum framework and principles. Scrum is a subset of the agile methodology. It is a framework that is applied in carrying out complex projects. The scrum approach was created basically for software development. However, it can also be applied to make decisions in other complex projects involving the agile methodology. There are high prospects for job applicants who can apply agile and scrum concepts in complex projects.
When you acquire a scrum master certification, it testifies that you possess all the potentials that companies are seeking for scrum masters. Every team needs a dedicated person who can handle various agile projects appropriately. Hence, there is a rising demand for certified agile scrum professionals. This has brought about controversies about which is better among the two major kinds of scrum certifications, including certified scrum master (CSM) and professional scrum master (PSM).
How did scrum certification originate?
The scrum framework is a process that has been adopted in managing work on sophisticated products so far as the early 1990s. Ken Schwaber collaborated with Sutherland in 1995 to introduce the scrum concept during the OOPSLA conference. The presentation made by both of them includes documentation of the knowledge they both had over the past few years and published the initial scrum definition. According to the documentation in the scrum guide, scrum has been developed and continued for the past 20 years by Ken Schwaber and Jeff Sutherland.
Scrum Alliance
The Scrum Alliance was established in 2001 by Ken Schwaber, Jeff Sutherland, and others as a non-profit organization that promotes scrum. It is the biggest certification organization in the agile society and is presided by the board of directors. The organization has certified over 750 000 scrum experts across the globe and has immensely contributed to the spread of scrum globally. The scrum alliance as a company also organizes global and regional conferences twice a year and supports agile events.
Certifications provided by the Scrum Alliance
The Scrum Alliance offers three foundational certifications. They include: certified scrum master (CSM), certified product scrum product owner (CSPO) as well as certified scrum developers (CSD)

Scrum.org
Ken Schwaber founded Scrum.org after he left the scrum alliance in late 2009. The organization manages the entire professional scrum certification programs. The scrum masters at the time had a negative impression about the advent of Scrum.org. They believed that the two-day training of the scrum alliance certification course (CRM) is sufficient to certify them as scrum masters. According to Ken Schwaber, he aimed to create a new company that will continue with the development and sustenance of scrum. Scrum.org focuses on enhancing software delivery as a profession, and all scrum.org courses are centered on this area of focus. The Scrum Alliance centers on the scrum with a broader view to transforming the world of work.
Certifications provided by Scrum.org
Scrum.org introduced a new certification called professional scrum master (PSM) certification focused more on assessments rather than attending workshops compared to certified scrum master (CRM) certification, which Scrum Alliance introduced. Other certifications of Scrum.org include professional scrum product owner (PSPO), professional scrum developer (PSD), and professional scrum with Kanban (PSK I).
Differences between PSM and CSM
 1. Method of Certificate  Acquisition  
The certified scrum master (CSM) certification is a product of the Scrum Alliance, which can be easily acquired by partaking in a two-day scrum master training. CSM is quite similar to a diploma course as you have the option of choosing your preferred institute. You can sign up for the training, attend the classes and submit tasks or assignments, but the maximum number of attempts that you can have to pass the exams is twice.  On the flip side, professional scrum master (PSM) certification is a product of scrum.org, which is not easily obtained. It comprises three different levels including, PSM I, PSM II, and PSM III. To enroll for PSM certification training, you have to first purchase a password from scrum.org. If you already have a greater level of knowledge about scrum, then you would be able to sit for the PSM I examination. Nevertheless, it would be best to apply the scrum framework in practical situations if you had some years of experience applying the scrum framework.
2. Certification Basis
The Scrum Alliance is a course certification that involves interacting with an authorized scrum trainer or an approved enterprise coach. The harmony of interaction and certification is the unique point-of-sale. On the contrary, the professional scrum master certification is centered on testing, and training is separated from certification. Basically, a scrum master certified by the Scrum Alliance can be said to have passed through official training. While a scrum master who is certified by Scrum.org can be said to have passed the professional test, this is regardless of whether he attended the training or not.   
3. Pass mark
This is one of the first criteria that you need to look at before considering any scrum certification. For you to pass the CSM certification, or you are required to attain a minimum score of 69% or provide 24 correct answers out of 35 questions given. On the contrary, you need to have a minimum score of 85% to pass the PSM certification exam. Hence, we see that the CSM certification has a lower pass mark compared to the PSM certification.
4. Kind of Examination
There is also a huge difference in the style of examination between the CSM and PSM certifications. The certified scrum master certification makes use of multiple-choice questions alone. At the same time, the professional scrum master certification comprises multiple-choice questions, true/false kind of questions, along essay type questions. PSM I and PSM II use multiple-choice questions and true/false questions, whereas PSM III includes true/false kinds of questions, multiple answer questions, and essay-type questions.
5. Level of Examination
When compared to the CSM certification exam, the PSM certification is much more tedious. You can easily pass a CSM examination by just attending a 2-day scrum master training session. Although PSM I does not require any prior training, if you already have good scrum knowledge, PSM II and PSM III are complex. They require you to have a couple of years of experience using Scrum methodology to excel in the exams. Hence, the PSM exam level is higher than that of CSM.
6. Scrum Master Certification Cost
The scrum master certification cost for CSM usually ranges from $400 to $2500, which depends on the institute. But if you fail a CSM exam on your first attempt, you are allowed to retake it for free within 60 days. All the various levels of PSM certification have different fees. PSM I has a fee of $250, PSM II has a fee of $250, while PSM III has a fee of $500. However, there is also a provision for you to retake PSM I for free within 14 days timeframe if you fail on the first attempt.
7. Renewal of certificate
Another major factor to consider when comparing the certified scrum master certification to the professional scrum master certification is the call for renewal. The CSM has a validity period of 2 years, after which it expires. You have to renew it biannually with a fee of $100. The renewal fee also varies with the institution. The PSM, on the other hand, doesn't expire. Hence there is no need for renewal. Once you have acquired the PSM certification, it is valid for a lifetime period.
8. Learning Results
when you go through the CSM certification program, you would become well-furnished to assist your scrum team in achieving optimum performance in their tasks, overcoming hurdles, and leading them to fully comprehend the Scrum framework. As a CSM, you are viewed as a servant leader Who leads by showing examples that your team members can emulate to spur them to actualize project success. On the other hand, people who undergo PSM I certification usually demonstrate a fundamental level of Scrum mastery and are well-grounded in the terminologies and techniques of the scrum. When you pass the PSM II certification course, it shows that you possess a broader understanding of Scrum principles and you can apply scrum in solving complex problems.
9. Reliability
Several institutions provide the CSM certification course, which makes the course content vary from one institution or trainer to another. Hence, the course content is inconsistent and unreliable. On the contrary, PSM certification is solely conducted by one body. Thus, the exam content is consistent. However, the explanation of the trainers may vary. Due to its high consistency, the PSM certification is categorized as highly reliable, whereas CSM isn't.
By way of conclusion, the certified scrum master and the professional scrum master certifications are both well-suited for the scrum master. Both certifications have their respective relevance. The uniqueness of CSM makes it comparable to PSM. Nevertheless, when looking at the various key points that have been considered about both certifications, one may easily conclude that PSM is a better choice. Regardless of your choice, acquiring an agile project management certification should be your aim as a scrum professional.