Salesforce Tutorial
How ChatGPT Integration With Salesforce Can Accelerate Your Business Growth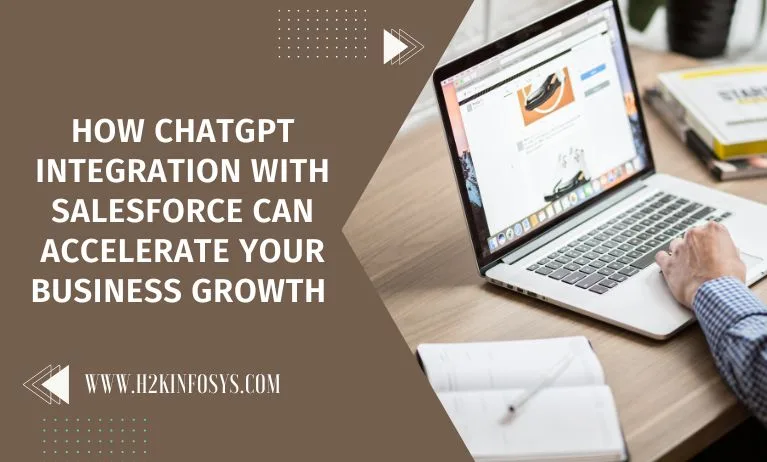 ChatGPT is a modern artificial intelligence (AI) chatbot that communicates with users in a human-like way. It is a futuristic Generative Pre-trained Transformer (GPT) that has captivated the AI community with its capacity to generate text responses that resemble human responses to various cues. By automating processes that were previously completed by humans, generative AI increases resource productivity, lowers costs, and creates new growth potential.
ChatGPT performs a variety of functions, including text synthesis, text summarization, business proposal writing, language translation, and much more. In order to deliver consistent and contextually appropriate responses, the AI chatbot is trained using a massive collection of text datasets that assist detect links and patterns between languages. By recognizing the context of the user, ChatGPT can also be used to provide personalised solutions to customer questions. Additionally, it may be adjusted for certain jobs, allowing businesses to tailor the model to their needs and boost performance.
The most well-liked customer relationship management (CRM) program available is called Salesforce. It is simple to include in any business plan to boost sales and accuracy. The power of both platforms is combined when AI like ChatGPT is linked with Salesforce, allowing for improved process streamlining and automation and, ultimately, better customer experience. Check out the free Salesforce training courses online to learn more.
Important Use Cases for ChatGPT in Salesforce
1.Lead Qualification
The Salesforce CRM data can be used by ChatGPT integration to qualify leads based on a prospect's initial reaction and provide tailored suggestions based on their requirements and interests.
2.Sales Assistance
The integration of ChatGPT with Salesforce can assist sales teams in their contacts with clients by providing pertinent advice and data to close deals.

3.Consumer Assistance
With ChatGPT integration, you can provide prompt customer service, address problems, and respond to their inquiries in real time. It can also make typical recommendations even stronger and more pertinent to prospects by combining speech and text analytics. This can assist in reducing client wait times for support and enhancing their overall experience.
4.Help Desk 
With ChatGPT's interface with Salesforce, routine help desk tasks including updating account information, addressing common system issues, and changing passwords can be quickly automated.
How Can Salesforce Benefit From ChatGPT Integration?
Having the proper tools for managing client contacts and simplifying sales processes is essential for increasing customer satisfaction and corporate ROI. When paired with ChatGPT's accuracy and speed, one of the most potent CRM platforms, Salesforce, may produce real business outcomes and enhance a company's marketing and sales operations.
ChatGPT, an advanced language model created by OpenAI, can respond to a wide range of inquiries with precision and speed. It is therefore the best option for companies that must react rapidly to consumer requests and inquiries. By integrating ChatGPT and Salesforce, organisations can take advantage of the strengths of both systems to deliver excellent customer support while streamlining and automating procedures.
Here are some crucial ways in which Salesforce can benefit from ChatGPT integration:
1. Better Productivity
You can generate tailored and pertinent sales enablement content using ChatGPT, such as social media postings, presentations, product descriptions, email templates, and more. All of this aids the sales staff in making their outreach tactics and strategies more effective. You can score and rank leads in real time based on their actions and activities when you combine ChatGPT with Salesforce. This informs you of the leads that have the potential to convert into paying clients. You benefit from higher engagement and conversion rates as a result. The sales operations team's redundant and time-consuming administrative activities can be managed with the aid of ChatGPT integration, freeing up your time to focus on more crucial responsibilities.
2.Advanced Marketing Strategies
ChatGPT assists in analysing client data and classifying it in accordance with their needs, habits, and preferences. The marketing team can now execute more focused marketing efforts thanks to this. ChatGPT lets companies reach a wider audience by bridging language barriers through the use of cutting-edge machine-learning algorithms. Additionally, it can help businesses grow their online presence by being available 24/7 on social media platforms and websites to quickly respond to customer inquiries. The AI platform may also examine market trends to provide critical information that aids in the creation of a powerful marketing strategy.
3.Improved Customer Service
You can quickly reply to consumer inquiries with ChatGPT's assistance in constructing conversational AI chatbots. Conversational artificial intelligence (AI) describes a group of technologies that allow clients to communicate with chatbots and voice/virtual assistants. With the help of this sophisticated AI chatbot, you can establish trust with your consumers by sending them personalised emails that contain pertinent messages. Additionally, it may continuously track and assess client comments to enhance the system and provide better customer service. As a result, you may improve your online presence and give your consumers quick and accessible support by integrating with various digital platforms including social media, web chat, messaging apps, and online portals.
4.Real-Time Training and Support
The most effective use of ChatGPT's capabilities requires human expertise. By integrating with Salesforce, you can provide new Salesforce admins with training and support in real-time, enabling them to develop their abilities and realise their full potential. The AI chatbot can also make forecasts in real time using past data based on elements like market trends and client interactions. You then benefit from better decision-making and business strategy as a result. The sophisticated algorithms of assist in delivering effective and tailored customer services, enhancing sales and marketing efforts, automating tedious processes, and increasing overall efficiency.
Conclusion
Integration of ChatGPT with Salesforce can be quite advantageous for a company. Salesforce has a lot of untapped potential for this AI technology that could completely change how you communicate with your prospects and clients. You must properly use within your ecosystem if you want to provide your company with a competitive edge. Check out the Salesforce certification training online to learn more about Salesforce.