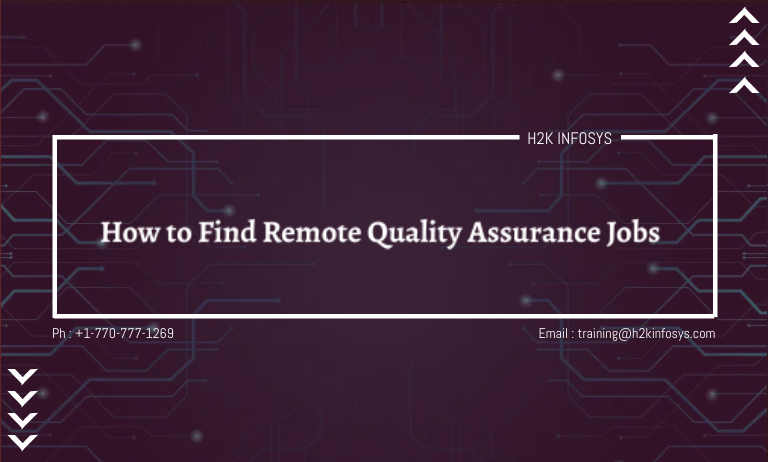 Remote work is becoming mainstream due to the effects of the global pandemic. Many job seekers are now adopting the "Work-from-Home" culture in their search for befitting jobs. Many firms and organizations are also extending the remote work option to their employees.
Due to these new developments, many people are constantly on the lookout for remote jobs in different fields. This offers a great opportunity to land lucrative jobs and make career progress.
Are you a certified QA professional looking for remote quality assurance jobs?
In this guide, we will analyze how to find remote quality assurance jobs in 2022.
What You Need to Know About Remote Quality Assurance Jobs

It is necessary to have an idea about remote quality assurance jobs before diving into how to find one. The goal of quality assurance is to ensure quality requirements and standards in software products are fulfilled. Quality assurance has to be carried out in every stage of the frontend and backend development of software products. This offers amazing benefits such as increased company reputation and consumer confidence in the software products delivered.
Since quality assurance now involves using technology to test the quality of software products, QA professionals can now work remotely. As long as they have access to all the tools needed.
Some of the roles of a remote quality assurance professional include;
System Assurance Tester
Quality Assurance Analyst
Quality Assurance Engineer
Technical Quality Managers
QA Automation Engineer
Software QA Engineer
A certified professional in these roles can now work remotely with computer and internet access.
Big organizations and startup companies are mostly hiring the services of QA professionals with online QA course backgrounds. This is to ensure they can provide high-quality software products.
In other to land a remote quality assurance job, an applicant is expected to have the required qualifications. This includes a bachelor's degree and relevant quality assurance certification.
There are free QA Online Training resources for anyone interested in working in this field.
How to Find Remote Quality Assurance Jobs
You can find remote quality assurance jobs as long as you have the required quality assurance skills. Some of which include problem-solving, logical thinking, and communication skills. With these skills and QA Online Training, you will have the capacity to assist clients and companies in need of quality assurance solutions. Once this is in place, you can then start applying for QA jobs.
Now, let's focus on how to find remote QA jobs. Here are some of the most effective ways;
Apply to Companies that Hire Remote QA Professionals
One of the surest ways to get hired as a remote QA professional is to apply for QA roles in companies. The challenge here is identifying companies that are hiring remote QA professionals.
A good way to figure this out is by visiting websites that list vacant remote quality assurance roles in companies. Here are some of the worldwide employment listing websites to check out;
Indeed – an American worldwide employment website for listing vacant jobs
FlexJobs – an online job board that links job seekers with vacant roles in companies
SimplyHired – an employment website that makes it easy to find remote jobs
Create a LinkedIn Profile and Connect with Industry Professionals
You can connect with quality assurance industry professionals on LinkedIn. The quality assurance roles are a natural fit for a work-from-home career. No matter your level of experience, you can create a profile on LinkedIn and start connecting with industry professionals. If any of them find your profile appealing, they will send you remote quality assurance job invites.
You need proper QA training and placement to position yourself well on LinkedIn.
Explore Freelance Sites by Bidding for Remote QA Jobs
One of the most effective ways to find remote quality assurance jobs involves exploring freelance sites. Several freelance sites offer remote job opportunities for quality assurance professionals.
Some of these freelance websites include;
Upwork – a freelance site where you can bid for numerous quality assurance jobs
Fiverr – a freelance site that allows you to create remote quality assurance gigs
Freelancer – a freelance platform that offers different remote QA projects
Join an Online Community of Quality Assurance Professionals
With your QA training and placement experience, you can join a community of quality assurance professionals. This will introduce you to job opportunities in the quality assurance field. As with any field, being an active member of an online community will increase your chances of getting employed. So, position yourself today by joining "WeWorkRemotely" or Turing.
Conclusion
You can apply to remote quality assurance jobs from the comfort of your home by trying out any of the options listed. In your bid to land that dream remote quality assurance job, don't hesitate to acquire more online QA course certifications. This will position you well for landing the best roles in the field. You can get short-term or full-time remote QA jobs through any of these means.