BA Tutorials
Identifying Business Problems and Opportunities with Business Analysis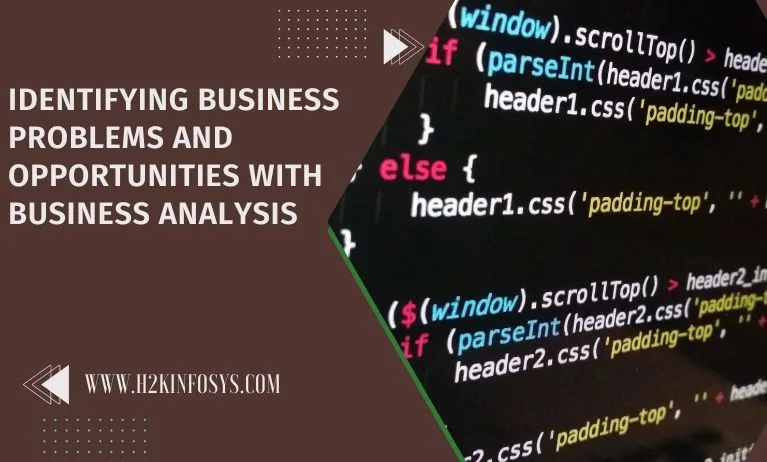 Each organization that wants to enhance its operations, boost profitability, and accomplish its objectives must engage in business analysis. Analysing corporate operations, spotting issues and chances, and suggesting fixes are all part of the process. Organisations can remain competitive, adapt to shifting market conditions, and make wise strategic decisions by utilising data-driven insights and industry best practices.
The demand for business analysis positions is rising. Why? They serve as a link between an organisation's required business functionality and the business model (also known as enterprise strategy). When one or more stakeholders demand a change, a new strategy, or a new regulation that affects other stakeholders, business analysis is required to match their expectations. A variety of departments could house the business analysis function, and it could have a variety of titles to define it.
The significance of business analysis in finding business issues and opportunities will be discussed in this article. We'll talk about five typical business issues: underwhelming performance, inadequate operations, constrained expansion, ineffective marketing, and employee churn. We'll also point out practical approaches to problem-solving that business analysts can use, like employee engagement, process improvement, performance management, and innovation. Organisations can proactively improve their operations and reach their objectives by comprehending the power of business analysis. Good business analyst training with placement will help you in understanding Business analysis better.
Business analysts have been likened to internal consultants in their roles. Why? Business structures must be objectively laid out in regular engagement with C-suite management in order to identify chances for improving corporate systems, procedures, and policies. To effectively convey, influence, and maintain version control-style documentation of new needs as they arise, business analysis positions need both soft skills and hard abilities. Furthermore, analysts frequently have to convert top-down requests into technical requirements that a specialist (such as a software programmer) can comprehend.
What are 5 Common Business Problems?
1.Bad Performance
One of the most prevalent issues in a company is underwhelming performance. This could be the result of unclear objectives, shoddy communication, or a lack of resources. Bad performance can have a detrimental effect on the organisation's reputation as well as diminished profitability and customer satisfaction.

2.Inefficient Operations
Inefficient operations are another frequent issue. This can be the result of subpar procedures, old technology, or inadequate training. Operations that are inefficient can result in increased expenses, decreased productivity, and diminished customer satisfaction.
3.Limited Growth
The issue of limited expansion affects many organisations. This could be the result of a dearth of innovation, a lack of resources, or unfavourable market conditions. The absence of growth can cause a company to stagnate, become less profitable, and lose market share.
4.Ineffective Marketing
Marketing that doesn't work is a prevalent issue for many businesses. This can be the result of subpar market research, a lack of funding, or a failure to comprehend the target market. Sales can drop, profits can fall, and market share can be lost as a result of ineffective marketing.
5.Employee Turnover
Last but not least, a major issue that many firms have is employee turnover. This could be a result of unfavourable working circumstances, inadequate pay, or a lack of prospects for career advancement. Employee turnover can have a negative effect on an organisation's reputation as well as reduced productivity and higher costs.
Effective Ways Business Analysis Can Solve These Business Problems
1.Performance Management
Business analysis can assist in discovering the underlying causes of subpar performance and in formulating measures to enhance it. Business analysts can provide strategies to deal with performance challenges by studying data and locating important performance indicators. These remedies might entail enhancing communication, offering more resources, and establishing specific goals.
2.Process Improvement
Business analysis can assist in identifying underperforming processes and making suggestions for enhancements to boost effectiveness. Business analysts can locate bottlenecks and potential opportunities for improvement by examining the present processes. Solutions can involve modernising technology, putting new procedures in place, or offering more training.
3.Innovation
Business analysis can provide ideas to promote growth and assist in locating chances for innovation. Business analysts can suggest new goods, services, or company strategies by examining consumer demands and market trends. These remedies might assist the business in standing out from rivals and expanding.
4.Marketing Strategy
Business analysis can be used to pinpoint the underlying reasons for bad marketing and offer suggestions for how to make it more effective. Business analysts can suggest new marketing tactics, messaging, or campaigns by examining market research and customer feedback. These solutions can aid the business in gaining new clients, keeping old ones, and boosting sales.
5.Employee Engagement
Business analysis can provide methods to increase engagement and assist in determining the underlying causes of employee turnover. Business analysts can suggest improvements to working conditions, pay, and career advancement prospects by examining employee input and conducting surveys. These solutions can assist the company in attracting and keeping top employees, boosting output, and enhancing its reputation.
Conclusion
Business analysis is a critical step in locating company opportunities and issues and suggesting strategies to resolve them. Business analysts can aid firms in enhancing performance, increasing efficiency, fostering growth, and retaining top personnel by evaluating data, identifying key performance indicators, and performing market research. Organizations can invest in business research to stay competitive, boost profits, and accomplish their objectives. Check out the business analyst course online to get more information.