QA Tutorials
Importance of Software Quality Assurance (QA) in E-Commerce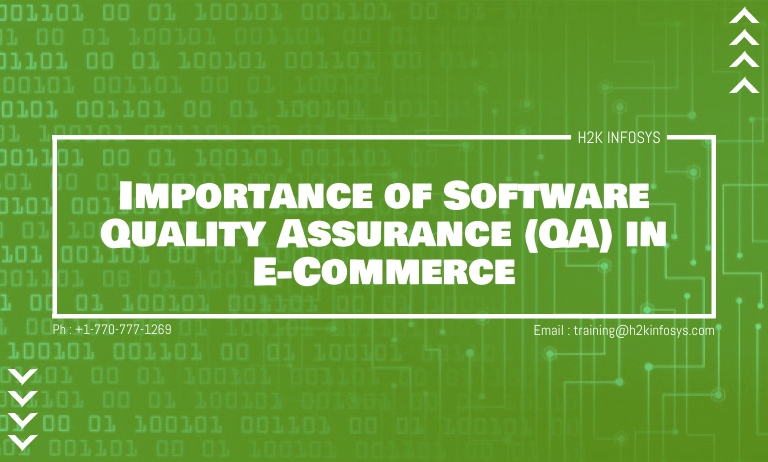 You know what! Present-day technology has made it possible for you and me to easily purchase things that we need for our day-to-day activities, such as foodstuffs, drinks, gift packs, jewelry, clothing, electronic gadgets. We could only purchase these items by going to the market or physical store to acquire them in the past. Today we now buy these items from the comfort of our chair without having to leave our home or office via what I call e-marketing, otherwise known as e-commerce. E-commerce implies online marketing; it involves purchasing products or services online using your smartphone or laptop and through a trusted e-commerce platform. The purchased product is then delivered to you within a stipulated period.
This modern style of transaction has paved the way for the development of numerous e-commerce websites out there. These e-commerce websites are also growing daily with some users worldwide because they provide a wide array of products and services. A fresh report from the United-Nations Conference on Trade and Development (UNCTAD) shows that the e-commerce industry worldwide has recorded enormous growth in recent years and is predicted to be worth 22.1 trillion dollars soon. Otherwise stated, e-commerce is the current trend.
The e-commerce industry is also becoming highly competitive. People are now becoming more selective in their choice of e-commerce websites. Generally, most people are looking for a website with a fast loading time, fantastic user experience, and ease of use. The need to actualize all these requirements has kept several e-commerce companies on their toes. They want to upgrade their websites and software and make it available as quickly as possible. As a result, they might skip the testing of some essential functionalities to release their product early enough. Such a rush may result in a poor website with a high probability of collapse. Let's take amazon's experience as an example;
In December 2014, Amazon suffered a considerable loss in one day due to its software malfunctioning. On that day, all the products on their website carried a 1 pound price tag; this includes various products such as food drinks, video games, shoes, clothes, electronic gadgets, etc.
Most customers saw this event as a Christmas bonus for them. However, it was a significant loss on the part of the sellers and independent retailers. Some sellers even reported that they lost over 20 000 dollars on that day. Even though Amazon did everything possible to salvage the situation by revoking orders that were not shipped, there is no question that the event was saddening. This occurrence brings to mind the importance of software quality assurance (QA) in e-commerce. The Amazon circumstance is a perfect example of the aftermath of neglecting website or software testing. We could also have a case of inadequate testing. For instance, let's assume that you've verified the website's main functionalities, like product display, design, loading time, login options, product details, and user experience; after the verification process, it appears that everything is working fine and ready for use. However, when the site is prepared to be launched, you realize that the payment function is not working correctly, which becomes a significant setback at the time. Besides having a QA team in your business, you also need to ensure that your team is well-equipped with all the required skills. There are several QA certifications online that you can recommend for your QA team members.

Why is Software Quality Assurance Important in E-commerce?
High competition amongst brands
When e-commerce was newly introduced, an online shop only needed a simple website with a variety of products and a virtual cart to win customers over. However, the case is different now; this is due to the high competition level among various brands in the e-commerce industry. Most brands currently employ new methods of attracting customers to their online stores. Such as adopting digital assistants, computer vision, chatbots, big data, and several other cutting-edge technologies that are now being incorporated into their web stores' functionality. A good example here is eBay, which utilizes artificial intelligence technology to produce a more individualized user experience for its customers by collecting their data and examining its human activity. It also applies natural language processing for improved advert of their products to a target audience.
You Don't Want Unnecessary Software Glitches to Scare Potential Customers Away.
As an online store owner, you spend quite a lot of money and time trying to build your customer base. As a result, you want to try as much as possible to avoid any form of system malfunctioning that can make you lose customers. Most e-commerce industries now adopt intricate multistory functionalities as opposed to basic functionalities. These complex functionalities require adequate quality assurance as a way of ensuring that it is working perfectly. It is an excellent practice to add a new advanced feature to your online shop. Still, you must also ensure that you assign enough resources to e-commerce software testing after implementing the new feature.
Similarly, third-party solutions should be appropriately integrated into the software or website. A crudely integrated third-party solution can fail your software in a concise while. Above all, your business can only fetch you profits if everything works out perfectly. Quality assurance aims to ensure that every effort you put in is worthwhile.
Security purposes
Ecommerce generally involves the exchange of products or services for money. It requires that customers share their personal information, such as their names, bank details, addresses, and personal identification documents, stored in the company's database. This tends to put the customers at the slightest of risk. Nobody wants their data leaked and exposed to fraudulent acts. To be successful as an e-commerce company, the first thing you need to do is create the impression of a secure and robust system impregnable to cyber-attacks.
Your clients want to rest assured that your site or application can protect their data. You can only achieve this with quality assurance. There's a need for your quality assurance team to conduct thorough gateway testing to check all transactions on the system to safeguard clients' private information.
To Ensure Smooth Purchase Process
Purchasing a product online involves a series of payment processes. In most cases, there are usually various payment options provided for the customer to choose from. If there is any defect in any e-commerce platform's payment process, it can resort to enormous losses for either the buyer or seller. Quality assurance will help ensure that the payment process is appropriately checked and is in perfect condition.
Improve Search Engines Performance
You want your target customers to find your product or service with its correct specifications, regardless of their educational background or level of knowledge. It is solely your responsibility to help them do so. As a company or business owner, you need to ensure that your product is highly effective and meets your customer's needs. Customers tend to bounce from websites with awful product filtering. An adequate software quality assurance will help ensure that all products are correctly filtered to suit the customers' needs.
Ensures Compatibility
Before you begin setting up your online store or related application, you need first to consider that your customers will be accessing your services from various devices, including smartphones and computers.  You will have clients access your site with multiple browsers and from different countries around the world. Hence,  you need to ensure your site or software is compatible; this can be in terms of language and device type. It would help if you had a vibrant QA team with members who have undergone QA training and placement; the team will ensure that your web services and application run perfectly on mobile phones and computers. They also need to ensure that there is no language barrier for various countries using your application and web services. It would help if you also made provisions for multiple versions of browsers. The QA team will also test the site using different browsers to ensure that it works perfectly on several browsers.
Ensures Fast Loading Page
People quickly get pissed off with sites that take time to load a page. You don't want your clients to bounce from your site due to a delay in loading time. Your QA team will help test the website's loading time on various browsers to ensure that it is fast on all browsers.To sum it up, nowadays, people barely buy products or services because they need them. Instead, people but with emotions; want to give themselves a treat. It, therefore, implies that as an online store owner, you need to provide a high priority to customer satisfaction. It also depends on the products you are selling. Once you take your business online, your software becomes your sole means of effective communication and relationship with your customer. It further implies that the only perception that people can have about your business will stem from their experience with your website or software. Hence, the importance of software quality assurance cannot be overemphasized. Suppose you intend to get full knowledge about QA. In that case, you can do so by signing up for a Software Quality Assurance Course, or you can register for QA training and placement in a reputable organization around you.