QA Tutorials
Major Factors to Consider in Building A QA Team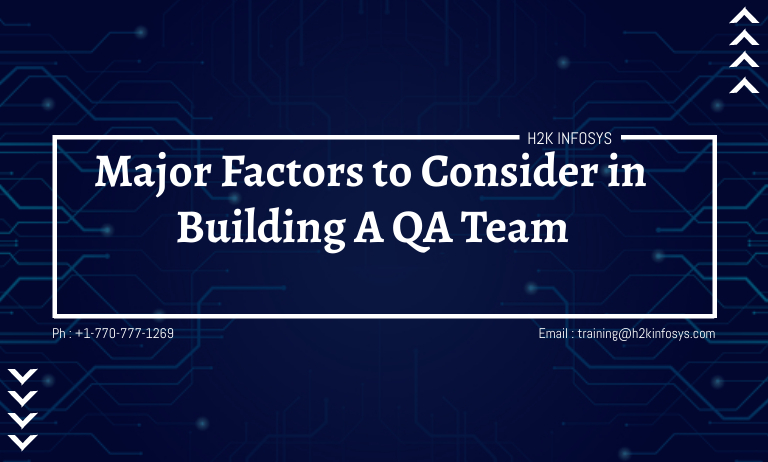 In the business and professional world, the terms "Quality Control" and "Quality Assurance" are two major processes carried out to guarantee that every product and service meets customer's demands and expectations. Quality requirements of products and services need validation, which can only be achieved by setting up an effective quality assurance team.
Quality assurance teams are responsible for conducting activities that validate the quality of products and services in an organization. Their responsibilities involve observing and analyzing product outcome and services rendered. It also includes inspection of products and services.
Great QA teams have attributes that make them stand out. They are seen as agile teams and software testing teams that ensure customer's cravings are satisfied. But what makes up a great QA team? Could it be the behavior of members of the team? Could it be in how they address project complexity? Or how they offer a solution to product/service limitations?
Quality assurance and software testing teams are needed if a business or organization wants to achieve customer satisfaction. This is why organizations spend on Quality Assurance Training for their staff and individual professionals in the business world to get quality assurance testing certification with the aim of acquiring the needed knowledge to carry out effective QA testing.
The process involved in delivering quality products and services can be difficult if a proper QA team is not consulted. This is why many companies and beginners in the quality assurance field lookout for skilled QA professionals that can provide a solution for the most daunting projects. It is not easy to build a team of quality assurance specialists because software products testing requires paying attention to important details. This is why QA testing online is so essential.
To build an effective QA team, you have to consider several factors that will be discussed here;
Here are major factors to consider in building an effective quality assurance team;
Creating Proper Quality Assurance Plan
Building an effective QA team involves creating a plan that will guide the implementation of quality assurance programs. Every project starts with a plan, so should the setting up of a QA team. The purpose of proper planning in building QA teams is to help identify requirements such as standard tools needed for project execution, team's responsibilities, product quality objectives, how to implement a quality assurance plan, and how to examine the results.
Arranging Quality Assurance Training Programs
It is important to arrange QA training programs for the members of QA teams both online and offline. Quality Assurance Training will help the members of a QA team learn the concepts of quality assurance testing. Whether they are involved in a QA testing online program or going ahead to acquire quality assurance testing certification, every member of a QA team must enroll in a quality assurance training program that will help them acquire better QA skills.
Recruiting Experienced QA Professionals
As discussed earlier, arranging quality assurance training programs for members of a QA team will equip such a team with better QA skills needed to prevent defects in products and services. That said, another major factor to consider when building a QA team is recruiting qualified QA professionals. This will help in building a QA team of professionals with a crisp job description and role. When experienced professionals are hired and the tasks of each member of a team are clearly stated, it will improve productivity. So, hiring experienced QA professionals is great.
Assigning Individual Tasks to Team Members
Once the personnel within a QA team have been sorted, the next factor to consider is assigning each member of the team with individual tasks. What makes a great team is a division of labor, so assigning sub-tasks to each member of a QA team will ensure a high level of productivity. Duties are assigned so that each aspect of a quality assurance process is handled by members that understand what needs to be done as in the case of manual and automation testing.
Identifying Expected End Result of a Project
A quality assurance team that has gone through Quality Assurance Training should be able to identify the expected end result of a project. So, when building a team of quality assurance experts, the goals and objectives of a project must be clear to them. This will help members of the QA team identify if a project has been successfully completed and if the resulting products and services meet the customer's expectations. A QA team that understands which goal they have to reach will become very effective in delivering service that will meet customer's expectations.
Mapping Out the Team's Approach
Mapping out a team's approach will give a QA team lead a comprehensive view of the team's ability. This involves identifying the skillset and experience within the team to offer a solution.
Building a quality assurance team will not be complete without mapping out the team's approach which involves carrying out several tasks. These tasks include;
Applying test coverage methodology
Filling any form of skills gap within the team
Defining roles and responsibilities of team members
Assigning individuals as owners to offer leadership
Introducing seasoned players into the game
Motivating the entire team to keep up to speed with the process
Arranging one-on-one meetings between members of the team
Investing in quality assurance training to improve productivity
There are many factors to consider in building an effective QA team. But it is important to also state that the attitude of members within the team can affect the team's output. So, members of a QA team must unite, develop trust, and respect one another. Overall, they have to believe in the team's vision in order to meet the desired end result.
Conclusion
Building a QA team can be challenging but the benefits you will get to enjoy should motivate you to set one for your business or organization. A quality assurance team is crucial if you want to maintain high standards and meet customer's expectations. In fact, it can help in beating market competitors which in turn improves the overall profit of the business.
Therefore, the need to build an effective quality assurance team of individuals that have undergone QA testing online program or acquired quality assurance testing certification can not be overemphasized. As an individual, you can enroll in a Quality Assurance Training program to learn more about the quality assurance process.
Finally, it is important to ensure every product and service meets the expectations of customers paying for them. So, building an effective quality assurance team will make it happen since QA is vital to maintaining high standards and business success in every sector.