QA Tutorials
TEST EFFICENCY
METRIC BASED APPROACH AND EXPERIENCE BASED APPROACH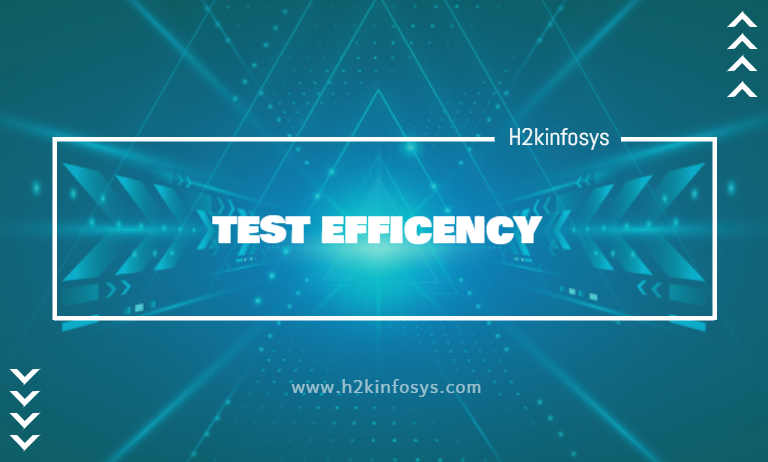 The software testing is performed by the different members of IT team. It is important to measure the test efficiency. Test efficiency is to measure the effectiveness and success of the testing process.
Test efficiency is a type of testing where the amount of resources to perform a testing on certain specifications required by a program is tested. In an organisation how much resources were used and how much resources among them were utilised to be productive is to be checked. It is the work done effectively with minimum effort. This mainly gives importance to the resources, tools, people, and customer requirement and how efficiently the product performs the functions. For example reduction of team size to build a employee management portal for an organisation. Another is a team leader wants to launch the product in time without compromising the quality of the product. In a company the effort is put to develop the software and to reach the user satisfaction. It is important in the organisation to calculate how much resources were consumed and how much resources were utilised.
The test efficiency can be measured using below two techniques:
Metric based approach
Expert based approach
Metric based approach:
The common metric used to calculate the software testing efficiency are:
– total number of defects identified in different types of testing.
(Number of defects resolved)/(Total number of defects submitted)*100
Software test effectiveness covers three aspects:
user's requirements satisfied by the system.
the software specifications are achieved by the system
effort taken by the developing team to meet the requirements as per client expectation.
Expert based approach:
The test effectiveness is measured by the experts based on their experience of the previous projects. Eg: Wideband Delphi estimation technique.
Test effectiveness is how well the users achieves the goals they set out to using system. When you're effective you are able to reach the testing goal that is set. The actions are performed quickly as possible. The actions will should help in achieving meaningful goals.
Check your understanding:
1. Identify the different metrics to measure test efficiency.