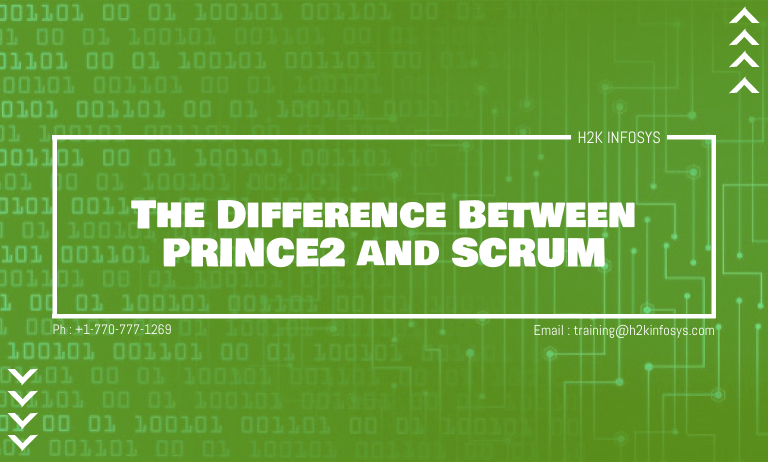 Project management professionals and enthusiasts tend to seek knowledge on the difference between PRINCE2 and SCRUM. It is such a common occurrence.
Being a scrum master or project manager can be difficult if you don't understand the techniques that guide each practice. Both are interesting fields that come with huge responsibilities. In this guide, we'll look at their major differences.
What is PRINCE2?
PRINCE2 is version-2 of "PRojects IN Controlled Environment". This is a process-driven methodology that guides the step-by-step management and execution of projects. It was introduced to execute projects in the IT industry but the high success rate has led to the method being applied in other sectors. Professionals in the field now enroll for project management certification to learn the basics of PRINCE2. It is quite similar to PMP but very different from Scrum or Agile.
What is SCRUM?
Scrum is a project management framework that is highly flexible and easy to implement. It is similar to the AgilePM framework in the way the process is executed.

There are numerous certifications offered under the Scrum Framework and a good example is the Scrum Master Certification Training program. This program sets up a platform for aspiring scrum masters to acquire all the necessary skills needed to excel in the field. Furthermore, you can check out Scrum Alliance and Agile Certified Practitioner (ACP) which is a course offered by PMI to learn more.
A good agile framework will provide scrum masters with a blueprint of what is involved in the process while proper agile project management certification will teach you all you need to know if you want to become a successful scrum master.
Now, let's have a closer look at the difference between PRINCE2 and SCRUM.
Major Difference Between PRINCE2 and SCRUM
Here are the differences between PRINCE2 and SCRUM in a tabular format;
| | | |
| --- | --- | --- |
| | PRINCE2 | SCRUM |
| 1. | PRINCE2 is a process-driven project management methodology | SCRUM is a reactive project management methodology |
| 2. | PRINCE2 employs a more predictive approach for project execution | SCRUM employs a more adaptive approach for project execution |
| 3. | PRINCE2 can be implemented for any project regardless of its type, size, and field. | SCRUM is specially designed for complex and innovative project implementation. |
| 4. | PRINCE2 provides a structured approach for project execution | SCRUM provides a flexible approach for project execution |
| 5. | PRINCE2 methodology consists of PM principles, PM processes, PM Themes and Tailoring. | SCRUM methodology consists of Product Owner, Team, and Scrum Master. |
| 6. | Members of a PRINCE2 project team do not need to meet face to face as the process can be carried out from different geographical locations. | Members of a SCRUM project team are expected to communicate face to face daily to ensure efficient project management. |
| 7. | Changes that can be made when a project is under execution is limited | Changes can be easily implemented when a project is under execution |
| 8. | To get certified in this field, you have to enroll for Project Management Certification. | To get certified in this field, you have to enroll for Scrum Master Certification Training. |
| 9. | The project definition in PRINCE2 is clearly defined before execution | There is no clear project definition in SCRUM because of its versatility |
| 10. | PRINCE2 is a generic project management methodology developed by the UK government. | SCRUM is a project management methodology developed by software engineers. |
The Pros and Cons of PRINCE2 and SCRUM Methods
The difference between PRINCE2 and SCRUM has been clearly stated above but it is also important to know the pros and cons of this methodology and framework.
| | | |
| --- | --- | --- |
| | PRINCE2 | SCRUM |
| PROS | 1. It is highly structured2. It helps to deliver high-quality products after projects have been executed 3. It can be implemented across different GEO-Locations4. This methodology can be implemented for any project5. It gives room for proper management of project cost and time | 1. It is a leading project management methodology because it has a high success rate2. Effective use of effort and time is involved for project execution3. Big projects are break down into bits to allow effective management4. User feedback is implemented5. Changes can be implemented during the project |
| CONS | 1. The decision-making process can be long and tedious2. There's a limit to the changes that can be made during the project 3. It is documentation oriented4. Finished software product is only available after project completion | 1. There's no clear project definition2. The daily members face to face communication can drain resources3. The project execution style is highly intensive4. Changes occurs too frequently during a project execution |
Both Project Management methodologies are recognized internationally across several nations. You can decide to choose any of these project management methods depending on your specific needs. Whichever you decide to study or adopt, I can assure you that you will never go wrong with any of the methods.

How Do You Determine Which Method to Adopt?
PRINCE2 and SCRUM are both excellent project management methods that can be used for executing projects but you might be wondering which one to adopt.
If you've undergone scrum master certification training or you've acquired agile project management certification, you will understand that choosing a method to adopt depends on how recognized it is in the project management field.
Therefore, the nature of an organization, type of project, and how projects are handled should be a factor to consider when determining which method to adopt.
Finally, personal preference for a particular project management method can influence the type of method to adopt. So, in the end, the choice is quite relative.
Summary
Project management practitioners constantly debate which method is most efficient and effective for practice in the field. This is why questions about the differences are asked. As explained in the guide, it is clear to see that each method has its unique functions and benefits which implies that you don't necessarily need to choose one over the other.
The execution process of each project management method might be different but the major aim of all is to guide project management professionals on how to apply each method to increase the chances of it becoming successful.
If you are wondering where the difference between each method plays a major role, it lies in the cost-effectiveness and higher success rate. Whenever you are to choose a method for executing a project, you have to consider the cost and the success rate. That is why I have taken the time to explain in detail all the vital things you need to know about PRINCE2 and SCRUM. You can also study AgilePM. The need to acquire proper Project Management Certification and Scrum Master Certification Training cannot be overemphasized. Project Managers and Scrum Masters encounter different challenges when executing their jobs. This is a major reason why adequate training is needed as it will help tackle any challenges faced.