BA Tutorials
Things to do after completing a business analytics course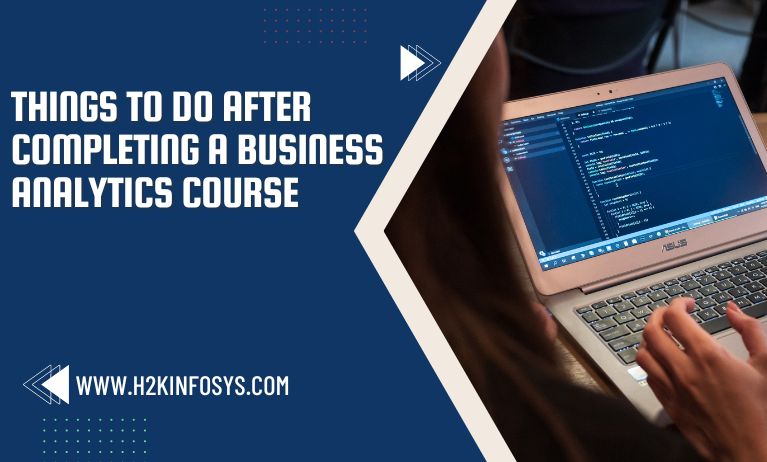 Taking a business analysis course isn't the pathway to finding the perfect job. There are things you need to do after taking the course. If you are unsure about things you can do after completing a business analysis course, this article will discuss that. Let's dive in.
1. Get an Internship or Placement
The first thing that comes to your mind after completing a business analytics course is getting an internship or placement. This is one of the ways to build your career and CV in the industry without stressing yourself.
To get a good internship, you need to prepare yourself adequately for an interview where your skills will be tested thoroughly. In this, you should know that some are paid for while others will just give you the necessary training you need to grow in the field.
Another way to make the process simpler is by getting a mentor in the field. Preferably, in the company, you work for. They will serve as a guide to help in difficult areas.
2. Do personal projects
Another thing to do after your business analytics course is to continue practising. Your knowledge needs to be updated often and when you fail to practice, you lose all you've been taught. Even when you're still searching for a job, try to practice every day. Use resources online and read books on the particular aspects of the career you want to delve into.

Another good way to keep up with practising is by joining the community of business analysts. It's a really large field, so you'll get to meet new experts daily. With this, you have a good avenue to always ask questions and form groups with your colleagues to carry out projects.
The last tip on practising and renewing your knowledge is attending workshops and seminars. You can never know it all, so seek avenues to attend these meetings.
3. Enroll in certification courses
As a business analyst, there are tons of certification courses that you need for a better level in the business analysis career. Your business analysis online course will give you the basic knowledge to build on. Then you can proceed to take the certification courses as you advance in your career.
4. Delve into a career path
The last piece of advice we have for you after your course is to select an area you want to specialize in. This is very important because the field is very wide and there are lots of specialities waiting for you. To get your best area of interest, take quick research on each. But, let's examine some of the top careers in business analysis waiting for you.
5. Data Scientist
Today, information rules the world and that's what a data scientist does. They have the skills required to analyze data perfectly for immediate and future use in the organization. The best part is they are well-paid and sought in most top organizations around the world.
Another interesting career found in business analysis is consultant analyst. If you have a flair for identifying errors in reports and have a good understanding of the processes involved, then opt to become a consultant analyst. Most times, these experts work on a freelance basis and you can seize the opportunity to earn from different ends.
Do you know you can work as a statistician with your certificate in business analysis? Yes, you can. You'll be trained to analyze data using mathematical terms, experiments and qualitative methods. It's also one of the top paid careers in the world with enough prospects and relevance.
Chief Technology Officer (CTO)
If you have good strategic thinking skills, then the Chief Technology Officer is one for you. With your leadership skills as well, you'll be saddled with the responsibility to examine technological ways your company can maintain relevance in the midst of competition.
An application architect position needs a high level of technical understanding. Anyways, it's one job you'll sure love if you have the best knowledge of working with applications, carrying out software tests and developing prototypes.
You've probably heard this title more than once. Project managers are one of the most populated experts in the world today. A project manager is someone who plans and makes a budget for an organization's upcoming project. They have the good teamwork skill to relate with other experts in the organization and supervise their budget planning.
The last career we'll be discussing in this article is machine learning. The experts create algorithms that develop data-driven products. It's a role that pays an average salary of $110,000 per annum.
Conclusion
By reading this article, we're sure you have tips on what you should do after taking your business analysis online course.