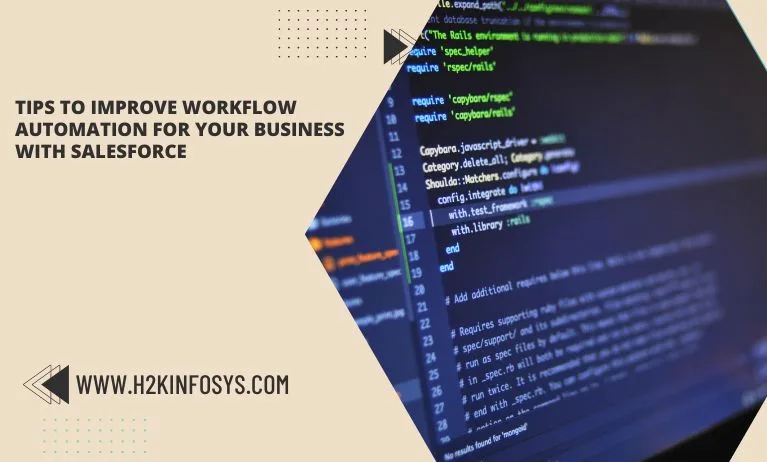 Automation has moved from being a curiosity to being a requirement in a fast-paced world where organizations must constantly increase their productivity and eliminate bottlenecks to remain competitive. Organizations from various industries now embrace automation as a key solution as the need increases and the technology to support it advances.
Every time they connect with a business these days, customers want a smooth and seamless experience. Consumers don't want to have to wade through time-consuming questions or choppy call routing in order to reach the appropriate person or department to address their issue. Organisations must use the potential of automation on the back end of their platforms and systems in order to provide real value to a client base. Salesforce process automation tools designed for CRM systems give business users the capacity to do that.
Salesforce, one of the top intelligent CRM solutions, enables businesses to provide a connected customer experience by giving sales, marketing, and support teams a 360-degree perspective of the customer journey. Organisations can automate and mobilise business processes through bespoke platform development by extending Salesforce's functionality. A good Salesforce training and placement program can help you learn more about Salesforce.
Why Automation is Not Something Your Business Should Sleep On?
Although the term "automation" refers to a wide range of technologies and procedures, at its heart, it refers to the use of technology to speed up and simplify tasks that would otherwise be laborious or tedious. Automation can be utilised in the business world to boost productivity, cut costs, and raise the calibre of goods and services.
There are many various kinds of automation, but some typical examples include chatbots for customer service, software that automatically fills out forms and inputs data into databases, and assembly line robots used in manufacturing. Each time, the intention is to free up human workers to concentrate on more strategic or creative duties by using technology to handle laborious or time-consuming chores.
How to Create Automation Workflows For Your Business?
Tip 1: Establish Clear Project Goals
Setting up specific project goals is the first step in developing efficient automation procedures. What are you aiming to achieve with your automation? What particular duties specifically do you wish to automate? You can more easily determine which jobs will benefit from automation if you have a strong knowledge of your goals.

Tip 2: Organise your work process
The next step is to create a workflow map. What steps does your method involve? What connections each step has with the others? You may begin figuring out which steps in your workflow can be automated if you have a clear grasp of it.
Tip 3: Look for Automation Possibilities
Finding chances for automation should be simpler once you have laid out your workflow. Search for repetitive, time-consuming, or error-prone steps. Normally, these are excellent candidates for automation.
Tip 4: Estimate the Duration of the Procedure
It's time to estimate how long the procedure will take since you now know what has to be automated. There are two reasons why this is crucial. You must first determine how much time you should allot for the automation process. In order to decide which jobs may be automated and which must be handled manually, you must first know how long each task in the process will take.
You must take the following factors into account when estimating the amount of time needed for each task:
How long does it take to finish the job by hand?
How precise is the automated system?
How long does it take for automation to complete the task?
Once you have a solid understanding of these elements, you can begin predicting how long automation will take.
How to Unlock the Full Power of Automation by Creating a Strong Workflow
The benefits of automation are obvious. Automation can increase output, effectiveness, and quality while freeing up workers to concentrate on other important tasks. In a cutthroat corporate environment, these advantages could mean the difference between success and failure.
To fully utilise the potential of automation, it is crucial to have a strong workflow. You can make sure that your automation workflow operates easily and effectively by properly planning and designing it.
Salesforce Provides a Framework for Process Automation Success
Organisations may more effectively create a framework for learning, preparing, implementing, and maintaining customer-centric practices thanks to the dynamic possibilities provided by Salesforce Process Automation products. Salesforce may assist users in identifying opportunities in their processes that are suitable for automation, obtaining team member feedback, creating and maintaining execution-related tools, and enhancing the process cycle.
Conclusion
We recognize that, as a startup, you're constantly seeking strategies to outperform the competition. Using Salesforce for your CRM requirements is one approach to go about this. Salesforce is an effective CRM tool that can assist you in better managing your customer relationships. There are Salesforce Admin training and placements available for you to learn more about the Salesforce Automation Process.