BA Tutorials
Top 5 Soft Skills You Can Transfer Into Business Analysis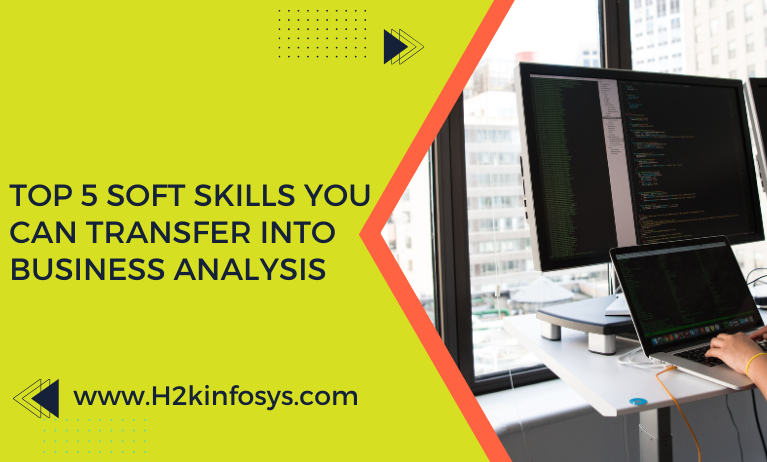 There are some safety measures to be aware of when starting a new career. Does the job have a lot of demand Business Analysis? How can you obtain certification for it? What are the abilities needed to excel at it, most importantly?
Business analysis is currently one of the most in-demand abilities, but to excel at it, you need some soft transferable skills.
In this article, we'll examine the top 5 soft skills you'll need to effectively change careers to business analysis as well as the reasons you should think about doing so. To learn about how to transfer your soft skills in business analysis, check out the business analysis course to learn more.
Why Should You Change Your Career?
The truth about the digital age is that everything is possible if you put your mind to it. However, if you've been working in a particular field for a while, switching careers can be challenging.
For instance, you could be apprehensive to change careers after working as a financial auditor for 15 to 20 years. That's normal, however if you choose a career route like business analysis, change can lead to enormous benefits.

Why you ought to alter your career route is as follows:
1.Change your career path if you often feel unfulfilled
It may be time for a shift if you frequently feel uninspired or unfulfilled by your current position.
2.Changing your career if it is in a low-paying industry
No matter how far up the corporate ladder you go, the pay may never catch up to the demand in some low-paying professions. If you work in such a profession, you might need to switch to a career like business analysis that is in high demand.
3.If your present job route is stagnant, change it.
The introduction of technology into numerous industries has the knock-on effect of allowing employees to advance and learn new things. You may need to change careers and prioritise your growth if your current one doesn't advance with trends.
Consider switching to business analysis if you fit into any of these criteria. However, as was already mentioned, before getting started, you have to understand what is expected of you.
We'll go through the top 5 soft transferrable talents for business analysts in the next section.
The top 5 transferring soft talents that can help you succeed in business analysis are listed below: 
1.Your Problem-solving skills
Have you ever been told you possess a penchant for problem-solving? Perhaps your coworkers or acquaintances frequently compliment your problem-solving skills.
If this describes you, you already have a key competency for business analysis. In actuality, business analysts are fundamentally problem solvers; they are in charge of locating problems inside an organisation and putting workable solutions in place.
2.Your attention to detail
Business analysts must be detail-oriented individuals. Yes, your expertise is transferable if you routinely identify mistakes that others notice or draw attention to a detail that everyone overlooked.
Business analysts frequently deal with enormous amounts of data and intricate systems, where even the tiniest error can have a big impact.
3.Your communication skill
Effective communication skills are not common. If your coworkers and acquaintances frequently come to you for clearer explanations of tasks, then your communication skills are definitely excellent.
You would constantly be interviewing stakeholders for requirements, elaborating on difficult ideas with team members, or presenting findings to management as a business analyst. Strong verbal and written communication abilities are therefore crucial.
4.Your Critical thinking skills
Evaluation of information, risk assessment, and informed decision-making are all examples of critical thinking. These choices may be supported by facts, forecasts, or trends.
Business analysts are needed to help firms make strategic decisions by critically analysing data and trends.
You'll succeed in business analysis if you're known for your ability to think critically and make data-driven conclusions.
5.Emotional Intelligence
It's crucial to consistently understand and manage your emotions. You can use the skill of business analysis if you can master both your own and other people's styles.
Emotional intelligence is important because business analysts need to be skilled at resolving conflicts and fostering strong connections.
Conclusion
Changing careers can be beneficial, especially if you do it in a high-demand industry like business analysis. It might be time to think about this change if you find yourself unfulfilled, working in a low-paying industry, or in a career that is stagnating. Enroll at a business analysis training today to learn more about soft skills in business analysis.