BA Skill Test
Top skills to transition from a Technical writer to a Business Analyst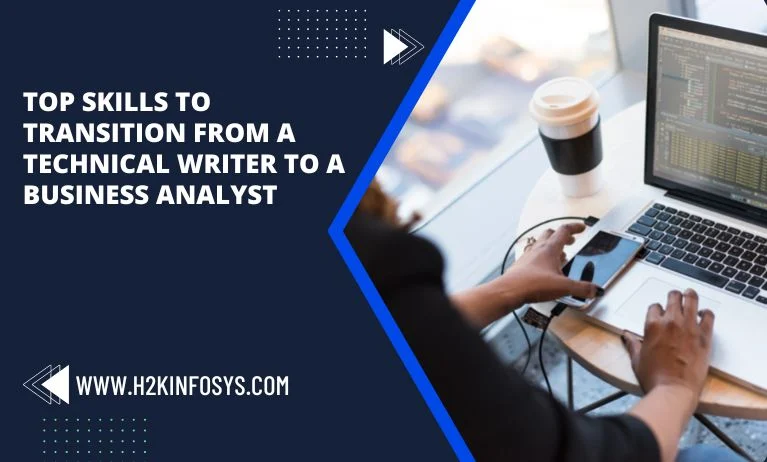 A technical writer, also known as a technical communicator, writes about the products and innovations of the company, creates technical documentation, and uses their writing and communication skills to make complex information easier to understand. A business analyst analyses the functions of an organisation and develops effective solutions for its improvement.
Given their proficiency in written communication, tech writers find it much simpler to transition into business analysis roles provided they build on their prior experience, take advantage of their transferable skills, pick up new skills necessary for the position, and complete business analysis training.
Therefore, technical writers have a distinct edge when they seek to transition into the business analysis domain because the business analysis is not limited to a certain discipline and typically cuts across other fields. Technical writers are skilled at recognizing the diversity of their audience, and as business analysts serve as a bridge between business stakeholders and technology architects, it will undoubtedly aid in the transfer from one function to the next.
You can learn some vital skills in Business Analysis by enrolling on a good online Business Analysis training, but here is the list of transferable abilities that a tech writer already possesses but must develop to transition to the position of a business analyst is provided below.
1.Product Knowledge.
The topic matter, product, or service that needs documentation has a big impact on a technical writer's skill set This makes them have quite a good knowledge about the product they write about.

A business analyst needs a valuable skill set, which comes from having a solid product understanding. As implied by the name, a business analyst evaluates a company's operations and suggests required adjustments to make the company more cost-effective. Being knowledgeable about the product is crucial for this.
2.Skills in Communication.
Business analysts communicate often with customers, managers, users, programmers, and coworkers. They have a remarkable capacity for effectively and simply conveying ideas to people at work because of their exceptional communication abilities.
Due to the nature of their profession, tech writers frequently possess good written communication skills as well as a comfortable understanding of some business analytical concepts, such as requirements documentation and visual modelling.
But in order to be a good BA, you also need to be able to communicate verbally well. Please keep in mind that effective communication is of utmost significance. You should be expressive and articulate as you transition to a business analyst. You should also be a good listener and ensure that the audience understands what is being communicated.
3.Technical drawing Skills.
Tech writers use elements like graphics, diagrams, and photographs to make technical documentation more readable and understood. As a result, they are skilled in using technical diagramming tools.
Use cases, user stories, the Business Requirement Record (BRD), class diagrams, entity-relationship diagrams (ER diagrams), and sequence diagrams are all ways that business analysts document requirements for the projects they work on.
Possessing technical diagramming skills in your arsenal will certainly come in handy as you transition to a BA.
4.Domain Knowledge.
Every project falls under a domain, which is a specific field of business like insurance, banking, infrastructure, healthcare, etc.
Any technical writer must have essential knowledge of their respective industries and fields. A technical writer is typically knowledgeable in the industry and subject, whether it is to write straightforward how-to guides or complex detailed documentation.
One of the many abilities that matter to BAs and gives them a competitive edge is domain knowledge. Business analysts make good use of their domain expertise while gathering requirements, assessing the environment, and other tasks because it helps them better comprehend the project's business case, its history, and how it intends to address problems that are special to the domain.
5.Learn the business analysis process.
Every action, including business analysis, has a process. Learning the process will provide you with a solid understanding of how business analysis is actually carried out.
6.Develop Your Skills in Requirements Analysis.
Discovering, evaluating, defining, and documenting requirements is the process of requirements analysis. It is the procedure through which you accurately and clearly describe the project's scope in order to estimate the resources and timelines required to finish it.
An outline of five steps for doing a business needs analysis
Choose Important Stakeholders
Identify Stakeholder Needs
Organise the requirements
Rules for Interpretation and Recording
Sign Out
To gather and analyse requirements clearly and concisely, a variety of methodologies can be employed. Resolving any conflicting requirements concerns early on is made easier by being familiar with the requirement-gathering process.
7.Elicitation Techniques.
Elicitation is the process of "drawing out" knowledge. Business analysts need to be able to wring information and requirements out of their stakeholders. Every project starts with these criteria, thus a BA needs to be skilled at facilitating discussions about them.
A BA can elicit needs using a number of efficient methods. The BABOK offers nine methods: requirement workshops, focus groups, interviews, observation, prototyping, survey/questionnaire, document analysis, and brainstorming.
These methods will assist in gathering functional, technical, and non-functional requirements while ensuring that the information is relevant. Most importantly, a Business Analyst should know when to use which technique.
8.Learn requirements modelling tools and management tools.
Business analysts must be proficient in technology. Business analysts utilise a variety of tools in their tasks, just like the majority of other professionals.
Learning the techniques for business process modelling, state modelling, and use case modelling is essential. You can download the free trial edition of Microsoft Visio, a program that is widely used in businesses. You can also learn how to use other free tools like BizAgi Business Process Modeler and Lucid Chart.
Conclusion.
Earning a business analysis certification is crucial if you want to become a sought-after BA and improve your prospects of success. Certification can boost productivity overall, eliminate uncertainty, and increase market opportunities. Additionally, organisations commend candidates for their dedication and hard work which the candidate has put into studying and clearing the certification exam.