Salesforce Tutorial
Understanding the Role of Salesforce Consulting in Driving Digital Transformation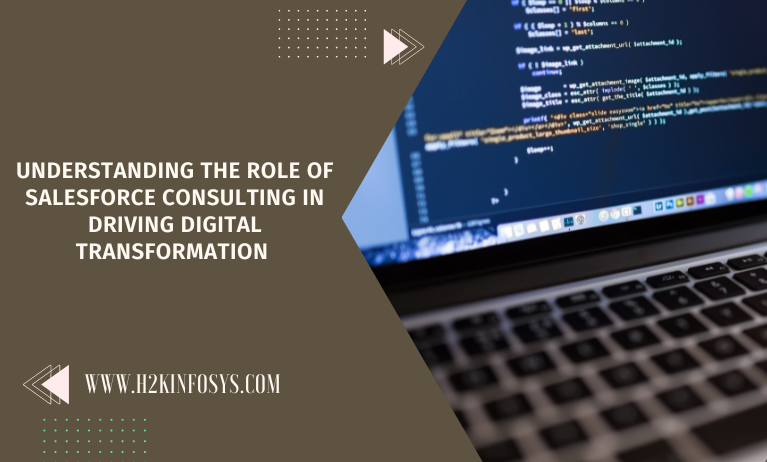 The digital transformation Salesforce Consulting of businesses across all industries has become a crucial objective in today's quickly changing corporate environment. Digital transformation involves integrating technology into business processes to increase productivity, cut costs, and spur expansion. Salesforce is a well-known and effective platform for digital transformation. The successful implementation of Salesforce is essential to every company's digital transformation process. As part of their digital transformation strategy, businesses can adopt and integrate the Salesforce platform with the assistance of a committed consultancy partner.
To learn more, check out the online Salesforce certification course.
What does a Salesforce Consulting Partner do?
A group of professionals known as Salesforce consulting partners engages with an organisation to evaluate, organise, and integrate Salesforce into its daily operations. They evaluate the organisation's current infrastructure, customise the platform to address particular requirements, integrate Salesforce with other systems and apps, and provide staff training on how to use the platform to its fullest potential. Salesforce consulting partners (and their services) make the most of Salesforce to help customers succeed with their digital transformation initiatives.
Let's examine the significant influence Salesforce consultancy has played in its digital transformation.
1.Analyse Business Processes and Reporting..
To comprehend their current operations and pinpoint areas for development, firms must analyse their business processes and reporting. Businesses can analyse their present business processes, spot abnormalities, and pave the path for Salesforce consulting partners to speed up or optimise their current operations. Harnessing Salesforce's ability to cut expenses and offer insights into customer interaction and performance metrics, can assist businesses in transforming their operational processes.
Salesforce's advanced reporting features enable firms to keep a closer eye on their data analytics and make smarter business decisions.

2.Identify Areas of Improvement and Process Automation – Simplify Complexities
In order to achieve sustainable development and maintain an edge over the competition, Salesforce consulting firms analyse current business processes to identify chances for optimisation and process automation. Businesses can use Salesforce to streamline operational complexity and update antiquated procedures and systems with the assistance of consulting partners.
For instance, swap out outdated spreadsheet-based billing for an optimised Salesforce Billing component.
Salesforce consulting partners generally concentrate on "lean methods" for process automation to get rid of wasteful procedures, boost productivity, and enhance organisational throughput.
3.Unearth Opportunities for Salesforce Consulting Integration
In order to give businesses useful insights, Salesforce consulting partners can examine the current digital infrastructure, which includes integrating Salesforce with other systems and applications. Salesforce partners may also help customers make the greatest use of the Salesforce platform by identifying the best integration opportunities tailored to their needs.
Businesses may automate procedures, decrease human data entry, and communicate data smoothly by integrating Salesforce with other systems and applications. While increasing the accuracy of business operations, this can also save time and money.
By combining Salesforce with a marketing automation tool, for instance, companies may automate lead generation and nurturing procedures, monitor lead behaviour, and tailor messaging to each lead's interests and level of involvement. This can assist companies in closing more sales and increasing customer loyalty.
4.Provide Personalised Customer Experiences
Building trusting relationships with customers and fostering corporate growth require personalised customer experiences. For instance, consulting firms assist organisations in developing a 360-degree perspective of their customers using the Salesforce 360 platform. This enables them to tailor communications, promotions, and engagements depending on the customer's prior contacts with the company. Increased consumer happiness, brand loyalty, and expansion potential may result from this.
5.Identify New Revenue Streams
The Salesforce Revenue cloud platform allows consultants to find new revenue sources quickly. Additionally, Salesforce Revenue Cloud automates the quote-to-cash process and optimises the complete revenue lifecycle management, enabling firms to shorten sales cycles and boost sales productivity.
To update the current Salesforce engine and enable an end-to-end view of business performance, Salesforce partners implement and configure Salesforce Revenue Cloud and related Salesforce solutions.
Companies can widen their consumer base, grow their reach, and achieve sustainable development by developing new revenue streams.
6.Increase Salesforce Consulting Adoption and Higher Salesforce ROI
One of the important measures for evaluating the effectiveness of Salesforce investment is the platform's increased adoption. Through specialised training programs, ongoing assistance, and access to a team of subject matter experts who can assist with any problems, they assist firms in achieving this. Salesforce consulting firms are aware that higher ROI can result from greater Salesforce adoption.
7.Packages for QuickStart and Accelerators
Businesses may swiftly adopt Salesforce solutions with the aid of accelerators and quickstart kits. Businesses with a well-defined MVP (Minimum Viable Product) can speed Salesforce implementation with Quickstart for Salesforce.
Salesforce Accelerators have a number of advantages, such as shorter time to market, lower costs, and greater effectiveness. Businesses can optimise their use of Accelerators and QuickStart packages while saving time and money.
Conclusion
 In this digital era, it is important to understand how Salesforce consulting can drive digital transformation in businesses and organisations. Check out the Salesforce training to learn more.