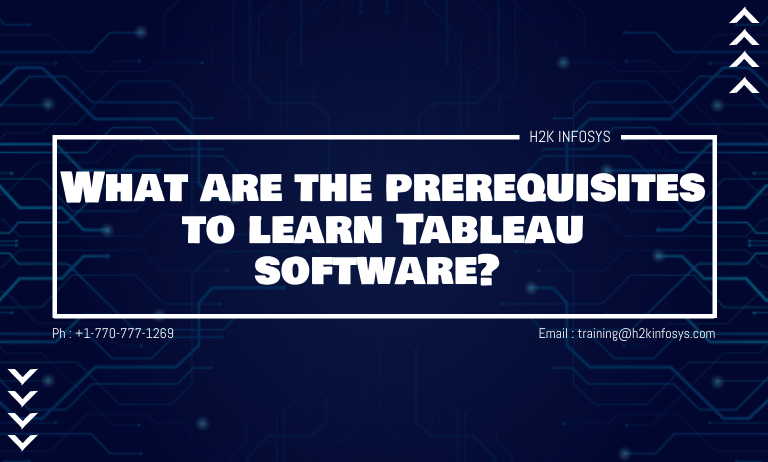 In recent days everything is moving online, and consequently, data generation is like never before. These Tableau data contain numerous information that helps to know everything about the customer behavior and trends. Hence, no organization is ready to miss the data's insights. And if a company decides to dump this data, the competitors will get the advantage and take the lead. Hence, Big Data is getting more important these days, and every organization is looking to adopt this and benefit from it. The right data visualization tool is required to analyze the big data and interpret it in an easily understandable way. There is no other software tool that comes close to Tableau in the current market. So, let us look at everything about Tableau. 
What is Tableau?
Tableau is a fast-growing and powerful tool used in the business intelligence field. It can take the inputs from different sources and produce excellent outputs. This software simplifies a huge amount of raw data in an easily understandable format. The dashboards, graphs, reports, and other output produced by tableau is straightforward to understand by the professionals of all levels in an organization. The best thing is even non-technical people can interact with this tool and produce customizable dashboards.
Data analysis becomes easy and quick with Tableau software, and the output produced by this is in the form of worksheets and dashboards. It comes with numerous features and advantages. Hence tableau training is becoming popular. The most remarkable features of Tableau are as follows.
Real-time data analysis
Data blending
Collaboration of data
The prerequisites to learn Tableau software
The best thing about Tableau is that there is no prerequisite to learn this software. With zero technical or any programming skills, one can learn and master this tool suite. This is the primary reason why many people are looking to learn Tableau and advance in their careers. Students can learn this using tableau for students offered by Tableau for free.
Tableau software suite
The tableau product suite consists of;

Tableau Desktop
Tableau Public
Tableau Server
Tableau Online
Tableau Reader
To easily understand these products, we can classify these into two types.
Developer Tools
these tools are used to develop such as dashboards, reports, charts, and all other visualizations that fall into this category. Tableau Desktop and Tableau Public come under this category.
Sharing Tools
As the name speaks, these products share the reports and visualizations. In short, it is the sharing tools used to share the products created by developer tools. Tableau Online, Tableau Server, and Tableau reader fall in this category. 
Let us look at all these products one by one. You can get to know in-depth in the best tableau course.
Tableau Desktop
Tableau Desktop comes with varieties of features that allow you to customize reports, Create reports, charts, and combine all of them to create useful visualizations. The tableau desktop gives connectivity to the data warehouse and other types of files to facilitate live data analysis. It is further classified into two types based on connectivity to the data source.
Tableau Public
This product is specially designed for those looking to get tableau features at less budget. The name "public" means the workbooks created in this tool cannot be saved on local files. That means the workbooks are saved to the public cloud, and anyone can access and view this. There is no privacy for your data here.
Tableau Server
This product allows sharing workbooks and other visualizations created in Tableau applications across organizations. To share the Tableau server visualizations first, the workbook must be saved in the Tableau Desktop.
Tableau Online
As the name denotes, this is an online sharing tool. This product's functions are similar to Tableau Server but the data stored on tableau servers maintained by the Tableau group. In this product, there is no limit for data storage. 
Tableau Reader
It is a free product designed to view and read the developer tools' visualizations. Having a Tableau reader is necessary to read anything created in the tableau applications.