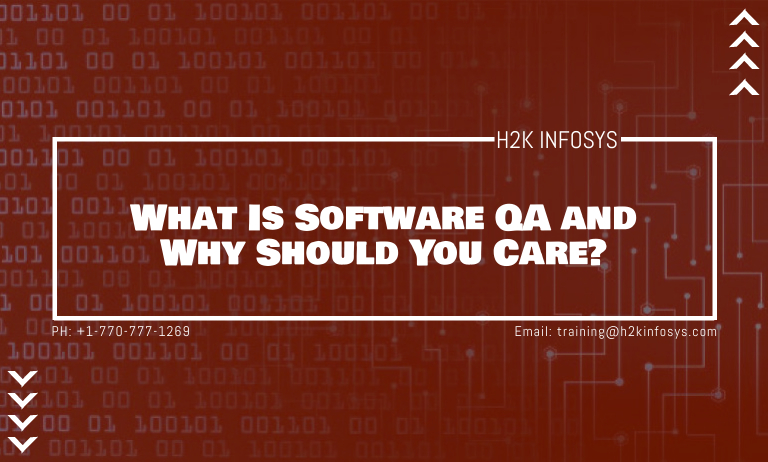 Software QA, otherwise known as "Software Quality Assurance" is a huge part of software development and the quality system in software engineering. It comes with amazing benefits such as preventing defects and reducing the running cost of most software development processes. 
In this article, we will take a closer look at the meaning of "Software QA" and why you should care about it. This section basically outlines the major importance of Software QA services and their impact on software development at large. 
What is Software QA?
Software Quality Assurance (Software QA) helps to establish and maintain certain set requirements for the manufacturing and development of highly reliable products that will ensure customer satisfaction. 
There is a long process involved when it comes to software development. Companies use the help of Software QA to ensure they produce safe and high-quality products for their customers. So this is an aspect of software development that cannot be overlooked. It is highly significant in ensuring that customers trust the products and services of any company, while also improving their credibility. 
A software can come up with a strange behavior if there is any form of error in the architecture during its development process. This leads to the need for quality assurance when creating such software. The errors that occur during the software development process makes Software QA very essential. This is a major reason why you should care about it. 
Furthermore, there's a case for producing reputable products in the market which makes putting products through quality assurance vital. This process needs to be done before software or product is released.
Why Should You Care About Software QA?
The best programs can experience coding errors. This is why programs are passed through QA Engineers assessment before releasing or launching them.
The role of Quality Assurance departments in companies cannot be replaced because of how effective they perform their duties. They ensure quality products and services are rendered to customers in the best possible way. 
Some of the best apps and social media platforms on the internet today can come with bugs and it is the duty of Software QA to figure out these bugs and fix them. 
Have you ever wondered why game developers release the "beta version" of a game before the official release date? This process gives gamers the chance to test the new version of a game and report any form of bugs or lags that may occur while playing such games. Software Quality Assurance then comes in to fix it. 
These and many more highlights the importance of Quality Assurance services.
Now let's take a look at "why you should care about Software QA!"
You should definitely care about Software QA because of the following reasons;
Companies constantly seek Software QA services:
Every company out there requires the services of Quality Assurance. For example, tech companies are high on this list because of their involvement with software development. So the services of Software QA are in high demand.
Software QA saves time and resources:
The time and resources invested in software development can be exhausting, so it is important to find the best way to keep it low and cost-effective. Software QA will help you figure out defects and bugs in the early stages of development. This ensures that the money spent on fixing such bugs is quite lower than expected.
Software QA guarantees product safety:
The safety of a product is one of the most important qualities a customer looks for before purchasing it. No one wants to buy into a product that will give them issues or cause any form of problems after purchase. So Software QA will ensure that a product is passed as "secure and efficient" before it can be used.
Software QA ensures quality and competitive products:
To beat your market competitors, you have to constantly put out products that will work efficiently. In software development, the quality assurance process will ensure that the products released run successfully without crashing. It eliminates bugs and improves product performance and functionality. QA is so efficient.
Software QA guarantees customer satisfaction:
One major benefit of quality assurance service in software engineering is to help keep your customers and clients happy. Your business or company tends to succeed when your customers are happy with the products and services you render. Software QA helps to meet customer's demands and even exceed their expectations. 
The need for Software QA is important throughout a software development cycle and it should be an aspect you care about without giving any room for negligence. 
Software QA as a Career Path
Companies have different roles for Software QA specialists and these roles are in high demand and also very lucrative. These roles can be classified as;
Software QA Tester
Software QA Developer
Software QA Analysts
Software QA Engineer
Software QA Director
Each of these roles requires a certain level of skills and certification before any company can consider an individual qualified. For beginners, you can get an entry-level job as a Software QA Tester because you will only be required to make use of software testing tools to detect bugs and error codes for developers to fix.
Software QA Analyst is also a profession you can explore as an individual. This profession offers a significant role in software development and it is highly lucrative. You can enroll in a Software QA analyst certification training if you want to be successful in this field. There are several certifications available online.
A Software QA Developer performs a higher-level role whereby they run tests to identify deficiencies, fix the bugs detected, and also get involved in the development process of a product. 
As for Software QA Engineers, their role comes with a lot of responsibilities such as identifying a software product problem, designing software testing process automation, collecting quality data from the development process while working on product quality so as to attain customer satisfaction.
Finally, a Software QA Director oversees the management and planning of product development. They investigate the quality of a product so as to make adjustments and also lead the quality assurance team to offer quality project execution. They also prepare software testing reports and present them to the top-level management for assessment. 
Ensure you enroll for Software QA courses if you want to follow this career path.