BA Tutorials
What is the difference: Business Analyst Vs Data Scientist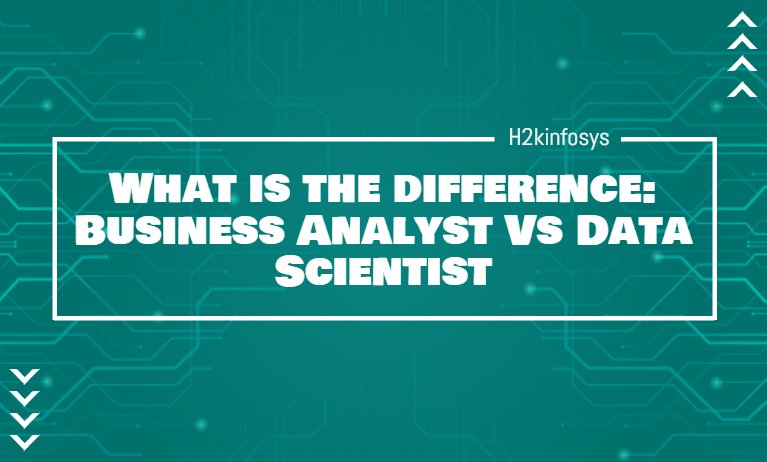 Although the general public might not be able to establish a correlation, there is a huge overlap between both the roles. When we consider the responsibilities of a business analyst vs data scientist, they are not mutually exclusive. Both roles involve data gathering, modeling, and drawing inferences from the data.
What's more, their paths also cross quite often to understand the best strategies for the business and then implement them.
Who is a business analyst?
A business analyst is a person who performs a wide range of tasks from requirement gathering, documenting the gatherings, sharing it with the development team, laying out plans, developing insights, and communicating back to the stakeholders.
Business Analysis comprises analytical and problem-solving skills, business acumen, domain knowledge, and great interpersonal skills.
Business Analysts are the people who constantly look for opportunities to bring a positive change in the business processes. Moreover, they see to it that these changes are carried out successfully.
Job responsibilities of a business analyst:
Although, the responsibilities of a business analyst vary in different organizations and at different levels, listed below are their typical duties per Robert Half, a popular recruitment firm:
Planning, improving, monitoring, and implementing changes across multiple processes in various departments and levels.
Ensuring the business data is well maintained and cleaned
Budgeting and forecasting
Performing variance analysis
Pricing and reporting
Evaluate if the end product meets the business requirement and reporting it to the stakeholders.
Who is a data scientist?
Data Scientists are the professionals who are proficient in handling data. They prepare, format, analyze data, and provide meaningful insights into a business problem. Their skills lie in computer science, mathematics, statistics, and domain knowledge.
They are ideally engaged in identifying the hidden patterns in data, developing algorithms, drawing inferences, and making predictions.
Exploratory data analysis is a major part of their job for understanding complex data sets. Data Scientists are usually highly qualified professionals holding Ph.D. or Master's degrees. Apart from an in-depth knowledge of statistics, the data scientists should be proficient in the statistical programming language R and Python.
Job responsibilities of a Data Scientist:
As business analysts, the data scientists also work very closely with the stakeholders to understand the exact requirement and ensure that the goals are met efficiently. Listed below are the core responsibilities of a data scientist:
Ask the right and appropriate questions to understand the right goals of the customer.
Collect data through various sampling methods and ensure that the methods employed are effective.
Process and clean data
Integrate the data and store it
Performing exploratory data analysis
Choose or code the right algorithm
Apply various machine learning, statistical modeling, and AI techniques.
Fine-tune them for improved results
Present the final results to the stakeholders
Business Analyst vs Data Scientists: Key Differences
The primary difference between a business analyst and a data scientist is their approach towards data. However, depending upon the size of the company, the roles of the business analyst and the data scientist are interchangeable.
| | |
| --- | --- |
| Business Analyst | Data Scientist |
| They basically look into client's business requirement | Data Scientist's primary responsibility is to analyze data. |
| They deal mostly with clients and gather information and requirement | They delve deep into the data to provide meaningful insights |
| BAs work only with structured data | Data Science deal with structured and unstructured data. |
| BAs need to have great interpersonal skills, statistical knowledge, and analytical skills | Statistical knowledge with Machine Learning algorithms and mathematics is integral to the role of a data scientist. |
| Skills required are Excel, SQL, R, Tableau. | Python, R, SAS, Hadoop, Tensorflow are required. |
Conclusion:
It is crucial for both business analysts and data scientists to constantly upskill themselves with emerging technologies. This is because they drive business growth and profits which are the most important factors ultimately.