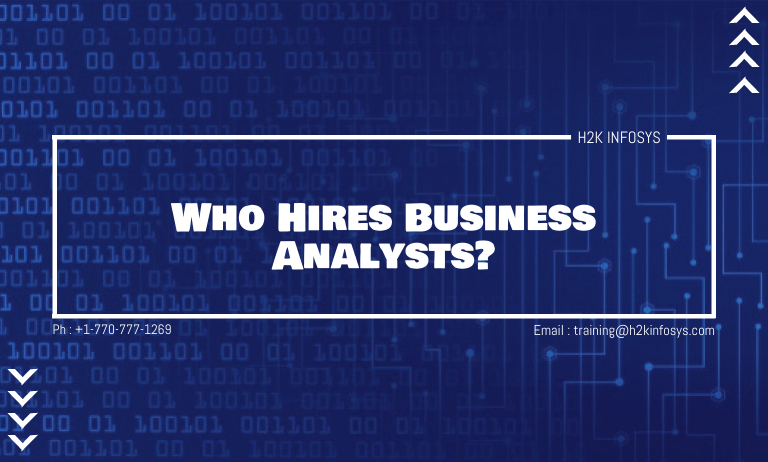 Business analysis is a rapidly growing field and is evolving to meet modern business needs. Today, all major companies hire business analysts, including Google, Amazon, and Verizon. The demand for business analysts is growing exponentially, with a projected growth of over 11% in the next five years.
There is a high demand for business analysts, and all major companies are looking to hire them. Read more to find out why!
Duties of a Business Analyst
The role of a business analyst is not limited; rather, it depends upon the circumstances and needs of the company. Business analysts act as a bridge between data and the company. Business analysts plan and execute changes for organizations, focusing on efficiency and finances.
Business analysts are responsible for the objective assessment of a situation to determine the company's actual needs. 
Instead of favoring a single stakeholder's expressed wishes, a business analyst communicates with all the stakeholders and departments, producing a balanced evaluation. Certified business analysis is an extensive process through which a business analyst comes up with comprehensive solutions.
A business analyst uses extensive research to give viable solutions. Practical analysis and a thorough understanding of the situation are essential to developing the best possible solution. Business analysts must also have excellent communication skills to assist their dealings at different levels of the company.
Business analysts scrutinize the data, which is the most critical aspect of their job. That includes an extensive study of the data to find patterns that help build different solutions. The business analyst then evaluates all possible solutions and recommends implementation of the chosen solution. 
What Does a Business Analyst Do?
Identifies inefficient business processes
Determines the way a company can reach its goals
Problem-solving for potential problems
Acts as an information translator for inter-department communication.
Helps design and modify business systems
Assists business stakeholder goals
Develops and upgrades user manuals
Why Do Companies Hire Business Analysts?
Companies hire business analysts because they know that extensive processes carried on by business analysts are effective in the long term. That is why all major companies hire a certified business analysis when troubleshooting business problems or ease various transition processes. 
According to IIBA.org, three significant reasons why company hire business analysts are:
Business analysts make the complex process of digital transformation simpler for companies.
Business analysts translate complex processes to ensure all stakeholders fully understand the company's proceedings. For example, they simplify business processes to terms someone working in IT can grasp. That is essential to promote transparency across departments, such as management, to be aware of their roles in new company policies.
Business analysts help management adapt to changes. After implementing the business project, management must adopt it correctly, which is possible only when they understand it by communicating with a business analyst.
Besides hiring business analysts, companies often send their best salespeople to undergo Business Analyst Training or study a business analyst course from a reputable institution.
How to Become a Business Analyst
There are different routes that you can take to become a business analyst. That depends on your academic qualifications and experience.
Employers often look for graduates who have taken business analyst courses and training. Companies prefer individuals with certified business analysis skills from a professional institution, such as the International Institute of Business Analysis or The Chartered Institute for IT. 
A business analyst must have stellar problem-solving and analytical skills. Communication skills also play a significant role for business analysts, as they'll have to negotiate, facilitate meetings, and assist teams in adopting new policies.
Other core skills include organizational efficiency, critical thinking, delegating tasks, and leading by example.
Tips For Success as a Business Analyst
A successful business analyst communicates effectively with all business stakeholders to explain how a particular change will affect the value and efficiency of the business process.
It is also crucial for a business analyst to be a great listener, listen with empathy, and understand the challenges of policy changes. That will help them work well with all departments and ease the process for everyone involved.
A successful business analyst must be a critical thinker who finds the right communication approach for each audience. Business analyst training and courses help develop these analytical skills crucial to a successful business analyst.
Business Analyst Career Roadmap
Business analysts are currently in high demand, as in this highly competitive world, companies require just the right edge over their competitors. And certified business analysts provide that competitive edge to companies that hire them.
Potential career paths for BAs are:
Data Business Analyst
They analyze data for companies to recognize and uncover trends that may help the management make better decisions.
Information Security Analyst
They're responsible for keeping the IT systems safe in an organization
Business Analyst Manager
They're responsible for creating a team of business analysts and helping them to execute organizational goals.
Computer System Analyst
The primary responsibility is to increase efficiency through evaluation and improvements of the company's technical procedures.
Quantitative Analyst
Develops mathematical models related to risk management and investments that help managers make financial decisions
Companies That Need Business Analysts
Most influential organizations are hiring certified business analysts. According to ucas.com, companies employ business analysts on a contractual basis for specific projects. More prominent companies may require an in-house business analyst. 
Some companies send their sales and IT skilled people to receive business analyst training and business analyst courses from professional institutions.
Business analysts work in companies belonging to all industries, whether banking, finance, medical care, universities, information and technology, and the government.
As part of organizations, business analysts analyze and monitor operations, continuously devising and implementing plans to improve the business process. Business analysts also work as external consultants to provide certified business analysis on a short-term contractual basis.