QA Tutorials
Why Quality Assurance is a lucrative skill in the Tech industry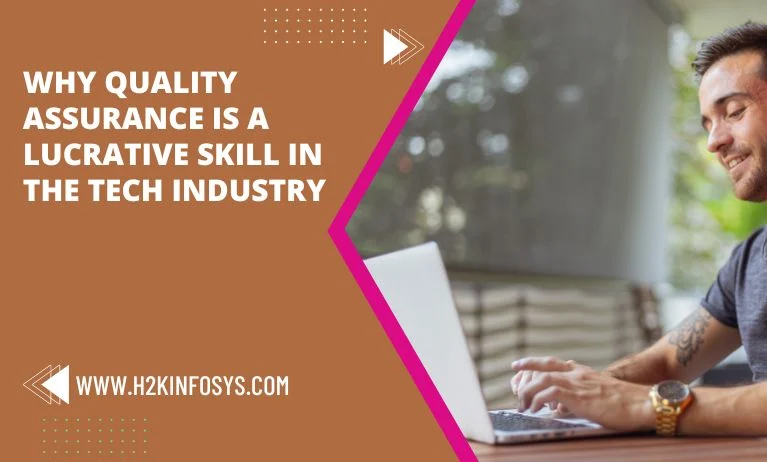 Quality Assurance is one of the trending jobs in the tech industry. With any quality assurance position, you wish to occupy, rest assured to be well paid. They also have enticing career opportunities and rarely suffer from professional burnout.
Quality Assurance specialists are likened to detectives with their primary mission of finding and eliminating bugs. They uncover critical bugs in software as quickly as possible. That is why they play a vital role in the team. In any tech company, the final product has to meet the final requirements of both the customers and users, and that is what a quality assurance professional is there to do. This makes it a high-demand position in the tech industry thereby making it lucrative and of high satisfaction to its personnel. If you are interested in QA, there are many online quality assurance training programs that offer courses on the various skills to master to be a good QA professional.
An average quality assurance professional makes about $72,000 per year which is enough to live a reasonably satisfying life. Here is why quality assurance is as lucrative as this, especially in the tech industry.
1.Quality Assurance offers prevention over correction when addressing issues.
When technology companies are addressing issues, they all prefer for them to be prevented rather than them to be corrected. This is because corrections incur additional costs but prevention saves money and resources, and this is what quality assurance brings. In software development, quality assurance takes the preventive route for locating bugs and addressing issues related to performance, functionality, or security. This is very difficult from the legacy methodologies of software development.
The skill of proactiveness that a quality assurance professional provides (in terms of error detection) helps tech companies to eliminate the possibilities of failure, thereby leading to the production of intuitive, high-performing, and stable software. Quality Assurance activities help to identify and eradicate processes that produce waste or are below the required standards. By doing so, the Software Development life cycle is optimized and the overall efficiency is improved.

2.Quality Assurance provides Better Efficiency with reduced costs and failure risks.
Technology companies especially software development companies now embed quality assurance into their development cycle, and they have a very good reason. This is because it can eliminate the risks related to software failure significantly.
They now have a software quality assurance strategy in place to confirm that the developers do not lose track of the requirements of the customers while taking a few creative liberties here and there. When companies begin to deviate from the predefined plan, there is a high probability that they end up causing non-alignment between the project requirement and the end product, and this will result in reworking and violation of the determined timeline. This will most certainly cost more than expected and they would not want that. That is one major reason quality assurance professionals are hired.
They keep a close watch on the entire Software Development life cycle and establish conformance to regulatory standards such as ISO 9000 and CMMI (Capability Maturity Model Integration). By ensuring the project stays on track and by guaranteeing compliance, quality assurance professionals not only ensure improved efficiency but also save costs and time.
3.Quality Assurance provides a better user experience and enhanced user satisfaction.
There is nothing a user wants more than a smooth experience and there is nothing tech companies want more than for them to satisfy their product users. In this regard, the recent rapid technological advancements have made customers' patience for non-intuitive products thin. Nowadays, product users do not think twice before going for a competitor's product as long as they offer a better user experience. No tech company wants to lose their customer to its competitors and it can only do so by ensuring undiluted quality in terms of user experience. This is where quality assurance professionals come in for these companies.
Instead of them relying on their customers to point out errors in their products, they are now proactive in terms of bug detection. A good Quality Assurance professional will help to build a product that is usable, robust, secure, stable, accessible, valuable, and reliable. They take care of UX-related issues, yielding improved user experience.
High user satisfaction leads to an increase in revenue and increased brand reputation. Thus, any tech company that is intentional about keeping a good reputation will not joke about having a good quality assurance professional.
Conclusion
The success of any tech company is based on the quality of its products and services. That is why big tech companies are very intentional about their quality assurance. So if you are into quality assurance, there is a place for you in the lucrative tech world where you can earn a good living. But you have to be good at QA skills. You can take online QA certification courses that will help you hone the required skills needed in QA for the tech world.