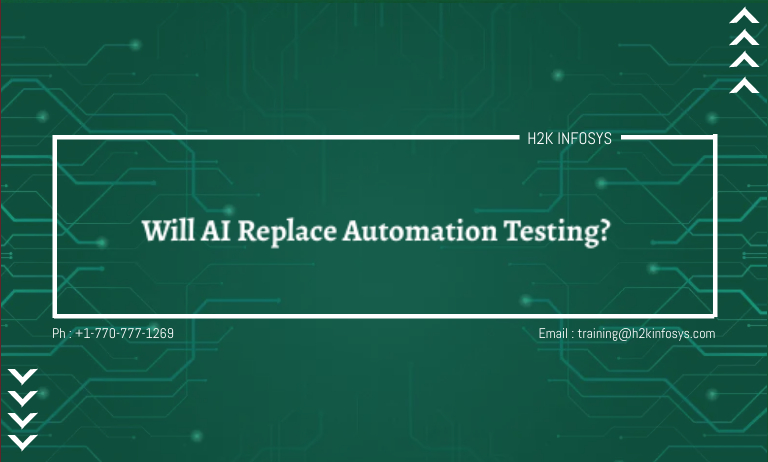 We live in an era where technology is making a huge impact on our day-to-day lives. Over the years, we have witnessed a computer and internet revolution. Today, Artificial Intelligence (AI) is unveiling its potential across different fields and industries. One of the fields experiencing the impact of Artificial Intelligence (AI) is the selenium automation testing field. This is why many tech-savvy people are enrolling in selenium online training to gain more insights into this.
When it comes to automation testing, the impact of AI is a big issue to address. The question on everyone's mind is if AI will replace automation testing. This growing concern is a result of using a technology that replicates intelligence in machines to develop new revolutionary innovations.
The Artificial Intelligence (AI) algorithm is integrated into computers and machines to make them imitate human intellect and interactions. This explains why machines think and act like humans. With this new development, the power of AI is being explored in various fields like healthcare, finance, business analytics, and most importantly software automation testing.
Impact of Artificial Intelligence (AI) on Automation Testing
Automation testing is a software testing technique that applies software tools to automate the validation of software products. Artificial Intelligence (AI) is introduced in software testing to help automate repetitive tasks. This includes writing, analyzing, and executing test codes.
Artificial Intelligence (AI) has enabled machines to simulate human intelligence processes. This is why the software testing industry has introduced AI-based testing into its testing processes.
This technique uses artificial intelligence and even machine learning algorithms to effectively test software products. For instance, selenium automation testing integrates AI into its testing processes. You can learn about this process through the selenium training online program.
Selenium is an open-source automation testing framework used to validate web applications across different browsers and platforms. So, ensure you enroll in selenium online training.
The Growing Concern with AI Integration
The power of AI is so evident across various industries that people assume it's going to replace humans. This suspicion is understandable when you consider its wide range of use. For many years, machine automation has replaced skilled labor, so you'll expect people to be concerned if AI will now replace automation testing. Many human jobs have indeed been lost due to automation, but it has also seen a rise in new jobs that need a new skill set.
So, the growing concern is – will AI replace automation testing?
If we're being real, AI will not replace automation testing in the near future.
Here's why we've come to that conclusion;
As long as the end-users of software products are humans, AI will not replace automation testing. This is due to the fact that the best AI technology can't replace the expertise and experience of human testers. Most automation testing processes are organized and executed by humans. So, software development processes will always require human intervention.
How AI Helps Automation Testing Processes
What AI will impact is how automation testing processes are carried out. It will change how quality assurance testers perform the software product testing process.
Hence, here are things to keep in mind;
AI will help create testing process documentation
AI will help testers identify bugs and defects faster
AI will ensure a reduction in software development costs
AI will handle human errors and learn from their mistakes
AI will make software testing faster, smarter, and more efficient
AI will help in shipping software products faster to the markets
AI will accurately diagnose scalability associated with software testing
AI will help validate the desired functionality and features in applications
AI will help identify any performance problem affecting a software product
What AI will not do is replace the process of automation testing across any field. If you're in the field of selenium automation testing, you will do well to enroll in selenium training online.
Overall, AI has a significant role to play in automation testing. It goes beyond replacing it.
Conclusion
We believe this guide will enlighten you on the growing concern associated with AI replacing automation testing. Artificial Intelligence (AI) will not replace automation testing, instead, it will enable the process to become faster and more efficient. Software testers can work closely with AI testing tools to achieve improved quality and efficiency in software testing processes.
In this modern era, the software development life cycle can get complicated. Hence, slowing down automation testing processes. So, software testers need artificial intelligence (AI) and machine learning (ML) techniques to speed up the process of testing software products.
To wrap this up, AI will not replace automation testing. AI will improve automation testing.