BA Tutorials
6 Most Important Requirements Practices for Business Analysts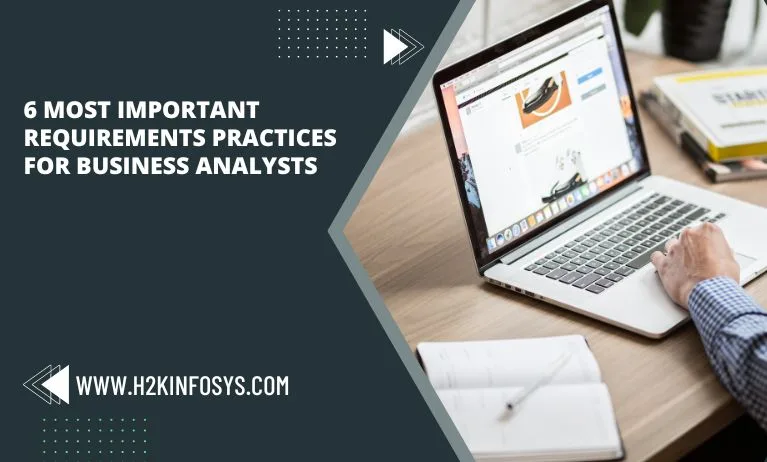 There are various requirements techniques that can help a business analyst ensure the success of any required project. By using these techniques, you considerably improve your chances of developing a solution that efficiently and successfully accomplishes the required business results.
Check out the available online BA certification course to learn more about these procedures. These are the top six methods.
1.Define your business objectives.
Organizations start projects to address issues, take advantage of business opportunities, or open up new markets. By outlining the project's business goals, all participants and other stakeholders are made aware of the motivation behind their involvement. With the new product, the company might be able to accomplish both financial and non-financial business goals. Make an effort to quantify the business objectives by using statements like these:
X% market share must be attained in Y months.
Within Z months, achieve a sales volume of X units or revenue of $Y.
Save X dollars annually that are being spent on an old, high-maintenance system.
The team's efforts and important choices are all in line when using business objectives. You can't create a crystal-clear product vision statement or determine the scope of either the entire project or any individual development increment without clearly defined business objectives. The team has to understand how suggested scope adjustments and functionality will affect the business goals in order to make informed decisions. The team can avoid scope creep while still making adjustments to shifting business realities by keeping the scope in focus. How can you tell if the project was successful unless someone defined measurable business objectives and success criteria up front?
2.Understand What Users Need To Do With The Product.
It is advisable to use a usage-centric strategy as opposed to a feature- or product-centric approach when developing requirements and designing solutions. Business analysts (BAs) can determine the functionality that developers must create by gaining an understanding of the tasks and objectives that users must undertake. It's simple to overlook certain crucial functions when you concentrate on investigating features rather than user objectives. It's also simple to add features that seem good but don't aid consumers in completing their tasks. Use cases are a useful tool for preserving this usage-centric perspective.
The pursuit of understanding what consumers must accomplish with the product entails a number of additional crucial BA activities, such as these:
locating a diverse group of project stakeholders.
defining many user classes with vastly varied requirements.
identifying people to act as the customer voice for each user class (product champions).
choosing the proper needs elicitation methods to interact with users.
establishing procedures for decision-making to address disagreements and priorities between user classes.
Creating and assessing prototypes or beta versions to encourage user feedback.
3.Prioritize The Requirements.
It's unlikely that any project has ever fully incorporated all of the needed capabilities. Even if you could implement everything at once, you can't. Your aim is to provide your clients with the greatest possible business value at the lowest possible cost and in the shortest amount of time. You must prioritize the criteria in order for the team to work on them in the best order if you want to accomplish this aim.

When setting priorities, one must take into account how much each proposed requirement will help the project achieve its business goals. Prioritizing requirements enables the team to choose which of the backlog tasks to delay or omit due to time and resource limitations. There are many methods for prioritizing requirements, including the following:
In or out
Pairwise comparison and rank ordering
Three-level scale
MoSCoW
Relative weighting
$100 test
Some of these techniques require more work than others, but they also aid the project manager or product owner in making more precise decisions. To prevent a chaotic "rapid descoping phase" late in the game, use any strategy that enables the appropriate stakeholders to make smart business decisions throughout the project.
4.Explore Non-functional Requirements.
When discussing needs, people tend to concentrate on a product's functionality, although that is only one aspect of the answer. User happiness and suitability for usage are strongly influenced by nonfunctional requirements. The majority of the time, when nonfunctional needs are mentioned, quality attributes (also referred to as the "-ilities") come to mind. Usability, maintainability, security, reliability, and many more factors are among these product attributes. BAs must have a conversation about nonfunctional requirements as part of requirements elicitation to assist designers in coming up with the best solution.
Safety, dependability, portability, security, and other requirements are not directly implemented by developers. Instead, these characteristics influence design choices and are the basis for many functional needs.
Another difficulty is that it is impossible to simultaneously optimize all of the desired quality characteristics. Designers must decide how to trade-off between the various features. The team must thus identify which are crucial for client success and maximize those. By carefully defining quality attributes, you may create products that delight people in addition to performing their intended functions.
5.Review the objectives.
How can you determine whether your criteria are precise? How can you assess if they are sufficiently clear to ensure that everyone on the team knows what to do with them and other stakeholders are aware of what to anticipate from the solution? Any way you choose to convey requirements information, there are times when it is unclear, lacking, or just plain wrong.
Peer review of requirements is one of the most effective quality procedures that are currently accessible. Gather some coworkers to discuss schematics and text requirements. During these evaluations, different project participants (BAs, designers, developers, testers, and users) will uncover various types of issues. Reviews of requirements present some unique difficulties. Instead of just inviting people to study the criteria, provide them with some training so they can participate effectively and identify as many problems as they can.
Writing conceptual tests based on requirements is a related technique for requirements validation. You can find many problems before they are converted into code by testing requirements early on in each development cycle. Tests and requirements offer different perspectives on the same subject. Requirements specify how a thing should be made under certain conditions; tests describe how to tell if it's exhibiting the correct behaviors.
6.Plan For Requirements Change.
No matter how thoroughly you analyze the issue and craft the criteria, they won't be flawless, exhaustive, or static. As we labor, the world around us changes. New users and new concepts emerge. Business regulations emerge and change. Projects often expand beyond their initial plans. Every team must plan for requirements changes and create procedures for handling them without jeopardizing its commitments.
An incremental, agile strategy is a smart technique to deal with a project end that is undefined and likely to change significantly. You intend to construct the requirements and the solution in a series of manageable steps, expecting the course to alter and embracing the lack of certainty regarding the outcome.
Plan to handle some expansion (along with risks, inaccurate projections, and unforeseen events) when the likelihood of change is less extreme by including contingency buffers in development schedules. Create a requirements change process to ensure that the appropriate individuals have access to the information they need to make wise business decisions about which proposed changes to adopt to maximize value with the least amount of disturbance. However, don't use the likelihood of change as an excuse to cut corners on requirements analysis. Excessive requirements churn frequently denotes imprecise objectives or a poor elicitation strategy.
Conclusion
 In addition to these six useful requirements tasks, there are many more. However, by using these techniques, you considerably improve your odds of creating a solution that efficiently and successfully accomplishes the intended business results. Applying them won't ensure success for any BA, product owner, or product manager. But neglecting them likely ensures failure. Check out the online BA training to learn more.