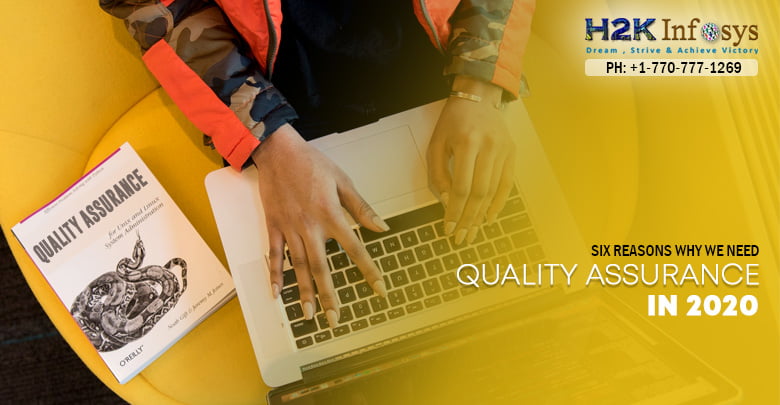 6 Reasons why we need Quality Assurance in 2020
Quality Assurance always plays a crucial role in the development of any company or organisation. The success of a company mostly depends on the quality of its product. Hence quality assurance deals with the satisfaction of a customer and holds their faith towards the organisation. Whereas in the IT field, QA includes two things: quality testing as well as quality control.
Even the most reputed organisation with highly qualified developers would prefer to have a QA testing team in order to make sure that the output of the product is perfect and customer friendly. A QA tester performs various operations such as testing, debugging, tuning, and all the types of actions performed by a regular user and provides a report on the quality of a product and changes to be made. This report helps the developer a lot in finding the errors made by his team and resolve them. In turn, it helps in preventing the loss which may occur by producing the defect products.
Importance of Quality Assurance:
Quality Assurance is so important because it deals with the complete development of software which includes planning, designing, developing and testing. Right from the beginning, an organisation should maintain certain quality to get the desired product.
As the reputation of an organisation depends on the product they produce QA ensures whether the output is as per planned or not. Beyond checking manually a QA tester uses specific tools to identify the undetected bugs and errors, rectifies them, and make sure that they don't affect the reputation of a company in the market. Considering all the above things we can assume how valuable and important QA is.

Now let's see 6 Reasons why we need Quality Assurance in 2020.
User satisfaction
Reputation
Efficiency
Maintain ISO
It saves money and Time
Survival
User satisfaction:
You will be successful only when you hold your customers for a longer period of time. It doesn't make sense whether your investment is high or you have top quality developers until you reach the user expectations. QA testing will assure you to reach the expectations of your user by having a thorough verification before it comes into the market. It goes through all the possibilities of customer's choice and rectifies the errors. All you need to do is to sit back and relax if you have a better QA testing team.
Reputation:
You need to maintain a positive talk about your organisation all over the market in order to develop faster and hold back the current clients. This positive nature is attained only through a QA relationship with the customer. If the reputation of your company goes down then automatically the growth gets disturbed which in turn leads to the downfall of your organisation. Hence you need to maintain some good relations with the customers to attain such a reputation which is possible only by having good QA management.
Efficiency:
In order to maintain a healthy relationship with the customer, your work should be 100% efficient. If you are sure about 95% of your work then that balance 5% would show a considerable effect on the trust gained from the customer. In order to maintain 100% efficiency, one should own QA testing team no matter how efficient their developers work.
Maintain ISO:
ISO stands for International Organisation for Standardisation. The ISO certificate helps a lot in developing your business credibility, especially with foreign companies. In order to develop your business faster, you need to have some valid and efficient certification. This certificate helps you in finding the desired result in all the required fields and moreover this certification is done based on the Quality Assurance management of your company.
It saves time and money:
If you launch your product directly into the market before testing it you need to replace the defected piece or the errors must be corrected by launching a new product again. In this situation QA helps you a lot, the QA testing team tests the product in all the possible ways before launching it into the market and finds the errors which are to be rectified. This helps in saving your valuable money as well as time.
Survival:
To survive in this competitive world you need to satisfy the customer more than your competitors do. You need to be more efficient and genuine at your work to hold back your customers and maintain a good reputation. Quality Assurance strengthens your back and helps you to survive in this competitive world.
Conclusion:
Considering all the above reasons it's clear that Quality Assurance is going to play a crucial role in 2020. Following a good quality assurance strategy can save a lot of money, time and build a healthy relationship with the Users. For a business organisation to get developed one should have a good Quality Assurance Management of it.