BA Tutorials
7 Goals A Business Analyst Should Definitely Set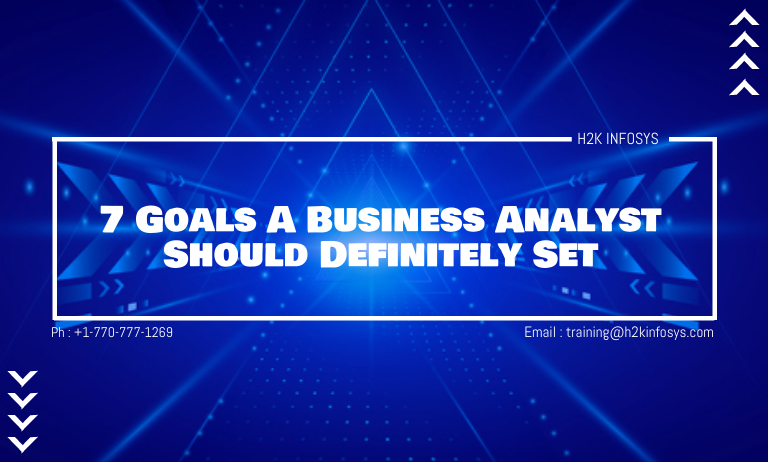 As the world is evolving fast, businesses have to stay on top of their performance to beat the competition. In addition, technology is advancing, and different strategies are being developed constantly that are changing the current business environment.
Businesses usually hire business analysts to keep the company on track, make more profits, and handle unforeseeable events.
What do Business Analysts Do?
These individuals keep a keen eye on the company's performance, conduct researches, analyze data and foresee trends that help them improve their performance and stand out from the competition. In addition, their job is to implement timely changes and implement solutions using the latest technologies.
Business Analysts also work closely with the upper management to accomplish organizational goals. For this purpose, they:
Assesses the present performance of the organization and develops ways to help it improve and achieve its objectives.
Finds methods to improve systems and workflows by identifying inefficiencies.
Determines objectives with the help of stakeholders.
Makes cost-cutting ideas for improving process and workflow efficiency.
Determines the resources required to meet the aims of the company.
Since a Business Analyst works in a fast-paced environment, business analysts should have a clear set of professional goals that will help guide them. In addition, setting clear goals for any position can help the individual complete the required tasks efficiently and effectively.
In the case of a Business Analyst, this becomes even more critical to assist the business run successfully and succeed professionally. 
Why Is It Important To Set Goals?
This article will go over some of the essential goals put down by Business Analysts worldwide and how they may help others advance their careers. But, before that, it's necessary to understand why it is essential to set goals?

Setting annual goals allows you to focus on particular outcomes and accomplish things that are important to you. The metrics associated with those objectives might also assist you in determining what constitutes success.
For example, consider the outcome you desire for your career and your company when setting goals. What aim would have the most significant influence on you and your company if you achieved it?
By achieving the following goals, you can be a victorious Business Analyst in your company that is always one step ahead of everything else and keeps the company ahead of the field.
1. Increase your skillset with the help of online business analysis certifications
With technology being at the palm of your hand, online courses and certifications are the best way to enhance your skillset. Online business analysis courses and certifications make the individual a certified business analyst but also helps in landing a better job.
Such online courses keep analysts updated with the latest research and case studies that better understand the latest trends.
2. Take Business Analyst Training
Business analyst training can assist the analysts in quickly identifying challenges and opportunities. In addition, it provides business analysts with more information about the workplace, its staff, and its consumers.
It will help you effortlessly organize your business objectives and determine the best goals to set for the business. Business analyst training helps professionals thrive in a rapidly changing industry by learning how successful companies need to be competitive.
3. Adopt new techniques and trends
As you employ additional techniques, your knowledge expands. Even if you're working on projects in the same domain, with the same stakeholders, and following the same methodology, new methodologies can help you dig deeper into the requirements. You'll also improve your business analysis skills over time.
For your performance strategy, consider the following specific objectives:
To identify or validate the requirements, use a new elicitation technique.
Try a fresh visual model to help you understand a complex idea.
Go for a new sort of requirements document to answer an unmet need.
4. Work in different domains & departments
As a business analyst responsible for keeping the company safe from any destruction, you should have a good understanding and knowledge of as many domains as possible.
For this purpose, you need to perform regular rotations in different departments and get a full grasp of how things process at these levels. Not only this, it is essential for a business analyst to comprehend almost every project so that any inconsistency a company might face.
So, one of your goals should always be to know ongoing & upcoming projects in the company.
5. Keep close ties with Stakeholders
Be it any upper-level management position; It's easier to get more work done when we have stronger ties with our stakeholders.
In addition, having good relations with stakeholders will help business analysts understand their needs and requirements that can be later depicted in company goals and objectives.
Set a goal to develop a stakeholder relationship, mend a tense relationship, or form a new relationship with a partner. Because at the end of the day, it's the stakeholders that a company has to make happy.
6. Provide mentorships to other Business Analysts
Business Analysts will be able to advance in their career by demonstrating their ability to lead people. Share knowledge that you have gained through online business analysis certifications. Invite your colleague to Business Analyst Training.
Assist a fresh recruit in the field of business analysis or a colleague with an interest in business analysis. Be kind to anyone who asks for help in your area.
7. Have Better Communication Skills
Apart from having all the necessary knowledge of the field, Business Analysts should have excellent communication skills. Be it verbal or written.
Once you understand what course of action is required for the company to adopt, you need to communicate its pros and cons to the decision-makers. If not displayed correctly, it can lead to making disastrous decisions for the company.
Conclusion
A business analyst should have the best process of analysis and presentation. Analysts understand which approaches work and which don't through working in a variety of domains and industries. But they need to communicate it effectively to the stakeholders by adopting different presentation techniques that can effectively communicate the outcomes & effects.
So are you motivated to take on a challenge and move to the next step in your career? Sign-up on our website now and get hundreds of skill-centric courses to further your professional life.