BA Tutorials
How to engage difficult stakeholders as a business analyst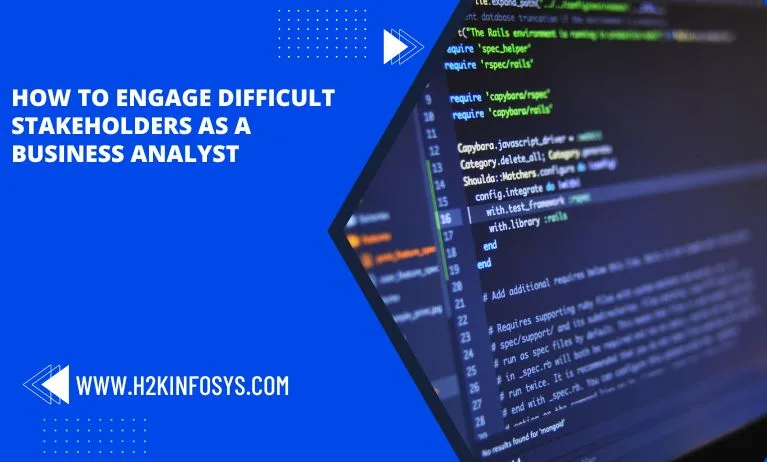 Every action involving business analysis has stakeholders at its core. They are the target recipients of any impact or value gained from a business analysis project, they drive the need for change in an organisation, and they influence decision-making.
Your success as a business analyst will mostly depend on your capacity to properly manage your stakeholders and guarantee their happiness with the planned results. Regardless of whether your position is part of a small or a huge project, you must handle their requirements and expectations well.
Stakeholders frequently have varied attitudes or dispositions toward projects, as it is with any professional activity. Stakeholders are more likely to have an unfavourable opinion of a project when there is a conflict of interest. You must first build strong relationships with them in order to convince them to support the goals and course of your project. The methods to use when dealing with challenging situations will be explained in an excellent online BA certification course. But here are a number of strategies to adopt.
Communicate with them.
By interacting with your stakeholders, you may start the dialogue with stakeholders. The goal of creating communication is to get you and your stakeholders on the same page so that they can comprehend the proposed project's purpose. However, beyond the content you convey to them, communication plays a deeper function in determining stakeholder interest. In order to effectively communicate with your stakeholders, you must actively listen to them in order to comprehend their problems and acknowledge them. You must first comprehend the cause of their reluctance if you want to convince them to support your proposal. This will help you understand how to interact with them and add value to your project.
Show them the Benefits.
Your stakeholders want to know that their satisfaction is important to you. They are interested in how your idea will meet their needs. They are more likely to have a favourable attitude about a project that meets their demands. However, your project might not always meet all of the stakeholders' needs based on the fundamental requirements of the organisation. Even if this might be the case, you can still pique their interest by showing them how the project's advantages apply to them and how the general change you want to promote will ultimately affect them. You will have a higher chance of persuading them that their participation is crucial to the success of your project if they can see how it works.

Stay objective and firm.
Favouritism is one thing you don't want to imply. Although your stakeholders' responsibilities and levels of decision-making authority may vary, each one is significant, and their requirements should be considered. The engagement of stakeholders necessitates a high degree of objectivity. Your stakeholders will develop a level of trust in you as a result of your ability to appraise the problem objectively and suggest solutions. You don't want to come across as partisan or emotionally invested. Displaying the relevant facts and numbers is an excellent method to stay objective. Present the evidence that backs your suggestions and the reasons why your proposal offers the best benefits for all parties involved if your stakeholders are resistant to your approach.
Understand their motivation.
Understanding the causes of difficult stakeholders' problems might help you manage them. Many of them may have concerns about the project but still, want it to succeed because they don't trust the way it's going. You may work with them to address their issues once you know what drives their opposition and negativity. You could try posing the following queries to yourself and, if applicable, those challenging stakeholders:
Do these stakeholders possess all the knowledge required to allay their worries?
Do they comprehend the project's other driving processes?
Are they being pressured by people they are accountable to, and if so, how can you best prepare them to deliver accurate and useful reporting?
Are you two speaking in a way that encourages understanding?
Be impartial.
When speaking with challenging stakeholders, strive to keep personal feelings and emotions as far away from the dialogue as you can. By paying attention to their concerns and replying with unbiased data and facts, you can contribute to the maintenance of a calm and productive environment. Present data and figures that show how far along you are with the project, for instance, if a stakeholder is expressing hesitation because they believe the project is not progressing well. However, challenging stakeholders may find it more difficult to dispute percentages and data. They may contest your perception or feelings.
Respond quickly to issues.
Once you've talked with your stakeholders about their concerns and decided what needs to be done to allay those issues, be sure to move quickly. This increases their faith in you and your project team while also assisting in maintaining the peace you have managed to reach with those stakeholders. Your stakeholders can become less challenging in the future if they perceive that you value their issues and keep your promises.
Conclusion
If you want to build strong relationships with difficult stakeholders, these tips are crucial for you as a business analyst. Check out the available online BA training platform to learn more about BA.