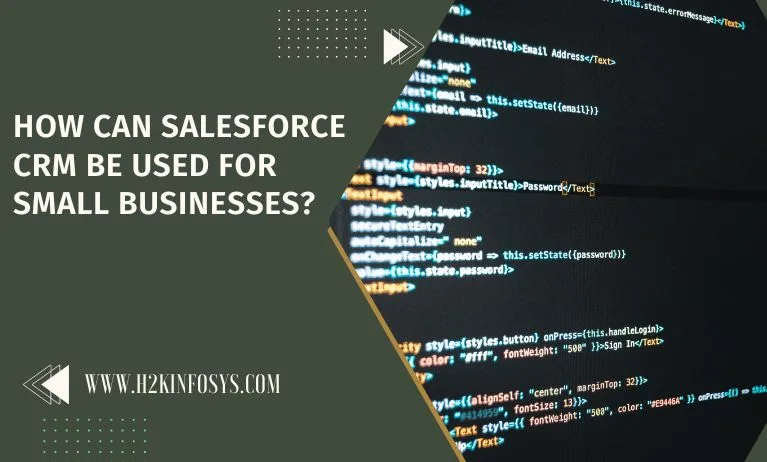 Simple tools, a connected app, and Salesforce dashboards & analytics may help small businesses create a detailed portrait of their current and potential clients by connecting customers and live representatives. Salesforce for small business owners enables businesses to improve customer experience by connecting live agents with customers.
By providing you with the resources to fill the sales funnel through more effective marketing, efficient and cutting-edge Salesforce Development Services, higher sales productivity and efficiency, and retention capabilities, Salesforce Small Business CRM may help you expand more swiftly. Salesforce usage resulted in 27% more leads, 25% more closed deals, and 36% more satisfied customers. You can learn more by checking out the Salesforce Admin training and placement program available online.
Importance of Salesforce CRM for Small Businesses.
The best features for a small business's dollar are offered by Salesforce Essential, which also helps the company grow. If this version is successful, there is always the option to upgrade to a better one later.
Your team will have a much easier time learning how to use the Salesforce essentials CRM software than they will with the full edition.
Additionally, the functionality and usability of the Salesforce CRM software are still available. You won't need to worry about your resources because the system is just hosted in the cloud. You can take advantage of this because Salesforce gives smaller businesses a big boost.

Impact Of Salesforce on Small Businesses.
Salesforce, through a salesforce development company, increases the potential of your organisation and aids in its growth. The key to generating recurring revenue for life is to establish relationships with your clients. Salesforce has efficient automation tools that improve employee accessibility and change procedures.
To cut costs and the need for further investments, simply link your current tools with Salesforce. Because you can choose the necessary capabilities and technologies with ease, Salesforce is also perfect for small businesses. Another choice is the Essentials edition of Salesforce for small businesses. Although it might seem like Salesforce is mostly for enormous companies, this is only a common misconception. Salesforce may be used by businesses of any size, and no matter where you are, a plan is made specifically for you. Let's discuss Salesforce's advantages for small firms.
Salesforce for Automation Tools
Salesforce for Marketing Tools
Salesforce for SalesCloud
Salesforce for ServicesCloud
Salesforce Into Essentials Platforms
Price for Salesforce Essentials
You might be wondering now how much Salesforce will cost a small business. This small company edition of Salesforce has far more affordable prices than Salesforce for companies.
Major Applications of CRM For Small Businesses
1.Scalable Customer Management is Easy
Your contact list is one of your most valuable resources when beginning a business. Prospects are out there waiting to be found and converted into paying customers, along with current consumers who can give you a necessary steady stream of repeat business.
2.More Effective Selling
Imagine how effective it would be to have a complete picture of every customer at your fingertips. You would be able to see a history of all of their prior interactions with you, the status of their outstanding orders and invoices, their transaction history, and everything else you require to make the best pitch at the right time. Small firms can utilise this potential with CRM; it is not simply accessible to huge organisations with significant financial resources.
3.Technology Infrastructure Made Simpler
You'll need to collaborate on sales activities, share CRM data with coworkers, and access the most recent information when you're on the road from a tablet, smartphone, or other mobile devices as your firm grows, which will also increase your IT needs.
It's challenging for a large company with a devoted IT group to run internal software solutions that can do all of this. for a tiny business? It is not worth thinking about.
4.Customer service using social media
Almost all small businesses experience issues with retaining customer service at some time in their development. Due to the strength of the cloud, you can connect your CRM to other cloud-based programs. Today's social CRM systems, for instance, may help even a small business by providing a complete picture of customer and prospect activity on social media platforms like Facebook, Twitter, and LinkedIn.
5.Flexible Development as Required
The CRM software you use has to grow along with your company. Think about how important that is. Understandably, "small company tools" are used by many tiny businesses. Yet, as businesses expand, they are forced to switch software platforms, modify their operational practices, and train their staff on how to operate in the new environment, with all the associated risks and inconveniences.
Crucial Features of Salesforce for Small Business
The following are the most vital benefits you might get from using Salesforce Essentials:
Full-service CRM
For small firms, especially those that are growing quickly, it is a complete answer. It might provide both sales and support services through a single interface. Salesforce Essentials enables small businesses to carry out many tasks through the use of Android and iOS applications that are functionally comparable to the internet client.
2.A Reasonable Cost for AI
Essentials can automatically gather and arrange email and calendar data. Essentials may provide a thorough picture of contacts, the prospects connected to them, all pertinent documents across channels, and support cases, much like its bigger predecessor. In order to enhance manual data entry, Einstein Activity Capture also automates it.
3.Logical App Design
On the home page, there is a news feed that includes user announcements, annotations from other users, and task and appointment lists. The dashboard is located in the bottom portion of the display and is editable using drag and drop. On the left side is a tray with the words "Walkthrough" and a list of tasks to do.
4.Each user's experience
Your CRM goals are questioned by a pop-up wizard so that it can forecast the elements you'll need to provide later. You have the choice of monitoring client interactions and transactions, responding to client inquiries, or maintaining contact. Contact management will be the first step in any CRM operations.
5.Integrated Third Parties
The third-party app store for Salesforce does not offer any alternatives that are compatible with Essentials. The Salesforce AppExchange currently offers close to 5,000 applications. Salesforce Essentials for small businesses does not, however, provide API-based integrations.
Conclusion
Salesforce Essentials is straightforward to use because of its pre-built sample. Since it uses fake data, the Salesforce Essentials sample demo is different from those of the other CRMs. Small businesses can use this to test the program without having to import their data right away. A good Salesforce training and placement platform will explain more about Salesforce Essentials for small businesses.