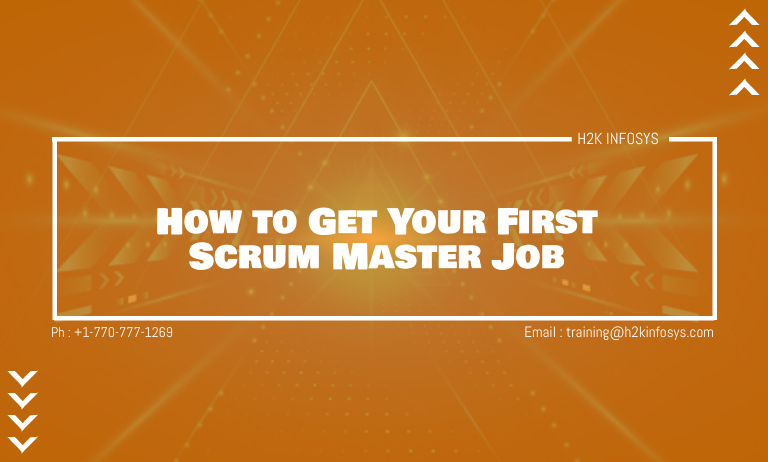 The demand for scrum master jobs is increasing at an alarming rate because companies (new and emerging) depend on the scrum framework to deliver products of high quality. Many companies are searching daily for quality agile project management professionals that possess agile project management certificates. This is because the agile model is one of the most used models used for software development. A scrum master is also the most sought after in an IT company using agile principles.
The job of a scrum master can be satisfying, exciting, and full of fun; and you can look back on a project well done and say to yourself, "This is what I helped my team create". But how do you get to that level? The beginning of the journey to becoming a scrum master might be difficult, especially when you have not gotten your first job. Probably you have taken scrum master training, and you are wondering whether you have the required experience. But the actual truth is having only the experience does not guarantee you getting your first scrum master job.
In this article, I will be showing you some vital tips you need to have to land your first scrum master job. So, without ado, let's get started.
Requirements for Getting your First Scrum Job
Here are some of the requirements you need to possess that can make you acquire your first scrum master job.
1. Experience
The first step in getting your scrum master job as a scrum master enthusiast is acquiring the required experience. At the start of this process, it might seem difficult and stressful; but the truth is nobody will be willing to offer you a scrum master job if you don't have the scrum experience. You can't also get the necessary experience if you don't have a job. What can you do in this situation?

You can join a development team as a member: A team member is a good place to start if you want to gain scrum experience. As a member, your focus should not be on the opportunities you get as a scrum master; but you should focus on what is best suited for your current skills in the team. As a scrum master, you need to possess both soft skills and hard skills. You might be learning the skills of a tester, a designer, a developer, or an analyst. The experience gained as a team member is essential. This is because there will be a scrum master present in the team that you can obtain knowledge from. Some of the greatest scrum masters of today started as an analyst or a developer, so why not you.
Introduce the concept of Scrum: You can start the initiative to introduce the concept of a scrum in your team or organization if it is not practiced. This process should be done slowly since you are introducing it. You can do this by coordinating your daily activities using scrum. It can also be done by making your work more visible with the use of a task board. You can then progress to working in sprints and then focusing on producing an output at the end of the sprint. Then, you can start holding reviews to see how you are fairing and how you can improve subsequently. At this stage, you can now involve a product owner. The product owner can help you to build and maintain the backlog of the product, providing feedback on your sprint reviews.
Demonstrate the finished functionality to the stakeholders in a periodic manner.
Conduct meetings periodically: This is done to source for ways by which teamwork and collaborations can be improved.
Use the agile approach to report the progress periodically. An example of an agile approach is by using burndown charts.
Look for Volunteers: This is done if it is impossible to find opportunities to showcase your agile and scrum knowledge at your current place of work, or probably you are unemployed. You can volunteer with a non-profit organization in your local communities. By doing this, you are both helping other people by volunteering, and yourself because you will gain more scrum experience. You can also include this in your resume and reference it in your interviews.
2. Getting a Certificate
Getting certified is very important if you want to get your first scrum master job. Although, most companies don't make it compulsory to be certified; I can tell you it is essential for you to be a certified scrum master. This is gotten by completing a scrum master training and also the agile project management certification course. These companies value the certified scrum masters more because they believe the scrum masters show a willingness to learn and they can also invest in themselves. There is also a scrum master certification cost to pay but I can say it is worth it.
There are two major bodies by which you can obtain your certification from. It is your choice to do either one or both of them. They are:
Certified Scrum Master (CSM): This certificate is provided by the Scrum Alliance. The requirements for obtaining this certification include to partake of an in-person or online course training and you will be taught by a Certified Scrum Trainer (CST). You can also take a coaching course but you must be taught by a Certified Agile Coach (CAC). After you have completed the course successfully, you can also take the Certified Scrum Master (CSM) test comprising 50 questions. For you to maintain this certification, you have to earn scrum education units. It is renewed after every two years. The scrum master certification cost to pay is affordable so there is no reason not to go for it.
Professional Scrum Master (PSM): This certificate is provided by Scrum.org. It is similar to the certification provided by the Scrum Alliance. The main difference between both certifications is that the Professional Scrum Master certification does not mandate you to acquire coaching. But you should take it because it is helpful in the long run. Also, the PSM consists of three levels. The first level is the foundation level while the third level is the expert level. For you to be able to apply for the expert level (also called PSM III), you must have passed the tests for the other two levels. The scrum master certification cost is slightly higher than that of the CSM, but it is also affordable.
There are other ways of getting certified as a scrum master, but these two are the most credible. This is because they are the most used and also the oldest. Using other certification bodies apart from these two can also reduce your chances of getting your first scrum master job. The two certification bodies are based on the Scrum Guide so you can choose either one. The Scrum Guide is the accepted and standard reference point for learning the process of scrum framework in an Agile environment.
3. Have a good Resumé
It is very important to have a good resume if you want to get your first scrum master job as quickly as possible. Your resume writing skills should be well polished before you even start applying for scrum master jobs. Your resume should reflect who you are and what you are capable of as a person because it is what you write that will open doors for you in the long run. There are some vital factors that you have to consider while working on your resume. They are:
Your resume should be easy to navigate. Try as much as possible not to clutter the information you are providing.
Your resume should be optimized for both app and computer screening: We live in a digital world and most companies screen the resumes of their applicants digitally. This means through the aid of the computer. Your resume must fit that standard.
Your resume must be properly written as there is no room for grammatical blunders.
Your resume should include a canopy letter. This shows that you just can apply what is written within the resume to impact the organization positively and proffer solutions to existing issues that the organization may be facing.
Your resume should be written in an easy-to-read format.
The resume should highlight certifications, education, accomplishments, and former experiences.
4. Networking
We often say that personal networking is a major way in which jobs are found. For any job role, you are more likely to be called for an interview if you are referred by a person in the organization, rather than if you applied online without referrals from any member of the organization. Getting your first scrum master job is not as difficult as it seems; but if you don't know where to look for these jobs, then it gets complicated. This is the reason networking is essential in acquiring your first job as a scrum master.
There are more benefits of networking than just meeting new people and begging them to help you find a job as a scrum master. You can also establish and secure important connections from meaningful and symbiotic relationships. Not only that, you can obtain resources that can be useful in the future. So, I will implore you to network as much as you can wherever you are.
There are a few things you should place your focus on when networking. They are:
Join local scrum groups and forums in your communities: The majority of these user groups are accessible to everyone. By joining these user groups, you can also connect with other people with similar scrum and agile interests, which may link you to various opportunities. You can also locate various Scrum Alliance affiliated groups near you.
Locate a mentor who will coach you.
Attend various relevant networking events.
Try to be as active as possible above other people.
Try as much as possible to connect with the people in your environment.
Locate relevant scrum groups available on social media. An example of a social media platform is LinkedIn.
5. Keep Learning
To get your first master's job as soon as possible, you must continue learning. Keep watching presentations, keep reading blogs and books, keep attending conferences and forums, and so on. Outstanding results are assured if you keep on learning. It is also advisable to go beyond the fundamentals of what you learned at the Certified Scrum Master (CSM) training. It is not advised to go straight into taking advanced training, because you need to first have some level of experience

6. Patience
As wise men usually say, Patience is a virtue. You should be patient when trying to get your first scrum master job. In most cases, luck is required to be at the right place at the right time. So, you should not be frustrated if nothing seems to be happening.
The rate by which companies demand scrum masters is high, but that does not mean there are not enough qualified candidates. This is also another reason why patience and persistence are essential in acquiring your first scrum master job. 
What is the common salary of a Scrum master?
For a scrum master that has undergone the scrum master training and also the agile project management certification course, the average annual salary is enticing. In line with the Robert Half Technology 2020 Salary Guide, the common starting salary for a scrum master is about $97,750. This salary varies betting on the amount of experience. With this, we are able to see that the scrum master certification cost could be a small price to pay compared with the earnings shown above.
Conclusion
In this article, we have seen the various ways by which you can get your first scrum master job as quickly as possible. By applying these steps, I can guarantee you that you will be smiling to the bank sooner rather than later because it is a surety that knowledge, patience, and persistence pays.