BA Tutorials
What type of jobs can you get after Business Analyst Training?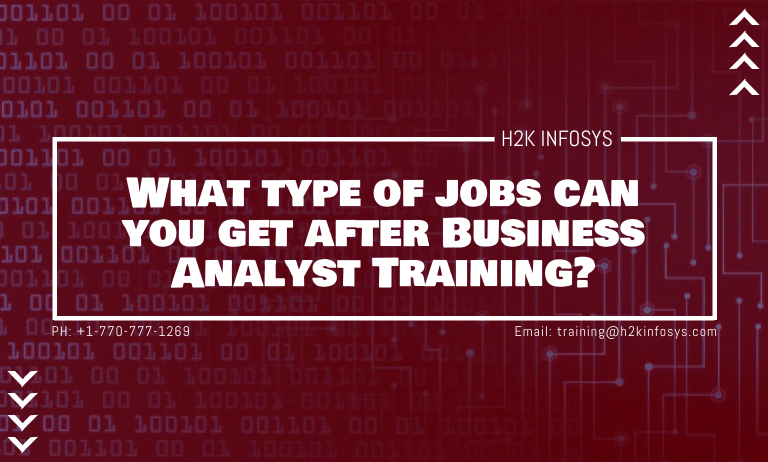 Technology has improved the way we see the world and influenced major sectors in the economy. Due to this, new divisions are coming up with opportunities for humans to fill in the gap. One of the new fields with lots of opportunities yet to be explored is Business Analysis. A business analyst serves as the intermediary between Information Technology and various businesses by incorporating data analytics into the field. Briefly, companies hire these analysts to help review processes, services, and products and develop new plans to drive sales and increase profits. No doubt, the duties of business analysts in a business are essential in maximizing profits.
With the various opportunities available in this field, many individuals are curious about becoming business analysts. Indeed, there are certifications necessary to enroll while aspiring to start a business analyst career; however, anyone can fit into the niche despite the background. After training, what next? What type of job is available for a Business Analyst? This article will reveal five major fields with opportunities for business analysts today. 
1. Business Analyst Manager
This is one of the main goals of a trained business analyst. Simply put, it describes rising to the peak in the specialization field. A business analyst manager serves as the head of a group of individuals working together to gather, develop and implement data for an establishment. Also, the business analysis manager may be in charge of training newly recruited analysts and undergoing researches for implementation at the management level. 
To pull this through effectively, the business analyst must possess some communication, problem-solving skills, etc. To become a business analyst, the expert has to possess some experience alongside the necessary certifications. There are tons of sites offering business analysts courses online for willing individuals interested in the role.
2. Quantitative Analyst
Another field that a business analyst can perfectly fit into is by becoming a Quantitative Analyst. These experts are commonly known as Quants. What then is the function of a Quantitative Analyst? From the job title, we can deduce some clues. The quantitative analyst works well-using calculations or mathematical terms to derive solutions. Majorly, the quantitative analyst works on developing and implementing quantitative structures for financial decisions in the establishment. While comparing the job description with a business analyst, quants are more suitable for financial institutions and establishments due to the study's background.
As a major skill required for the job, the quantitative analyst needs vast mathematical applications and other technical skills. The field is quite challenging; hence, there are fewer quantitative analysts available, and however, they get good remuneration to serve as encouragement.
3. Data Analysis Scientist
The need for interpretation has multiplied in recent years, and many are launching into the field of data analysis. Interestingly, a business analyst can work in this area as well. Since it was stated earlier that a business analyst serves as the intermediary between IT and businesses, the data analyst is the expert occupying and handling information in the IT field. Hence, they extract these data, study and interpret it for further usage. While data analysts require a business analysis background, a good understanding of machine learning (programming) is also imperative.
4. Data Business Analysts
This job combines the work of data analysts and business analysts. How? A data business analyst has an understanding of data science and business models. Therefore, he uses the retrieved data to interpret and develop business models, presentations, and structures. Why? The main goal of the data business analyst is driving sales and maximizing profit for the business as well. From this, we can see a similarity of purpose between the business analysts and data business analysts.
The career of a data business analyst begins with the business analyst training with the incorporation of data science. Data business analysts' need is on the increase every day because they combine two disciplines' duties. For many organizations, this is a way to save the cost of services while achieving the same purpose. 
5. IT Business Analyst 
The IT Business Analyst's role can be compared to the Data Business Analyst. However, the former occupies a larger space in operation.  It is a role you can get into after taking a business analyst course online. Working as an IT Business Analyst is one of the biggest opportunities business analysis can give an individual, and gradually, the field is expanding daily. Who is an IT Business Analyst? For easy understanding, let's examine the terms in the job title. It is a combination of IT into Business. So, the primary function of the IT Business Analyst is working with technological tools to expand the sales and profit of a business. While doing this, the IT Business Analyst also develops solutions to business problems using specialized tools. 
This is sure an interesting field as it requires meeting and developing new measures daily. The IT Business Analysts need to possess experience in both IT and management jobs. Additionally, good problem-solving skills, quantitative and communication skills will be an added advantage.
Let's Wrap it Up
The business analysis area is sure rising at an exponential rate with the creation of new opportunities daily. One primary reason that allows this is the advancement in technology and the paradigm shift from traditional to modern ways in the business field. As a business analyst, you have a variety of opportunities awaiting after passing through the necessary stages. Business analysis training is available everywhere. Any have risen to the peak of the business analyst career by taking business analysis online courses. As a potential in the field, starting early enough with excellent and vital skills is paramount. With good encouragement, the sky is the starting point.