QA Tutorials
Latest Software Testing Trends Every QA Tester Should Know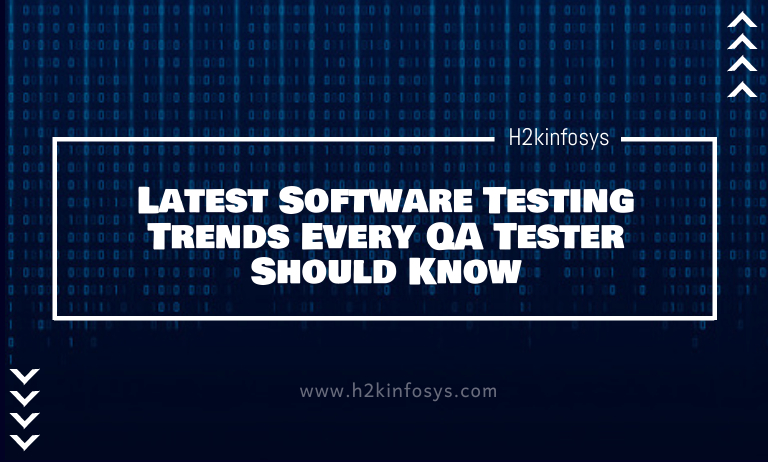 The landscape of software testing continues to grow – now more than ever. All the while ensuring that the quality of the software is up to the standards and meets the expectations of the customers. Having said that, it is safe to say that software testing and quality assurance go hand-in-hand.
With that being said, the career path of a quality analysis tester is not much like a software tester's career path. Therefore, it becomes important for a QA tester to bridge the gap. Even little steps will leave a huge impact, for instance, if you are enrolling yourself in a QA testing training, you may also want to give a shot to a software testing course. 
However, if you could not afford the time to fully get into software testing and its practices, knowing its latest trends is the bare minimum.
Big Data
Big data holds a fundamental function in a lot of businesses, from innovation, medical care, banking, retail, telecom to media, etc. There have been more spotlight set on utilizing data to section and improve decision-making cycles.
With the help of big data, businesses can manage massive information volumes just as different data types. It additionally assists settle on with bettering choices and upgrade market planning with precise data validation. Hence, big data is foreseen to develop at a high rate due to the fact that businesses are moving toward a more data-centric world.
The requirement for testing big data applications relies upon a QA tester. Also, it is expected to be on the new ascent in 2020. This pattern has been received all over the world, primarily due to the solid processes that numerous businesses are following, taking advantage of their advertising methodologies.
Artificial Intelligence and Machine Learning
QA testers can gain an extraordinary amount of benefit from integrating artificial intelligence and machine learning into their departments, projects, products, and services. Also, automation is a go-to rehearse for pretty much every testing action. Furthermore, the incoming of self-learning programs will take the automation of testing to another level. Therefore, it is one of the most highlighted topics in any software testing training.
Here are the most in-trend utilizations of artificial intelligence and machine learning in testing:
Building and computerizing test suites: The devices associated with AI can help QA testers and teams with configuration tests without any preparation and with next to zero human supervision. Also, machine learning and artificial intelligence can assist with updating existing testing suites and eliminating repetitive cases.
Grows test coverage: Innovative new technology in software testing will help the QA tester and the team in building a requirement traceability matrix and picking significant keywords for the same. 
Prescient analytics: Determining expected difficulties and issues dependent on client behavior will allow a better flow of improvement and help QA testing teams to alleviate risks before they come up in the product.
Bug tracking: Machine learning and artificial intelligence can improve the exactness of mistake identification and tracking of the same. This is an essential step, as it not only helps with removing the errors but does that effectively.
While there are many other trends when it comes to software testing, these two are must and should be well-known by QA testers. However, we suggest going through software testing concepts concerning IoT, API tools, service testing, DevOps, and security testing.
We hope this article helped you with some insight related to the updated world of software testing. We suggest making the most of these concepts to anyone associated with quality analysis, software testing, product development, or general supervision of products and services in the organization.