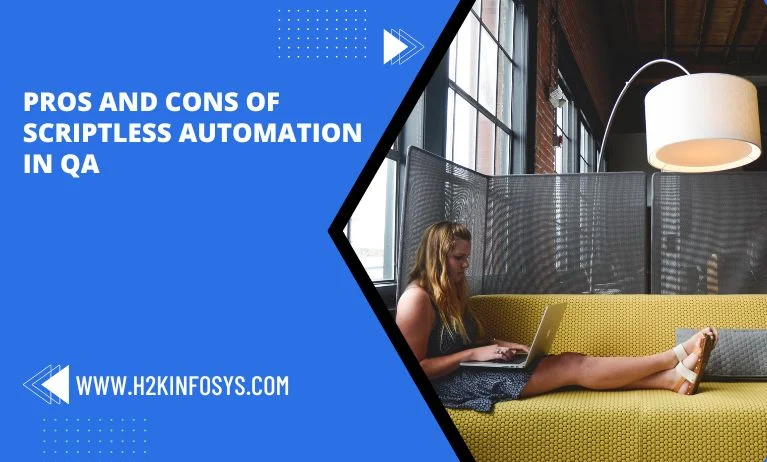 In the field of QA testing, Scriptless Automation has proven to be a valuable platform, but it does not mean it is without certain drawbacks. Platforms without scripts aid firms in accelerating testing and utilising a larger user base for QA. For instance, any employee of a company can use a no-code platform to build a test and convert it into an automated test case. This gives QA experts, software development engineers in test (SDETs), and automation engineers more time to work on jobs that are more difficult. There are good online QA training platforms that completely explain the benefits of both the Scriptless platform and the other benefits.
Pros of Scriptless Automation.
1.A variety of processes are automated.
Scriptless test systems can be utilized as sophisticated solutions to automate a variety of operations throughout the software development life cycle, despite their limitations (ADLC). Organizations typically find it simpler to use scriptless test automation frameworks than traditional QA because the latter needs a specialized set of expertise to automate each procedure.
2.Quick generation of test cases.
Scriptless platforms let users easily configure straightforward tests even without programming knowledge thanks to a straightforward GUI and simple-to-use functionality. This spares QA experts several hours of manual coding and enables consumers to become familiar with QA procedures.
3.Comprehensive test documentation.
Everyone has access to detailed descriptions of test modules, records of test cases, and user activity logs that document the testing process. In the QA environment, scriptless platforms also keep track of who made what changes.
4.Access to a large pool of testers.
For a project, the requirement to grasp a specific testing tool, framework, or integration may create a bottleneck. Since they simply interact with the GUI of the testing platform, users of scriptless testing don't need to understand how a test case works inside and out. Thus, scriptless testing removes the requirement for a QA team member to have expertise in a particular tech stack and enables nearly anyone to join the QA team.

Disadvantages of scriptless test automation platforms
The benefits of scriptless testing make it a reasonably alluring option for IT firms trying to enhance their QA practice. However, organisations must be aware of certain serious restrictions that it has. Some of them are
1.Few to no choices for customization.
No-script test automation technologies only offer a predefined toolset for creating tests. Low-code systems offer some flexibility because users can include their custom code in testing. They nevertheless restrict the alternatives for developing test scenarios. Users cannot customise scenarios to their needs and develop original test cases without customisable test modules. It is therefore recommended to just utilise scriptless tests to test the components of your system that won't change.
2.Limited Compatibility.
Each codeless test automation platform has restrictions about the devices, software, and browsers that it is compatible with. An organisation must integrate numerous scriptless platforms or mix them with manual testing tasks to create a universal testing system.
3.Coding knowledge is required to solve non-trivial tasks.
There will always be some circumstances that call for manually coded tests, despite the fact that scriptless platforms make it easier to construct and structure test scenarios automatically. This means that firms that use scriptless tests still want QA personnel with coding expertise to guarantee the system's quality.
4.Error possibility in automated tests.
Even if predefined modules are used by computers to generate automated tests on scriptless platforms, mistakes may still occur. Code generation mistakes can result in flawed test cases, which in turn can lead to inaccurate test results. QA experts must spend numerous hours manually examining and rewriting test modules in order to correct such problems.
5.Lock-in of vendors.
A particular scriptless testing platform will frequently generate code that is exclusive to that platform or operating system. Organisations become reliant on the platform they select due to this characteristic of such platforms. QA engineers must fully rewrite current test cases if a company decides to switch to a different test automation platform or introduce a new framework in the middle of the project.
Conclusion
Despite having such strict restrictions, scriptless testing solutions have gained popularity among QA teams. Additionally, adopting a scriptless testing methodology as the only quality assurance technique is dangerous because it deprives users of the resources necessary to develop intricate and novel test scenarios. Users may therefore fail to thoroughly test their system and fail to notice serious quality problems.Because of this, combining scriptless testing with other QA strategies is recommended. Combining manual, script-based, and scriptless testing is a nice example. This will result in a testing plan that is appropriate for each of your projects. This combination enables you to be adaptable in your QA activities and strike the ideal balance between testing efficiency, scalability, coverage, and the calibre of the finished product. You can learn more about Scriptless Automation by enrolling on a good online QA certification course.