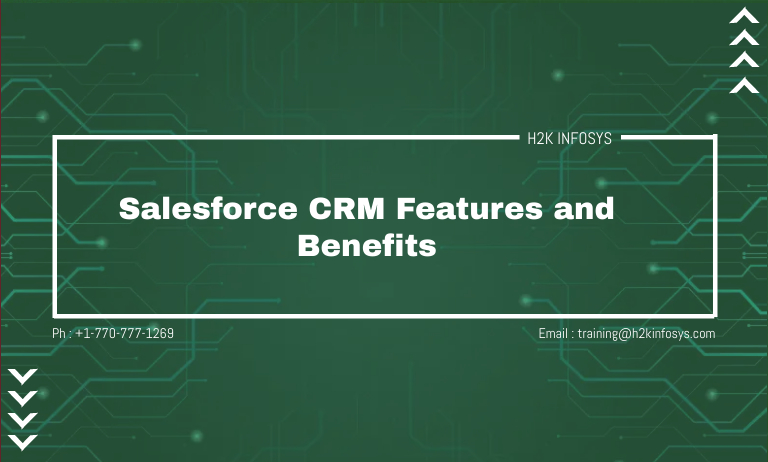 The business world is evolving daily and brands are beginning to collaborate with tech experts to introduce a new way of communicating with customers. This is what the Salesforce CRM is all about. Salesforce is one of the top cloud-based software providers that has captured the hearts of many in the business world. With Salesforce CRM, you can easily navigate without any technical background. The platform is easy and relatable for everyone.
Asides from the features above, there are tons of other interesting capabilities to know about Salesforce as a CRM tool. You may consider enrolling in a Salesforce Training Online class to learn more about how to navigate the software to solve unique business problems. Meanwhile, this article will discuss some of the interesting features and benefits of using Salesforce CRM for your brand. 
Salesforce CRM Features
Cloud Email Marketing
One of the top features you get to discover through Salesforce Training and Placement is the opportunity to perform email marketing easily and seamlessly. With its Artificial Intelligence in-built systems, Salesforce can easily discover new marketing trends and help you track the type of customers to target for the new products. Since it's an automated tool, there are also tons of templates to guide you in closing sales and attending to other important aspects of your brand.
Accurate Forecast of Events
Salesforce CRM also has a feature that allows it to predict the future of events through the current sales. With the identification of the new market trends, you also get the potential result of the implementation based on customer reviews and closed sales. The sales forecast features are also a handy tool for forecast managers to compare their results.
AppExchange
Salesforce CRM is also a perfect tool for you to work with other applications. With the software, you get to discover other applications to aid your goals and guide your marketing team easily without hassle. Although not all apps are free, you get to choose from the available ones, check their features and select the best in line with your goals.
Einstein Analytics
This feature is one of the most wanted for many brands today. Salesforce CRM helps your business through Einstein Analytics to open new sales pathways. Simply put, you get to increase your business intelligence through the Einstein Analytics feature of Salesforce CRM. The best part here is that the feature keeps your data secured against any cyberattacks. A Free Salesforce Training and Placement will give a firsthand operation on this feature.
Trailhead Feature for Small Businesses
Salesforce CRM is also designed to help small businesses grow faster and relate better with their customers. With this feature, the data and responses are swiftly attended to automatically to ensure maximum communication between both parties.
Benefits of Salesforce CRM
Here are some of the benefits your brand enjoys working with Salesforce after mastering the platform through a strong Salesforce Training and Placement.
Easy Data Sorting
One of the best benefits of working with Salesforce CRM is the opportunity to get your stored data easily analyzed, sorted, and organized for access. You also get to track the data and lead generation from customers. This way, you can easily work with the preferred products and content without hassle.
Creation of information tool for each unit
To run a brand, you'll agree that several units are involved and this means you need to collaborate with all to achieve the goal. However, this can become an overwhelming task to search for each piece of information. With Salesforce CRM, you can easily create a dashboard for each unit to showcase their tasks alone without merging with others. It makes it easy to check, monitor, and access the members of each unit.
Effective Servicing
The manor goal of Salesforce CRM is to ensure an easy relationship between the customer and the brand. With its different features, the brand workers get an easy way to relate with the customers and develop better ways to increase the quality of service. The tracking feature as well allows the east creation of content to reach and convert sales for the target audience. 
Teamwork
Salesforce CRM is the best tool to ensure teamwork amongst brands and workers. With the automated results shown, it is easy for the workers to collaborate and create new goals for the business.
Conclusion
Salesforce CRM is one of the best ways to showcase the quality of your brand. With the Free Salesforce Training and Placement, you get an insight into the operations of the software. Likewise, Salesforce Training Online gives an explicit view of the tool and its different methods of application.
Want to migrate to Salesforce CRM? With the features and benefits given in this article, you can easily make a move to work with the software for your brand. Happy Exploring.