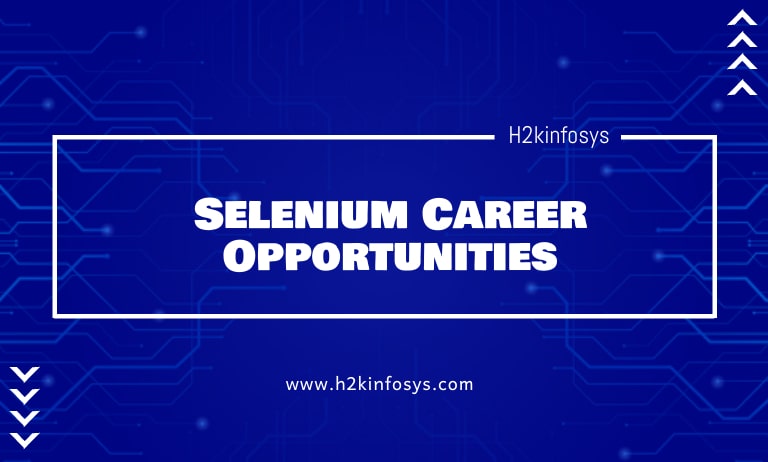 Many companies are starting with Agile, Scrum, DevOps and Continuous Delivery processes. Everyone is focused on delivering new business values faster. Software products are being built and released a lot quicker than before. This has huge impact on old school testing strategies and professions so it is important that testing is done from different point of views.Testers have to build their skills and enhance their knowledge in automation testing so as to test these new technologies.
The most recommended and sought-after automation tool by both businesses and youth for their career advancement is Selenium. Selenium has turned out to be the most popular testing tool as it is easy to understand and provides a friendly API. It has been recognized as a powerful open source automation tool. Developers as well as Automation Testers are increasingly using Selenium for web application testing.
Selenium can be used with multiple languages like Java, Python, Ruby C# & Perl etc and runs in different operating systems hence its user-friendly features make Selenium the finest tool available for automation testing. Also, selenium tool can be used to run seamlessly across multiple browsers like Firefox, IE, Safari, Chrome.
Selenium Automation Testing has become very popular among the developers as automated testing is rapidly replacing manual testing. It is in great demand as it gives you a better exposure in the industry. Many experts recommend Selenium as a tool nowadays because it is an open source framework and after all free to use. One does not need to spend in the license cost of other testing methods when we have a clear cut, one shot, free of cost solution that serves the same purpose.
Selenium Job Opportunities:
The scope of Job opportunities for Selenium Automation Testing is very high for skilled professionals.


Over the past few years Test Automation has gone through tremendous changes and we can see new opportunities are increasing day by day in the United States, India and other Asian and European QA markets.An experience in selenium and its components is a highly sought after skill now a days.
As a Selenium automation tester one can begin their career as an Automation Test Analyst and grow step by step to become an Automation Test Designer, Senior Automation Tester and than a specialized Selenium Tester where one can work in various business sectors like finance, health, banking, e-commerce etc.
Any candidate with knowledge and expertise on Selenium and its frameworks will be offered with reputed job profiles like: Selenium Automation tester, Selenium Analyst, Automation Test Lead etc.
There is a lot of demand for automation Testing jobs with programming knowledge, it is seen that out of the 170 jobs posted, 112 indicated that programming was required and 42 jobs indicated that programming was desired. In other words, an 80% of automation testing jobs required or desired programming skills.
If we consider job postings for Testing and tools than out of 100 job ads 60% would explicitly require knowledge of test automation tools and 40% jobs would mention that test automation tool knowledge is nice to have. So, we can imagine that many companies actually require automation and Selenium being the leader as the most popular tool for automation Testing.
Salary and Perks for Selenium Automation Testers:
Salary for Selenium Automation Testers varies by company, the skill level of an employee and past experience. The latter two i.e. skill set & experience are something that really counts in this automation testing. The average salary range of Selenium Test Engineers in the US is between $40,000 and $75,000. The Senior automation engineers earn a salary of >$100,000.
According to different job portals, the average salary of an Automation Engineer in US is around $75K per year at an initial stage and salary of Senior Selenium tester is $110K. There are chances of huge salary hike with experience and after indulging more and more in this field, a lucrative career can be achieved. Any tester will have a great opportunity of towering growth throughout their career with the help of automation testing. One can constantly grow by obtaining new skills and learning about new technologies in Automation.
Selenium and its Future:
For people who have knowledge on software testing and aspire to gain technical knowledge then Selenium will definitely be a cakewalk for them. Anyone pursuing a career in manual testing can easily use his/her knowledge of Selenium for professional advancement and skill enhancement. Learning Selenium is not costly as it is an open source tool. Testing is currently the 'most popular phase in a project lifecycle. As no software have ever been produced, were produced without bugs so, a little knowledge of this easy and cost-free tool for manual testing will ensure high-quality results.
There is a long list of companies, across the globe that relies on Selenium tools for their testing needs. Not to forget that Selenium is the most preferred test automation tool by tech giants like Microsoft and Facebook. Along with various salesforce companies like Google, Mozilla, LinkedIn, ThoughtWork, IBM etc use Selenium,Multinational Companies like Infosys, Accenture, Wipro, Cognizant etc hire Automation Engineers with the sound knowledge of Selenium every year.
Software testing is an ever evolving field and testing and development teams are always in need of people who can help them with their knowledge of Selenium tool and its frameworks Due to many benefits and ease that Selenium offers it is highly preferred so that one can without putting much thought think of making there career in this field.