Software has become an integral part of human lives. The IT industry has evolved into a ubiquitous and prodigious sector, providing the software solutions to all the businesses. The strength of the software lies in its foundation i.e. software architecture. The software is developed with the objective of not just being defect free. It is essential that the software is usable, efficient, reliable, modifiable, robust, maintainable and a secured one. All these features can be implemented at the design level of the software.
The internet is loaded with definitions of Software Architecture by numerous technology specialists. However, in simple terms, it is a complex structure of the selected structural components, their interfaces and organization within the software system to achieve the requirements or the purpose of the business operations. There are various software architecture patterns designed to suit the project scenario. The popular ones among them are client server architecture, layered architecture, MVC (model-view-control) model, and many others.
In a client-server architecture, the multiple users or the clients are connected to the server over the network. The servers are huge and centralized and store all the information to provide high security. It's the simplest of all the models and suitable for web-based software applications. While the client-server model is suitable huge data is to be managed but the business information and logic is on the same server and makes the model difficult to maintain and scale.
Another widely used pattern is the layered or n-tier architecture, there are four layers usually- the front end or UI (user interface), the web servers, the application server, and database layer. The front end or the user interface refers to the pages displayed on the user screen. The UI should be made user-friendly creating the great user experience. The end users are most often, not technology experts and the UI has to be developed with this fact in the mind. The Web service layer has the protocols and the service components. The web servers that are commonly used are Apache, Microsoft's IIS etc. The application server is wherein the software logic is implemented and the programs run. The database layer has the business data stored in an organized manner. The very popular database management systems (DBMS) are Microsoft SQL servers, Oracle servers, etc. The software with n-tier architecture is maintainable because each layer is independent of the other and hence easily scalable. The hardware is independently allocated to each layer based on the requirement. The resources are more efficiently utilized.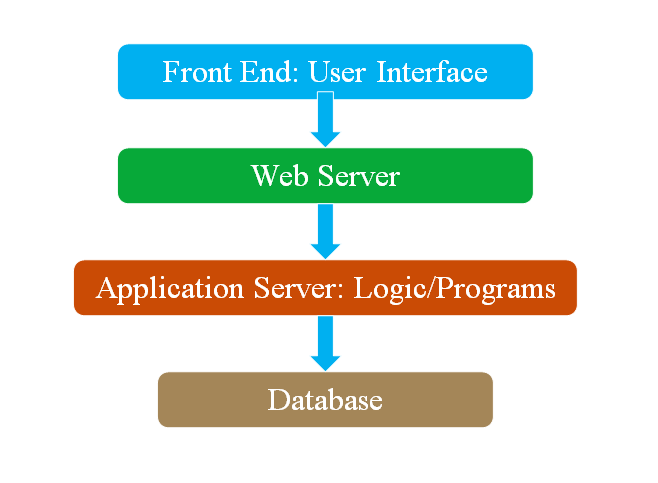 With a wide variety of software design patterns available, they are to be carefully chosen by the technical architects to get the benefits for the software systems development.
Check your understanding.
What is Software Architecture?
List down the examples of Web Servers?
What is client-server model?