QA Tutorials
Why a student has to select H2K INFOSYS QA course?
H2K INFOSYS QA course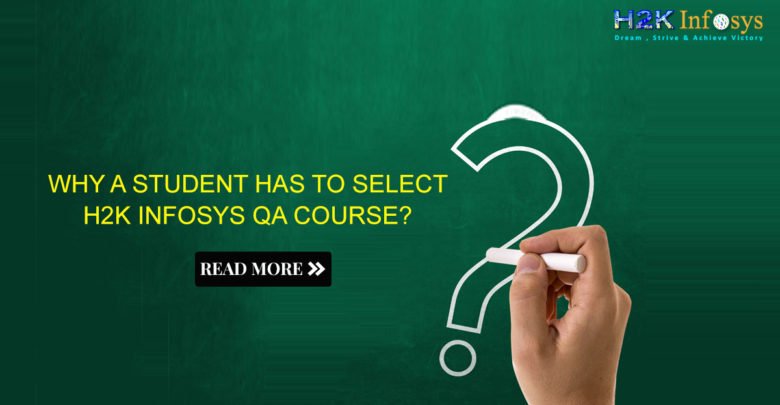 The software testing or quality assurance testing has become very popular and the job opportunities are growing very faster in IT field. When you search for QA training over internet, you will find plenty of organisations listed. H2K INFOSYS is one of the best Quality Assurance training organisation, which excellent training with additional services.
SQA means software quality assurance, consists of monitoring the software engineering processes and methods used to ensure quality. The job of QA tester is to understand the user expectations and evaluate  to see that the developed software meets those expectations. The other main responsibilities of a QA tester is calculating and managing the amount of work, writing test cases, creating defect reports and working with developers to identify the bugs and to fix it. H2K INFOSYS is one of the leading organisations in USA, providing various IT courses. The top most instructors focus on developing skills in students and purely focus on job oriented training.
The below features of H2K Infosys makes it one among excellent institute:
Huge course syllabus: Comprehensive syllabus, well structured to meet the job market requirement, composed of latest technology. The syllabus is ISO standard complaint.
US based trainers: The H2K Infosys trainers have real time US based project experience, US based IT company work environment experience who can provide guidance on both technical skills and professional behaviour required to work in US based IT projects.
Free demo class from the trainers before enrolment.
LIVE sessions from experienced faculty, wth discussions, class notes, in class question and answers, in class hands on practice on tools an documents, in class trouble shooting on testing tools by sharing screen of students.
Life time access to detailed materials and pre recorded live session videos to help revision and self paced learning
Real time project based training with hands on practice on test documents and testing tools. The IT courses offered by H2K Infosys is job oriented courses.
Technical Support team assistance for software testing tool installation. Cloud test lab to practice software testing tools and projects.
Live sessions on two free projects.
Pay only one time and get life time services, access to latest materials and videos, retake of sessions.
Schedule updates, materials and video access provided through email.
Class assignments and home assignments, review of assignments, feedback for improvements.
Student interaction available on H2K Infosys forums for technical discussions and H2K Infosys Facebook group. 
For additional learning, H2K Infosys articles & blogs, H2K Infosys youtube channel with more than 24000 subscribers.
H2K Infosys blogs on various training topics like technical training and other aspects
Placement assistance includes:  Faculty driven resume preparation, unlimited hours of mock interview sessions till the student gets the job, job support etc.
Experienced back office staff includes training co ordinations, placement team, technical support and marketing team with 12 hours of continuous student support.
H2K Infosys has trained more than 50,000 students in QA / BA course since 2010
The placement rate is 84% for year 2018.
Average rating from students in 9 / 10
Leading institute in USA for QA / BA training.
The students of H2K Infosys are serving in high profile IT jobs across US in various domains.
The H2K Infosys brings about improvement in quality among students who are industry ready. it balances between innovative and efficiency. H2K Infosys makes students practice new skills in the classroom, have interactions and share innovative ideas.
Questions:
1. What is best thing you like about H2K Infosys training?
2. Suggest improvements that can be made in H2K Infosys training?